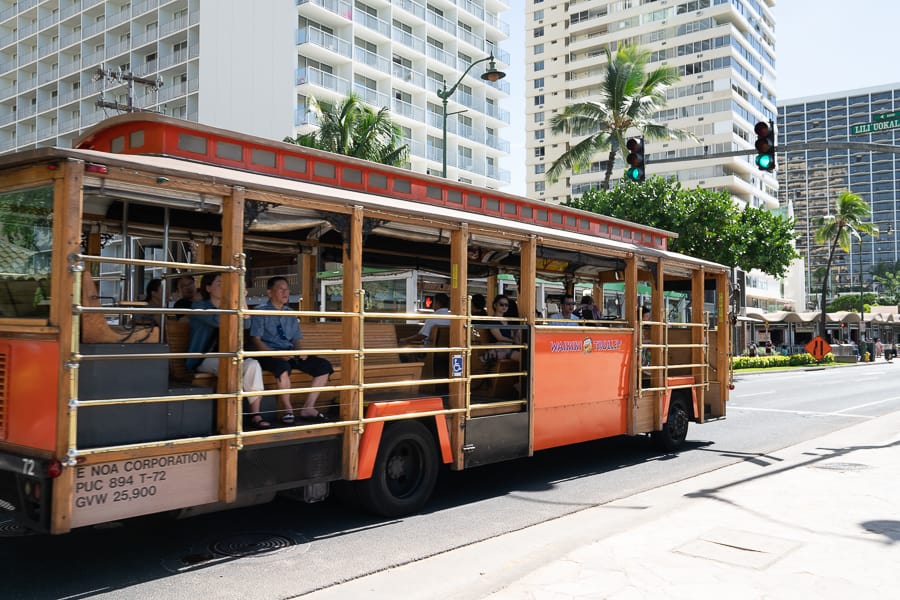 When arriving at Daniel K. Inouye International Airport (HNL), travelers will be greeted with a variety of transport options to get to Waikiki.
What is the Best Way to get From Honolulu Airport to Waikiki?
Shuttles to Waikiki
Rideshares
Car Rentals
Taxi's
Public Transportation
Depending on your budget and preference for comfort, you will be able to find an option that suits you. The available options for transport from Honolulu's international airport include public and private shuttles, ride-shares, car rental services, and traditional taxis.
We'll dive into all things airport transport so that you can go from the runway to the beach in no time. There's no time to waste when trying to get to Waikiki!
Shuttles to Waikiki
Since Waikiki is such a bustling destination, there are a handful of shuttle services from the airport that goes directly to Waikiki, including individualized hotel drop-off services. Visitors can choose from several reputable companies:
Go Waikiki Shuttle and Tour offers round-trip rides for $18 a person. In addition to their luxury airport fleet, they also offer tours of the island. If you want to go all out, you can pay $7 extra to be greeted at the airport with a traditional Hawaiian flower lei.
Jet A Limo: For slightly higher prices, Jet ALimo tracks your arrival flight and updates your driver about any time changes or delays. Simply input your flight information and hotel information, and they will do the rest. Private shuttles range from $49-140 USD depending on the size of your group.
Clik Shuttle and Tour has $17 round-trip rides from the airport. They charge extra for large items, such as surfboards. They also offer tours around the island, similarly to Go Waikiki.
Fly Shuttle Tours is Honolulu's top luxury airport transportation. For those looking for a comfortable, private ride in a high-quality car, look no further. Rides depend on the size of your party but start at $99 for a private ride for two people.
Visitors have a wide variety of shuttles to choose from. The ideal thing about shuttle service is that it's generally reasonable, with flexible timing and different pricing options. Shuttles offer hotel pickup and drop off just like taxis and ride share services, but they offer set prices and ease of booking in advance either online or via phone.
After landing at Honolulu's international airport, travelers will need to make their way to ground transportation. This interactive map of Daniel K. Inouye International Airport shows you exactly where to go once you touch down.
Rideshares
As of August 2018, rideshares are officially allowed to offer rides to and from Honolulu's international airport. Both rideshare services have designated pickup areas on the second level: one at Terminal 1 across from Lobby 2, and another at Terminal 2 across from Lobby 8.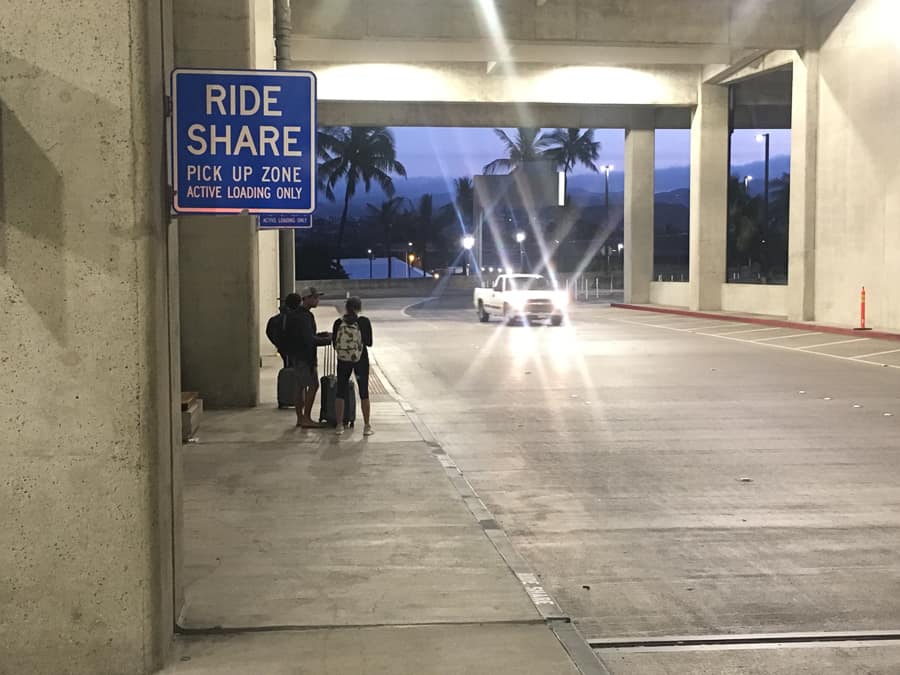 Rideshares can be quite economical, depending on your party size and time of day. Rush hour can occasionally bring surge prices, so consider your arrival time before counting on a rideshare service.
To get to Waikiki from the airport, both prices depend on your choice of car and the number of passengers. If you need a larger car, the price will increase.
If you are looking for an estimates from the Honolulu airport to Waikiki, you can expect to pay $23-$52 depending on the size of vehicle requested.
The ride itself only takes 15-20 minutes to get to Waikiki, but you might find yourself waiting10-15 minutes for the car if drivers are in high demand.
Riders should be aware that trips from the Honolulu airport to any destination are subject to a 7% surcharge.
Car Rental Service
Car rental services are highly popular in and around Honolulu, because of all the activities across the entire island. Travelers may want to consider renting a car if they have planned activities outside of Waikiki on other parts of the island. Renting a vehicle gives Hawaii travelers the freedom to leave whenever they want, avoiding bus or shuttle schedules. For the free-spirited travelers who like to explore on their own, a car rental is a must when visiting Waikiki.
Since Honolulu's international airport is a major hub, it presents all major car rental companies to travelers. For airport pickups, travelers can choose between six companies in the airport: Avis, Advantage, Budget, Enterprise, Hertz, and National.
After deplaning, you can find rental counters in the Baggage Claim area. Whether you booked in advance or are looking for a last minute car, you'll be set upon arrival.
There are also several options that aren't within the airport, requiring a shuttle to the rental office. Travelers have the choice of five more off-airport companies: A-1 Rent A Car, Alamo Rent A Car, DollarRent A Car, JN Car & Truck Rentals, and Thrifty Rent A Car.
Budget car rental websites offer vehicles on average from $10-15per day, plus applicable fees and insurance. A few of the best sites for deals in Honolulu car rentals include Expedia,Hotwire,and AutoRentals.
It's a fairly quick drive from Honolulu's international airport to Waikiki, which makes this choice economical if you plan to spend some time on other parts of the island as well.
Traditional Taxi
In addition to all of the other ways to get from the airport, you can always opt for the traditional taxi route. Travelers have a few different taxi services available, most offering flat-rate fees for their rides.
Star Taxi Hawaii charges $30 to go to and from the airport and Waikiki.
Charley's Taxi charges $29 each way to and from Waikiki.
AMPCO Express manages all taxi services at the airport, directing travelers into cabs at the airport. Hopping into a taxi last minute may be a slightly higher cost, as there is no flat fee – sometimes $40-50.
Taxis can be found on the center median in the baggage claim area. Look for taxi dispatchers wearing yellow shirts with black lettering in order to hop a cab, if you haven't prearranged one.
Public Transportation
For budget travelers willing to navigate public transport with luggage, the bus from the airport only costs $2.75 for a one-way ride. You can access the bus to Waikiki from the airports upper level, Main Terminal Diamond Head.
The #20 bus comes every 20 minutes and takes about an hour to get to Waikiki. If you're looking to save more money to spend in Waikiki and you don't mind the 36 stops it takes to get to Waikiki, then this is the method for you.
Related Questions
What is the cheapest way to get from Honolulu to Waikiki?
The cheapest option is public transportation, but most travelers will prefer a ride service due to having luggage and heavy bags.
For all other services, the cheapest way to get from Honolulu to Waikiki depends on the size of your party. If traveling alone, a shuttle service will most likely be the cheapest. Solo travelers can hop into a shuttle for as low as $18, round trip.
For groups, rideshares and taxis are the cheapest option. With rides going from $20-30 on average, a car full of 3-4 people can split the costs nicely.
For adventurous travelers seeking to drive themselves, car rentals are considerably cheap, ranging from $10-15 per day at the cheapest. These vehicles can be rented from airport providers, making it simple to drive yourself from the terminal to Waikiki.
Which airport is closest to Waikiki?
Daniel K. InouyeInternational Airport is the closest to Waikiki, only 8 miles from the beachside neighborhood. Without traffic, the ride only takes about 15 minutes. With traffic, it can be anywhere from 30-50 minutes. Most travelers will fly into the international airport, regardless of if they are coming from otherU.S. states.