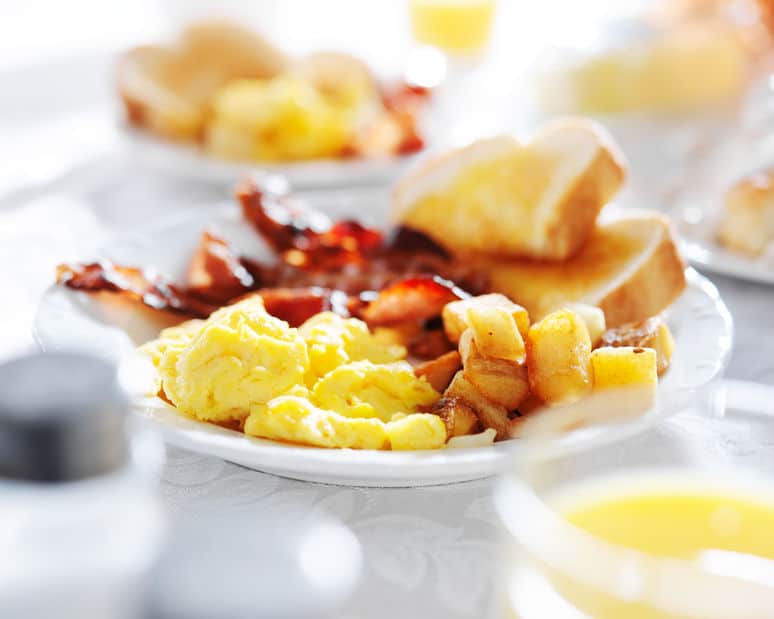 Breakfast always seems better to my family when we are on vacation. At home, there's no time to sit down and enjoy it. So on our Waikiki vacation, we made sure to check out all the best breakfast places and savor each one.
Waikiki has some fantastic restaurants to get breakfast, but we narrowed our meals to 5 with higher reviews and great locations. We didn't have time to sit down for a long meal all the time, so some are for something quick and light:
Cinnamon's
Kona Coffee Purveyor's
Kono's
Basalt
Leonards bakery
If you go to any of these places, you won't be disappointed! I'll go into a little more detail for each one, and why my family really felt they were best for breakfast.
Cinnamon's
Cinnamon's was fantastic, and they are located within walking distance of the north end of Waikiki near Kahanamoku Beach. This place is also very reasonably priced, considering you are in Waikiki, which is extra important for families or larger groups.
Cinnamon's has your all-around classic breakfast plates, but they also have some that have an extra Hawaiian flavor to them. You can get a standard omelet, or you can get a Hawaiian omelet. Another example is their eggs benedict, traditionally made or you can switch things up by adding kalua pork, mahi-mahi, or crabcake.
They have a large selection of house favorite plates anything from steak and eggs to a skillet with homefries, eggs, and your choice of three types of meat. They even have breakfast nachos that my teenager devoured. They are on corn chips like traditional nachos but then covered with all your breakfast favorites.
What really sets Cinnamon's apart from the rest of the breakfast places is their pancakes! They have some delicious and creative pancake flavors, like red velvet pancakes, banana or blueberry. But the dish you will only find at Cinnamon's is the Guava Chiffon pancakes, which for me, were the best fruit type pancakes I've ever had. The whole family tried them and everyone wanted more!
The service was great at Cinnamon's, we never felt we had to wait too long and our drinks were always kept topped off. Plus, the best bonus was their mimosas! I tried two of their flavors, mango, and pineapple, and they were both very delicious. Our family will be back to this place next time we come to Waikiki.
Kona Coffee Purveyor's
Some days on vacation are all hustle and bustle and you have a schedule that is packed all day. So you may not have time for full sit down breakfast. We had a couple of days like that, so we decided to check out Kona Coffee Purveyor's, as we heard they had fantastic coffee and amazing pastries. Plus they were right on our way, located right in the middle of Waikiki, at the International Market Place mall.
Kona Coffee Purveyors is very dedicated to their coffee, specializing in gathering and roasting only the best coffee beans from high-elevation plants from the Kona region. They have a few varieties of coffee beans they grow and you can even order and have their coffee sent right to your home. For a coffee shop, they have a good amount of seating and their service was quick and very friendly. The atmosphere is lively, and the décor is quite nice and modern looking.
However, within their coffee shop, it's a delectable world of pastries and some of the best Kona coffee I've ever had. I was told the pastries offerings are always a little different, what we picked that day was a chocolate croissant and a coconut brioche, so good!
There were several specialty coffee drinks to choose from, but I ended up with one of their Kona blends with cream and sugar. Their pastries and desserts are actually baked onsite by San Francisco's acclaimed bakery, b. patisserie. While it was a little on the pricey side for coffee and a pastry, we felt it was still worth it for how delicious it all was, and convenient.
Kono's
Kono's is a great place to get a quick breakfast just a short drive west of Waikiki. They were highly rated and their menu looked affordable for our family so we decided to give them a try. So glad we did! They have these breakfast bombers that come in a variety of options. Essentially they are similar to a breakfast burrito but better than any that I've had in the greater U.S.
The bombers come with eggs, potatoes, and cheese, all folded into a flour tortilla. But then your options for your bomber are in the meats and veggies you choose. You can get Kalua pork, or bacon (or both), Portuguese sausage, just veggies, or any combination of each of these. The kids devoured theirs, so it's certainly family friendly. You can add extras like sour cream or avocado too. They also have a pineapple-guava sauce that I sprinkled on my breakfast bomber and it really gave it some extra flavor!
If that's not what you are looking for though, they do have other breakfast options, we just didn't get a chance to try them. They had a large selection of breakfast sandwiches, biscuits, and gravy (which was also available inside a bomber), breakfast sliders, and some simple kid-friendly breakfast items. Many folks have raved about their Kalua pork, which I didn't get to try this time, but will give it a go next time we are visiting.
Basalt
We decided to splurge for a brunch one morning and take our time in a little nicer place, so we checked out the Basalt restaurant. Also located right in the center of Waikiki, we were able to walk there and enjoy the weather. That alone started our morning off great; however, Basalt absolutely lived up to all its positive reviews, we thoroughly enjoyed our experience that morning.
We were greeted by a very friendly staff, seated fairly quickly and the service the entire time was exceptional. Their menu selections offer a variety of options but not so many that you were overwhelmed. They had lighter choices, like Avocado Garden Toast, which is what I had and it was phenomenal, so many flavors, and the pumpkin seeds were a nice touch.
Then they had larger plate options. My husband picked out the Basalt breakfast, which came with eggs, potatoes and a few meat selections, fruit, and toast. He shared his Portuguese sausage with me, it was very savory. My children ordered charcoal buttermilk pancakes with guava-strawberry sauce and the vanilla-orange brioche French toast that had candied macadamia nuts on it. I tried each of theirs and they are lucky I wasn't hungry enough to eat there too after my toast, because they were both amazing.
Of course, if you like a drink with your brunch, they had a few options beyond typical breakfast drinks. They offered a few different mimosa selections, plus a mai tai, and I had their bloody mary, which was delicious. I highly recommend you check this place out when you visit Waikiki.
Leonards Bakery
We had one more morning where we wanted to try something quick so we could keep on schedule. We were told to try this great bakery called Leonard's and found that they were just outside of Waikiki on our way to Hanauma Bay. So we decided to stop in, we went early as we heard it gets busy, and we were in for a treat!
For the most part, Leonards offers baked good from malasadas (which are a Portuguese doughnut without a hole and sprinkled with sugar) to crème puffs, shortbread, cakes, pies, and all kinds of goodies. The selection was quite overwhelming when you consider it's just pastries. But they also had a few other items, like breads and wraps that were more savory.
We each ordered a different pastry, plus a few extra to take for the road. We wanted to try everything! They are well known for their malasadas, so we had a couple of different flavors of those. They are so light and fluffy and all around better than a doughnut if you ask me. I couldn't believe how much flavor was packed into that dough. Each pastry we had was just as delicious. Give yourself extra time, it really got packed there but make sure you go!
Related Questions
Whats The Best cheap breakfast in Waikiki?
Waikiki Beachside Kitchen has a very basic selection, making it easy to choose from. Their meals are priced around $5-$6, which is pretty affordable for Waikiki. You can just get simple plate with eggs, bacon, rice, and toast or a breakfast sandwich to start your day. Plenty to keep you going.
Whats The Best healthy breakfast in Waikiki?
Goofy Café strives to make their dishes with healthy and natural foods from their local market. You can get breakfast all day with healthy selections like farm fresh eggs omelets. Another healthy option is their acai bowl with local fruit and you can add yogurt and granola.