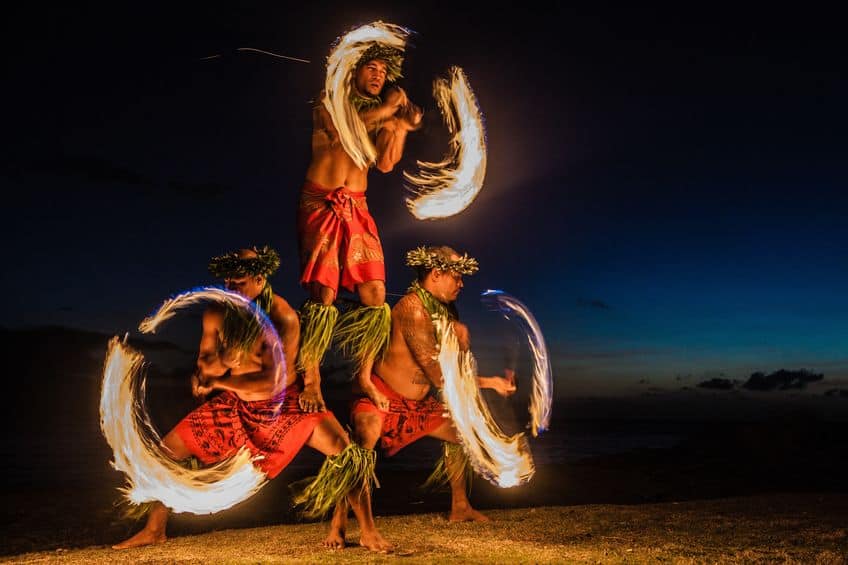 A visit to Waikiki, Hawaii would not be complete without attending at least one luau while you are there. There are several options to choose from though, so if you are wondering what the difference is and what they have to offer, you've come to the right place.
The best Luaus near Waikiki is:
Chief's Luau
Polynesian Cultural Center
Ka Moana Luau
The Royal Hawaiian
Experience Nutridge
Diamond Head Luau
Toa Luau
Hale Koa Luau
Rock A Hula
The word luau means "party" in the Hawaiian language. Each of these luaus will be just like that, a cultural Hawaiian party with lots of great food and entertainment. You probably can't go wrong with any of these, but at least you'll know enough about them to see which one would be best for you and your traveling group to attend.
Chief's Luau
Listed as one of the top attractions near Waikiki, the Chief's Luau is definitely going to leave an impression on you. You do actually have three options when you purchase tickets to this luau: Royal Experience, Paradise Experience, and Aloha Experience. Each option comes with the buffet and a special lei greeting. The primary difference with each option is where your seating will be during the show, how many beverages you get, and what order you get to go through the buffet line.
So, on top of those basics for your ticket, the royal experience gives you an extra souvenir you can leave with and you get to try the pork right from the imu. Of course, you get what you pay for and the prices range based on the level of experience you choose. The Royal Experience comes with 3 drinks, is first in line to the buffet and the closest to the stage so you'll have the best view but also pay the most for your tickets.
The Paradise Experience is second closest to the stage, second in line to the buffet, and comes with two drinks with a price in between the other two options. The least expensive option, though you'll still have a fantastic time, the Aloha Experience is furthest from the stage, goes through the buffet line last, but still comes with one drink.
The entertainment during the Chief's Luau is hands down some of the best you will see as it is produced by Chief Sielu Avea who is extremely funny and was so good at knife dancing that he obtained the original world championship title. He definitely knows how to entertain.
The Chief and his family put on a show to celebrate their Polynesian heritage and educate at the same time. It is full of fire and knife entertainers, dancers, humor and great music. The show ends with a phenomenal fire show that is sure to leave you in awe. If you wish to get to this show early, there are also some extra things to do that you can enjoy, like making grass hats, learning to spear throw, or even fire starting.
Polynesian Cultural Center
The Polynesian Cultural Center is the host to the Ali'I Luau. This is about an hour from Waikiki on the northeastern side of Oahu. If you don't wish to drive yourself, they do offer transportation from Waikiki to get there. What's really nice about the package you buy for this luau is that it includes so many extras that it's really a great value.
Your luau purchase includes a 3-day pass to explore 6 island villages, where you can engage in native activities, participate in a canoe celebration with canoe rides, view a film about the heritage and journey of Hawaii, and a tour at the Temple Visitors Center. All of that is on top of the entertainment you'll enjoy during the luau, the feast of Hawaiian cuisine, and lei greeting. They do have an option to upgrade to a VIP package.
That gives you a personal tour guide through the center, VIP seating during the luau show, reserved seating at the village presentations, a souvenir gift, and VIP status at some of the other add-ons. Visiting the Polynesian Cultural Center for the Ali'I luau is going to give you a lot of cultural experience all in one location and visit.
The food served is traditional luau food and is very good. The entertainment is more of a story with Hawaiian culture and dance throughout. This is a pretty large venue, one of the larger luau performances so it doesn't include much audience participation like some of the other small and intimate luaus. You may like that though, where you just get to be entertained and watch the show. Overall, this is a great cultural experience that you get from getting this luau package.
Ka Moana Luau
First, just be aware that Ka Moana Luau is about a 30-minute drive from Waikiki. It is the only luau on the east side of the island of Oahu, but it is well worth that drive! Before the show even gets started, you'll get to enjoy some of the traditions of Hawaii. You can do lei making, hula dance, and ukulele music lessons, coconut headband weaving, or try some samplings of lomi lomi or poi, which are traditional Hawaiian dishes.
With a show that begins and ends with one of the best fire shows, you'll be captured and transported through the Hawaiian culture with world-class entertainment at Ka Moana. There are also different options with this luau, based on what you wish to spend and what you get for your money. Classic is the basic luau package.
The Splash package has a better seating location for a better view, plus comes with a second drink. Finally, the Celebrity package comes with the best seating you can get, three drinks, and a souvenir photo to take home. Your budget and what you want to get out of this luau will have to determine which package you and your group go for. As part of your admission to the Ka Moana Luau, you'll get tickets to Sea Life Park Hawaii. This is an exceptional value and a great experience to enjoy while you are visiting Hawaii.
The buffet-style meal is raved about and definitely leaves you completely full when you are done. The entertainment is regularly noted as being quite comical and the dancers are incredibly talented. Not to mention, the view for the venue is right on the water, so you can take in the beautiful vast ocean setting at the same time.
The Royal Hawaiian – Aha 'Aina
Conveniently located at The Royal Hawaiian hotel, the Aha 'Aina luau has a beautiful setting overlooking the ocean, practically right on the beach. Due to the class of this Hilton hotel, you may see more food items on this buffet, or full meal service, than you would at other traditional luaus, plus better quality because it's at a hotel where you would have a larger cooking staff.
The Royal Hawaiian has made the presentation of the show with parts that add in the history of the hotel, as well as the history of Hawaii and has the staff present the storyline in the traditional Hawaiian type of song and dance. Some note that this luau feels more like a dinner theater, but it has a great deal of charm and class.
During the show, the entertainers will pull you in and get you involved, which makes it a fun experience, and the music is raved about. Prior to the show you also can watch some demonstrations of traditional Hawaiian activities, like making clothes, fishing, or how to prepare poi. To end the night the hotel lets of a fantastic firework show as well, which really ends the evening with a bang!
Experience Nutridge
Compared to some of the other larger production luaus, Experience Nutridge is a smaller, more personalized luau experience that really tries to make you feel like part of the Hawaiian culture. This luau is considered more of a backyard style luau and it is held at the Pu'u Ualaka'a Nutridge Estate, which has always been a location for entertainment, historically to some famous actors and singers even.
Once you are there, you will be treated like family and learn the story and importance of the Hawaiian culture. This experience is different than most, however, in that the entire evening is meant to engage the audience in an interactive event. You get to cook, dance, play games, and eat with the staff at Nutridge, as if you are one of their own family members. You will see, touch, smell, taste, and hear throughout the evening, which will engage your entire party into the show. This is the most intimate and family-centered luaus near Waikiki, and on top of the entertainment and experience, their food served is just as fantastic.
Diamond Head Luau
Noted as one of the only farm to table luaus in Hawaii, Diamond Head Luau is an exceptional option for you to check out. With locally sourced and prepared foods, their luau buffet not only pleases the taste buds and appetite but helps keep the local community strong and thriving.
The Diamond Head Luau is at a very convenient location for most, as it's held at the Waikiki Aquarium which is a walkable distance from many of the Waikiki hotels. Every luau purchase also includes entrance into the Waikiki Aquarium, which is a great option to do with the whole family during your Waikiki stay.
The aquarium ticket really is just a bonus, because the value you get from the luau is well worth the money. You'll start with a personal lei greeting and then get a Mai Tai put in your hand. Try out some temporary Hawaiian tattoos, engage in Polynesian crafts, learn how to hula dance or participate and learn Tahitian dancing. The entertainment at Diamond Head luau is full of traditional heritage and experiences that will educate, entertain and thrill you, especially with their fire dancers.
Toa Luau
This luau is the furthest from Waikiki, but if you don't mind the hour drive to the North Shore of Oahu, you have got to give the Toa luau your consideration. You can, however, add on transportation as part of your package if you don't want to drive yourself. This luau is located in Haleiwa within the Waimea Valley.
This is a very beautiful area of Oahu, and admission to this luau includes same-day admission to the Waimea valley cultural site, botanical garden, and Waimea Falls. Waimea Falls is a short hike that takes you through gorgeous tropical gardens to get to a beautiful waterfall at the end, where you can even swim in the water. The luau does start early enough so that you can enjoy the gardens and Waimea Falls on the same day as the luau.
This luau is noted as being smaller and more intimate than a lot of the larger commercialized luau experiences, so many visitors feel they are treated more like part of the Hawaiian family. With a smaller sized crowd, you also should get a good view of the show from every seat. You can participate in a variety of crafts and demonstrations (like how they do umu cooking) before the show to get you tuned into that local culture or watch the staff climb the coconut palm trees.
You can learn some neat things like how to peel green bananas or crack open a coconut. The main event at Toa Luau starts out a traditional Fijian Kava ceremony, which includes drinking kava (a traditional drink of Fiji) and brings about a calming feeling as you prepare to be entertained.
There are also three packages at this luau to choose from. The variances between the packages and pricing primarily have to do with where you will be seated, how many drinks you get, and the VIP package includes a souvenir. The entertainment is always lauded as exceptional, full of very talented dancers, singers, and musicians.
Hale Koa Luau
Performed at the Hale Koa Hotel Luau, their luau is definitely a top favorite of visitors to Oahu. First, you will get to enjoy their luau setting, with a lush, tropical garden area outside the hotel. This luau is not only a feast and dancing entertainment, but you'll get to watch the imu pit ceremony, where they bring out the pig that has been cooking all day. This is traditionally the meat that is served during a luau, the tender, flavorful kalua pork.
It is said that the Hale Koa Luau is the only full-service luau that you'll find on Oahu. This means not only are they providing food, but you will be able to eat a lot because they provide a multi-course meal. You'll start out with appetizers laid out in family buffet-style before the main dish is served. At the end, there will also be desserts served in a family buffet style, so there are a lot of food options to satisfy any appetite.
While you enjoy your dinner, you will be entertained by hula dancers, musicians, and fire and knife dancers. The storyline of the show expresses a great deal of culture with traditions shown from Hawaii, Tahiti, New Zealand, and Samoa. This luau also pays a special tribute to those who have served in the military and their families, which is a nice touch to honor and show respect for everyone present. This location does also require an ID for current or retired military members or DOD employees to attend.
Rock A Hula
For a little bit of a different option, and maybe a little less traditional, you might enjoy the Rock A Hula venue. This is a highly reviewed dinner theater. This is a completely indoor venue, with a large stage and Las Vegas type of production. The show storyline goes over the different eras that Hawaii has experienced, broadcast through dancers and entertainers that will dazzle and amaze you.
They include traditional fire dancers and very talented singers and musicians through the show as well. Considering the title of the show, it's no surprise this entertainment has a bit of rock and roll style to it, with famous impersonators like Elvis and Michael Jackson, combined with the cultural Hawaiian and Polynesian music.
The basic entrance price is pretty reasonable, but it only includes the show without any food. However, they do have 3 additional options that have the buffet or four-course meal, plus some add-ons and options if you want to experience a little more while you are here, like meeting the cast of the show or getting a better seat to watch all of the performances.
The luau dinner has traditional Hawaiian foods and is set outside under the stars, while the rest of the show is mostly indoors. The main reason to attend this venue is the entertainment and fun that comes from the show itself.