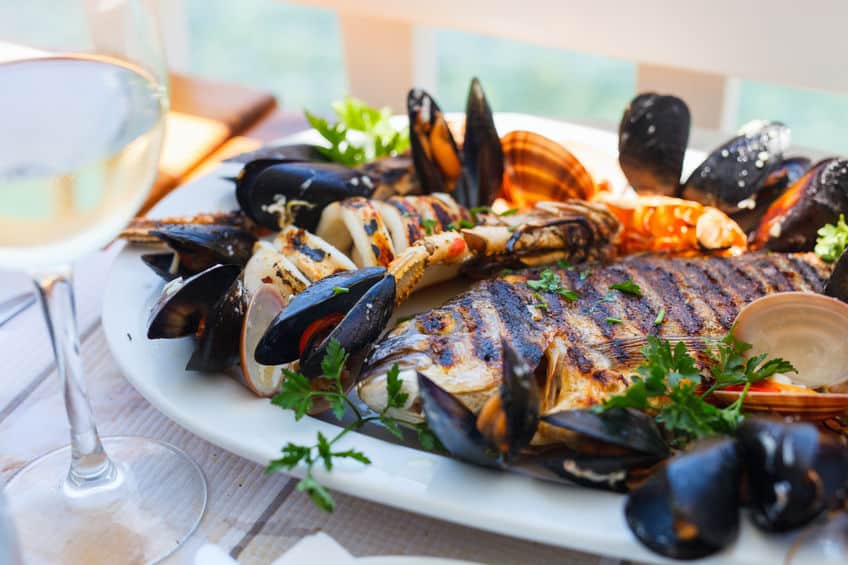 For me and my family, anytime we vacation near the ocean we feel that there should be really great seafood restaurants around. How much fresher can it get when the source is so close? Waikiki and the surrounding area definitely takes advantage of the nearby ocean and has some really great seafood restaurants to show for it.
The best 8 seafood restaurants in Waikiki are:
Hula Grill Waikiki
Roy's Waikiki Beach
Azure Restaurant
Sansei Seafood Restaurant and Sushi Bar
Doraku Sushi Waikiki
Ono Seafood Products
Kari Crab
Paia Fish Market
Every time we visit Waikiki, we try to fit in a new seafood restaurant to compare with the ones we already have found. We have never been disappointed at any of these seafood restaurants. For the most part, other people are pretty satisfied too since all of them have great reviews.
Hula Grill Waikiki
Located along Waikiki beach, practically right in the middle of Waikiki inside the Outrigger Hotel, is the Hula Grill Waikiki. This casual dining restaurant is very highly rated, and my family and I quickly learned why. Besides the cool atmosphere, and the great location, the food is some of the best seafood I've had in Waikiki. Seafood combined with their local Hawaiian flare is the type of lasting impression they emulate in the flavors of each dish. Not only is the food here amazing, but it has an awesome view of Diamond Head to take in.
Each time I have come here we've ordered their oysters, so delicious topped with a zingy jalapeno jam. For the picky eaters in my family, they still love to get their fish and chips. Of all the dishes I've tried, my favorites have been the poke tacos and the fresh seafood special, which at the time came with swordfish and mahi-mahi. The whole family has loved every visit to the Hula Grill.
Roy's Waikiki Beach
Along the Waikiki beach walk, the Roy Yamaguchi restaurant is a happening place eat. Though it is usually just called Roy's. The atmosphere at Roy's is very lively, and you have options of dining inside, at their sushi counter, or outdoors on the lanai.
We tried this restaurant, as it was recommended from a few different people when we asked for a great seafood restaurant. They are well known for their fantastic sushi as well as their seafood, though they have a large variety of menu items to pick from, which was great because our kids don't always want seafood as we do.
We have dined here three times, and every time has been top-notch. Their Beachwalk Trio comes with salmon, macadamia nut crusted Hawaiian fish, and miso yaki butterfish! Such an amazing combination of flavors, I always recommend it. We've also enjoyed their blackened Ahi, which has always been great for us.
Azure Restaurant
When we are in the mood for something more upscale or going out without the younger ones, we will go to the Azure restaurant inside the Royal Hawaiian. This is beachside dining at it's best, with a romantic ambiance, and Diamond Head views, that we love just to ourselves. The prices are higher here, but you get what you pay for and this is high-quality dining.
Azure goes all out with their seafood selections. We can get dishes here that we have not been able to compare anything to at other restaurants, the chef's at Azure just have a really know how to make some mouthwatering combinations. Their seared Hawaiian Ahi dish happens to be the best Ahi I've had in Waikiki. Another fantastic dish from here is their Modern Bouillabaisse, which comes with a lot of food, you get a good value in this dish.
Sansei Seafood Restaurant and Sushi Bar
Of course, you can't miss Sansei Restaurant when you are on the lookout for great seafood. They get a lot of attention for their sushi rolls, but on top of that, they are raved about with their seafood dishes. We tried them out one night when we were near the Marriott, as it's situated just inside that resort. Something that this restaurant is proud of and sets them apart from the rest is that they actually have award-winning dishes.
Two of their award-winning dishes we tried, which was panko-crusted fresh ahi and Asian shrimp cake. I can honestly say I've never tasted anything quite like how these dishes were prepared, the flavors were so rich and the shrimp cake just melted in my mouth. I could order them every time they were that good!
As for regular dishes, the second time we returned and we tried the seafood pasta and we definitely had to try their grilled Hawaiian Ahi. We like to try ahi wherever we go because it is our favorite fish and we enjoy comparing the different ways it is cooked and presented. They had really great cocktails here as well, and it is one of my favorite places to get a mai tai.
Doraku Sushi Waikiki
This place, Doraku Sushi Waikiki, is definitely one of the favorites that I recommend to all my seafood loving friends that visit Waikiki. They have this cold dish there that I absolutely have to get every time and usually share with whomever I'm dining with. That favorite of mine is the Hamachi Carpaccio. It has this unique extra kick to it, from the jalapeno and chili oil that is difficult to describe, but just so good!
Doraku has a comfortable, relaxed feel to their ambiance, so it's nice to go for any occasion and not too expensive so you can take the whole family. Their sushi is certainly phenomenal, and they have a sauce here that comes with some of their tempura dishes that my entire family likes, even the kids. It's called Firecracker sauce.
The kids will eat just about any of their tempura, they love the crispy breading. My all-time favorite main dish here though is their Pan Seared Salmon. It's the best place to get salmon in my opinion. My husband usually gets a couple of sushi rolls and his favorite dish is the Mahi Mahi Nanbanzuke.
Ono Seafood Products
If you are looking for something pretty casual, quick, and low cost, check out Ono Seafood. Not as much of an eatery, because they have limited seating, but more of a little store to pick up some prepared seafood or Hawaiian meals. A lot of locals eat here. We figured out why when we stopped into this small shop located on the east side of Ala Wai Golf Course.
The food is incredibly good, and you can't beat the cost or convenience. We love grabbing something quick to eat when we are in the mood for seafood but no time to wait at a restaurant.
The portion sizes for what you pay are incredibly reasonable, most of the time we don't even finish each of our meals. Everyone (including my family) raves about the poke bowls, and there are a few varieties. This is one of the few places the kids will eat a dish that has octopus in it because they just like the flavor of the octopus poke dish.
Otherwise, they usually won't try something so different. The service is also really great here. I have always been met with a friendly smile and they always seem so happy to be working here. Occasionally when we go there will be a long line, but they are pretty quick with their service so it moves quickly.
Karai Crab
Karai Crab is a must-visit when we visit Waikiki. It's a local favorite and off the beaten path. You might actually think you got lost finding the restaurant because it's tucked into a residential neighborhood. They offer fabulous spicy seafood at very reasonable prices. You're going to have fun here and are going to make full use of the towelette they provide. Make sure you make reservations because this place gets packed every night.
Paia Fish Market Waikiki
Paia Fish Market is a fairly new discovery (for us) on our adventures to Waikiki. If you are looking for fresh fish, this is the place! We love Paia's story, they use fresh produce grown on the island and of course, the fish is caught daily by local fishermen. Don't leave Paia's without trying the Ohana. They don't take reservations, so get there early!
Final Thoughts
Visiting Waikiki, you'll definitely have your fair share of selection among seafood restaurants. These restaurants I've discussed are my top 8 for seafood, although there are still others that I've tried and enjoyed.
Two other honorable mentions on my seafood list are Ocean Seafood and Steakhouse, and Tiki's Grill and Bar which has a really fun atmosphere. You'll have to just check these and others out and I'm sure you'll be happy with the seafood, but you may decide you have your own favorites! Enjoy!
Related Questions
1. What's the best seafood buffet in Waikiki?
Most restaurants offer a buffet during lunch, not dinner. Dukes Waikiki has a buffet that is hands down the best for quality of food and value for a lunch buffet. Haleiwa Joes have an amazing Sunday brunch buffet.
2. Best seafood restaurant in Oahu?
Outside of the great seafood restaurants in Waikiki, check out Nico's Pier 38 located in Honolulu. It has some fantastic seafood dishes, great service, and atmosphere.