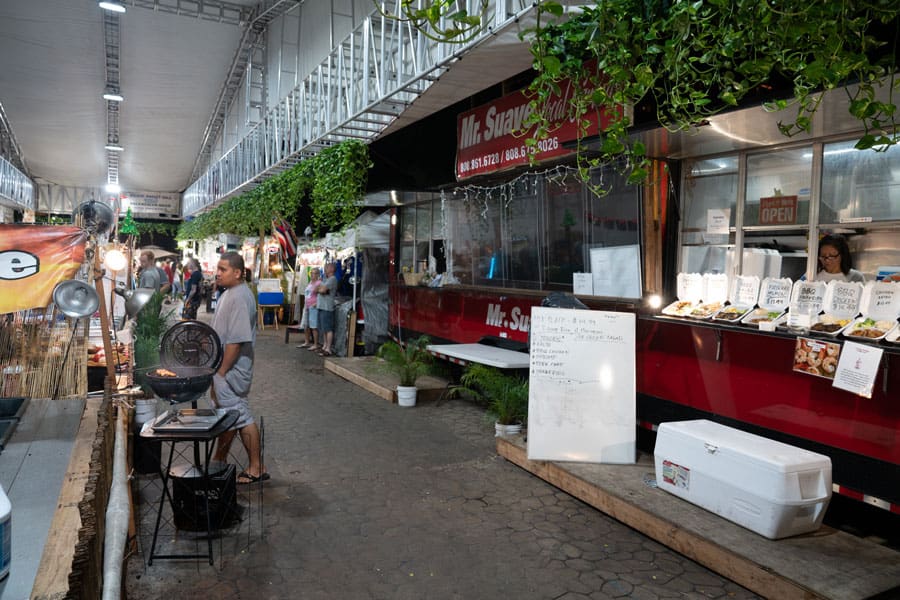 Everyone knows Hawaii is expensive. Mainly because it's an island and all the resources have to be shipped. Luckily, there are places in Waikiki that offer cheap bites so you don't have to break your bank every time you go out to eat.
Where to eat cheaply in Waikiki? Our top favorite places to eat for cheap in Waikiki are Cuckoo Coconuts, Waikiki Beachside Kitchen, Gina's Barbeque, and Musubi Cafe.
We've created a list of food stands, restaurants, and local hot spots for you to eat cheaply while tasting true Hawaiian dishes.
Cuckoo Coconuts
If you're looking for the classic Hawaiian comfort food, you must eat at Cuckoo Coconuts. They have several classic Hawaiian dishes on the menu that will suit anyone's taste buds.
If you've never heard of Loco Moco, this is definitely a dish you must have before leaving Oahu! It's one of the cheapest meals you'll find on the island, and it's a Hawaiian staple. A Loco Moco is a minced beef patty on a bed of rice topped with a fried egg and a thick layer of scrumptious gravy.
Loco Mocos are a great hangover cure after a night of too many Pina Coladas and Blue Hawaiians. The Loco Moco at Cuckoo Coconuts is only $10, which is a great deal for the size of the plate.
Another Hawaiian classic that's also listed on the menu is the Hawaiian Ahi Poke bowl. Ahi tuna is a prized fish in Hawaii and poke is a bowl of raw fish cured and seasoned in special sauces such as teriyaki. The poke bowls start at $14, which isn't bad compared to most places around Waikiki.
If you're in the mood for the traditional Lau Lau, Cuckoo Coconuts also has it! Lau Lau is another local dish where a melange of meat, fish, rice, and other local ingredients are wrapped in a taro leaf and steamed to perfection. You can choose between chicken or pork and it starts at $15!
The cheapest meal on the menu is a hot dog with a side of chips for $6. Considering the fact that Cuckoo Coconuts is a sit-down restaurant, this is quite a steal!
Not only is their food delicious, but it's also a fun and lively place. There's music every single night of the week and all of the performers are local musicians. Each act has a different genre, some playing old songs from the 60s and 70s, while other performers play a mix of soul and reggae. For a full list, check out the music page here.
Waikiki Beachside Kitchen
With over 200 reviews and having over 4-stars, you can't go wrong by starting your day with breakfast at Waikiki Beachside Kitchen.
This is a hidden gem in the sea of eateries in Waikiki. Not only do they have your typical American breakfast choices, but they also serve your eggs with a side of spam. If you haven't noticed, spam is the favored choice of meat in Hawaii, much like how bacon is favored on the mainland.
When you walk up to Waikiki Beachside Kitchen, you'll notice why it's reasonably cheap. This isn't a fancy sit-down kind of joint, it's more like a take-out window. Luckily, there are picnic bench tables so you'll easily have a place to sit while enjoying the morning sun.
The cheapest item on the menu is a bagel for $1.91! This is a price you won't even find at the nearest Starbucks in Waikiki central. Not only is Waikiki Beachside Kitchen cheap, but it also serves authentic Hawaiian meals you won't find at any of the beachfront chains.
Try the Sloppy Rice or Kalua Pork plate meal. As you might have guessed, they also serve Loco Moco here for $7.66! A plate of garlic or chili shrimp is also under $11 making it a great appetizer for you to split with your family or friends.
Gina's Barbeque
Although Gina's Barbeque doesn't serve local Hawaiian dishes, it makes the cut because it's cheap and extremely delicious! This family-owned Korean barbecue restaurant has been voted one of the Top Ten Best Plate Lunch from multiple media sources including The Best of Manoa and Star Bulletin.
Indulge in savory meat-filled plates while getting 3 scoops of rice and 4 sides. This is definitely a place where you will get more than your money's worth. The Barbeque Beef Bulgogi and Barbeque Chicken plates start at $10.50. They really give you the hook up on the meat.
If you're a vegetarian, no problem! They have a potato croquette plate and most of the sides they offer are vegetables and plant-based.
If you're feeling like you want a small meal with a mix of everything, go for the Mini Bento. This has 2 scoops of rice but comes with meat, kimchi, and a vegetable of your choice. All for only $6.99! You can't go wrong with that.
Gina's Barbeque also serves hot soups and noodle dishes if you aren't in the mood for a huge lunch plate. This is a great way to soothe your stomach, especially if you've been eating out for every meal while in Waikiki.
Musubi Cafe
Have you ever had a musubi? This is one of the greatest snack inventions that is very popular on the island of Oahu! It almost looks like sushi but instead of raw fish, there's a slice of salty meat placed on top of a bed of rice with a strip of seaweed wrapped around it.
At Musubi Cafe, they have a plethora of options and each musubi is between $1.88-$2.50! They have a wide selection from spam, bacon, egg, kimchi, eel, and more. Get 2 musubis for $5 and you'll be full until dinner time.
They also serve rice bowls with vegetables and curry or eel for less than $7! Get a mini bowl for $3 on the side of your musubi.
There isn't much of a place to sit at this cafe since it's also a take-out window, however, you aren't too far from the beach. Since the musubis are small and packaged, we recommend buying your lunch and having a picnic on the beach! This is the best way to experience the local food while soaking up the picturesque scenery of Waikiki.
Related Questions
What's the best cheap seafood?
One of the best spots for cheap and flavorful seafood is Blue Ocean Hawaii. This food truck serves lots of seafood plates, the Mahi Mahi starts at $13. They serve large portions too in a bowl of rice so you won't leave hungry. Also, check out our article on Waikiki best food trucks!
Where do locals eat?
There are many places where locals eat that we haven't mentioned such as Karai Crab, Uncle Bo's, Rainbow Drive Inn, and more. It really just depends on what you're craving. For a detailed list of restaurants and what each place offers, take a look at our local Waikiki restaurant guide.
What is the best cheap dessert place?
This is a tough question since a true Hawaiian dessert consists of opening a coconut and eating its meat. One of the most popular dessert spots is Henry's Place. This dessert corner always has a line and you can get the best fruit tasting ice cream and sorbet.