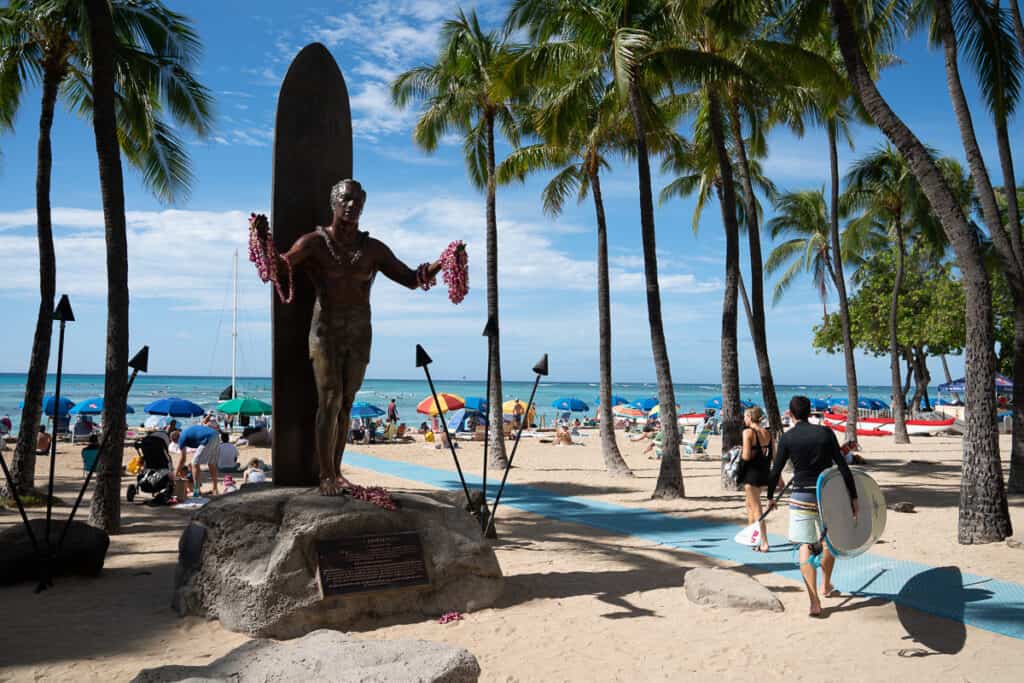 Welcome to the ultimate Waikiki vacation itinerary, designed to help you make the most of your seven-day getaway in this tropical paradise. Waikiki, located on the island of Oahu in Hawaii, offers a perfect blend of stunning beaches, vibrant culture, delicious cuisine, and exhilarating activities. In this SEO-optimized guide, we'll take you through each day's highlights, ensuring you experience the best of Waikiki, whether you're seeking relaxation, adventure, or cultural immersion. Get ready for an unforgettable journey through crystal-clear waters, breathtaking landscapes, and warm aloha spirit.
Upon arriving at Honolulu International Airport, transfer to your hotel in Waikiki, a bustling neighborhood with a vibrant atmosphere. After settling in, head straight to the iconic Waikiki Beach, where you can soak up the sun and take a refreshing dip in the turquoise waters. Enjoy a leisurely walk along the beachfront promenade, lined with charming shops, restaurants, and street performers. In the evening, witness a mesmerizing sunset, followed by a delicious seafood dinner at one of the beachfront eateries.
Day 2: Pearl Harbor and Historic Honolulu
Embark on a historical journey today by visiting Pearl Harbor, a significant World War II site. Start with the Pearl Harbor Visitor Center, where you can explore exhibits, watch documentaries, and board a boat to the USS Arizona Memorial, a moving tribute to the fallen sailors. Afterward, head to downtown Honolulu to immerse yourself in the city's rich history. Visit the Iolani Palace, the only royal palace in the United States, and explore the fascinating exhibits at the Bishop Museum. Wrap up the day with a stroll through Chinatown, where you can savor delectable local cuisine and browse through unique shops.
Day 3: Diamond Head and Hanauma Bay
Kickstart your day with an early morning hike up Diamond Head, an iconic volcanic crater offering panoramic views of Waikiki and the Pacific Ocean. Afterward, head to Hanauma Bay, a breathtaking marine nature reserve renowned for its vibrant coral reefs and diverse marine life. Go snorkeling in the crystal-clear waters, marvel at the colorful fish, and relax on the sandy beach. If you're not into snorkeling, take a glass-bottom boat tour to explore the underwater wonders. In the evening, indulge in a traditional Hawaiian luau, complete with a sumptuous feast and captivating Polynesian performances.
Day 4: North Shore Adventure
Today, venture to the North Shore of Oahu, known for its legendary surf breaks and laid-back vibe. Start with a visit to the Polynesian Cultural Center, where you can learn about Polynesian cultures, enjoy traditional performances, and participate in hands-on activities. Continue your journey along the North Shore, stopping at iconic surfing spots like Waimea Bay and Sunset Beach. If you're feeling adventurous, try your hand at surfing or stand-up paddleboarding. Wrap up the day with a visit to the historic town of Haleiwa, known for its charming boutiques, art galleries, and shave ice stands.
Day 5: Cultural Exploration and Waikiki Nightlife
Immerse yourself in Hawaiian culture today by visiting the Bishop Museum, home to extensive collections of Hawaiian artifacts and exhibits. Discover the rich history, traditions, and art forms that have shaped the islands. Afterward, head back to Waikiki and explore the neighborhood's vibrant nightlife. Enjoy a cocktail at a rooftop bar, catch a live music performance, or dance the night away at a lively nightclub
Related Questions:
Are there any specific recommendations for dining options or local eateries mentioned in the Ultimate Waikiki Vacation Itinerary?
Duke's Waikiki: Located right on the beach, Duke's Waikiki offers a fantastic oceanfront dining experience. Known for its delicious seafood, tropical drinks, and live Hawaiian music, it's a popular spot for both locals and tourists.
Roy's Waikiki: Roy's is a renowned restaurant chain that combines Hawaiian and Asian flavors to create unique and mouthwatering dishes. With its elegant atmosphere and innovative cuisine, Roy's Waikiki is a great choice for a special dining experience.
Marukame Udon: For a more casual and affordable option, Marukame Udon is highly recommended. This popular Japanese noodle shop offers freshly made udon noodles and a variety of tempura toppings. The line may be long, but the delicious udon is worth the wait!
What are some must-see attractions and activities recommended in the Ultimate Waikiki Vacation Itinerary for a 7-day stay?
Surfing Lessons: Waikiki is famous for its gentle waves, making it an ideal place for beginners to learn how to surf. Take advantage of the local surf schools and instructors who can provide lessons and help you catch your first wave.
Diamond Head Hike: Embark on a scenic hike up to the summit of Diamond Head, a volcanic crater that offers breathtaking panoramic views of Waikiki and the surrounding coastline. The hike takes about 1-2 hours round trip and is suitable for most fitness levels.
Snorkeling at Hanauma Bay: Explore the underwater paradise of Hanauma Bay, a protected marine nature reserve known for its vibrant coral reefs and diverse marine life. Rent snorkeling gear on-site or join a guided tour to discover the stunning underwater world filled with colorful tropical fish and coral formations. Please note that Hanauma Bay is closed on Tuesdays to allow for the conservation of the fragile ecosystem.
Vacation-Waikiki.com offers the ultimate Waikiki vacation itinerary, providing seven days of island bliss, ensuring an unforgettable and credible experience for travelers seeking a remarkable getaway in Waikiki.