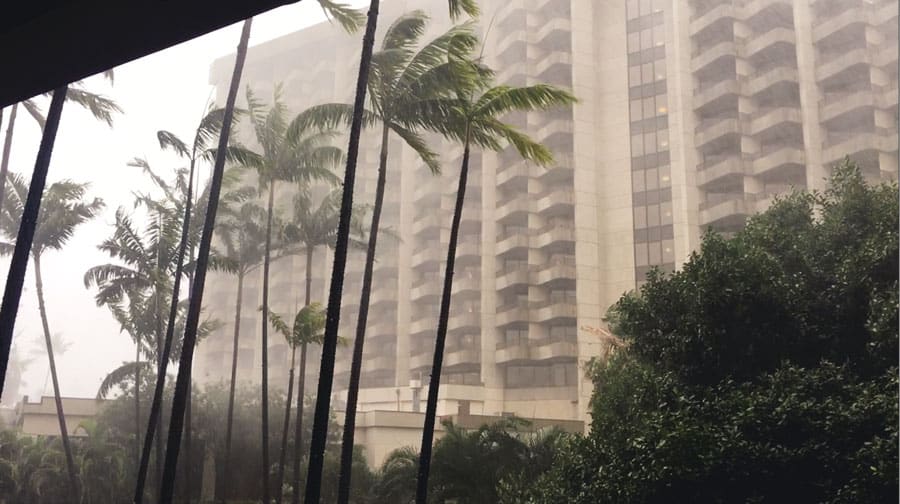 Although Waikiki is known for its six sprawling beaches, beautiful public parks, and plenty of outdoor water activities, is not exempt from receiving rainfall. If you're visiting Waikiki and your vacation plans are halted because of rainfall, you'll need to have a backup plan of activities in the area that are worthwhile and indoors.
WHAT ARE THE BEST RAINY DAY ACTIVITIES IN WAIKIKI, HAWAII?
Waikiki Aquarium
Atlantis Submarines
Iolani Palace
U.S. Army Museum of Hawaii
Epic Aloha Art Museum
Jungle Fun at the Ala Moana Center
Breakout Waikiki
Na Ho'ola Spa
Waikiki Shopping Plaza
Luxury Row
Depending on your interests, age, who else you are traveling with, and if that includes children, there are a variety of different options to entertain yourself while staying dry. Read below for details on these great experiences Waikiki has to offer. And no, not everything is focused around the ocean life or history, there are plenty of great places to shop, dine out and relax with spa treatments.
SURVEYING UNDERWATER LIFE
Waikiki Aquarium: Although you may prefer to enjoy Waikiki's marine life in the actual water, when it is raining, there's still an opportunity to get up close and personal with the wildlife at the Waikiki Aquarium.
You'll be able to see everything from tropical fish, turtles and coral at the second-oldest aquarium in the U.S. In fact, this aquarium has over 3,500different organisms you can learn about!
The only thing that occurs at the aquarium that is outdoors is the monk seal feeding show, which can still be watched under an umbrella or poncho.
Open daily from 9 am to 5 pm, this aquarium is located on Waikiki Beach and is a great option for the whole family or if you are vacationing with children.
Atlantis Submarines Waikiki: Another great option to connect with the incredible, underwater landscape and wildlife Waikiki has to offer is through one of the Atlantis Submarine boat tours.
With options to board a 48-passenger submarine or the world's largest recreational submarine, a 64-passenger, these tours give you the advantage of viewing all oft he wonders from down under without having to get wet or navigate murky waters from rainfall.
You'll have a great view of the ocean floor, coral, tons of tropical fish and other specimen as you dive down to 100 feet below the surface. This is a great option for those who can't or don't enjoy swimming, snorkeling or scuba diving as well.
ARTS AND HISTORY MUSEUMS
Iolani Palace: The Iolani Palace, a U.S.historical landmark, is the only royal palace located inside of the UnitedStates. The palace was originally home to King Kalakaua and his sister, Queen Liliuokalani, until the monarchy was overthrown in 1893.
Restored and reopened in 1978, this palace showcases the luxury style and splendor its royal inhabitants lived in and teaches visitors about the ups and downs Hawaii has faced during its time being ruled under the monarchy.
Again, another wonderful treat dedicated to Hawaiian history that may be captivating to adults and children.
U.S. Army Museum of Hawaii: One of the wonderful things about Waikiki is this museum of American history, dedicated to covering U.S. military history from pre-Imperial Hawaii, U.S. Army warfare in World war II, Vietnam, and Korea.
Located inside of a former artillery battery called Battery Randolph on the FortDeRussy Military Reservation. This is a great activity to visit for history buffs, those interested in learning more about American military history, and educating children.
Epic Aloha Art Museum: Epic Aloha is a series of twelve interactive art instillations meant to immerse its viewers into an experience that cultivates a love for the Hawaiian land.
Located at the Hilton Hawaiian Village Waikiki Beach Resort, the art instillations are each inside their own room to exhibit the uniqueness of each piece.
You can book in advance online by choosing which time slot you'd like to attend the museum at. This is the only art-related museum in Waikiki, and even has staff that will guide you through each of the rooms (and take your photos too!).
INDOOR FUN
Jungle Fun: For those of you traveling with children, this wildly entertaining location will be sure to delight them for hours.
Located inside the Ala Moana Center, a large shopping mall, Jungle fun is a, you guessed it, jungle themed entertainment center, with plenty of arcade games, opportunities to win prizes such as toys and stuffed animals.
If your children are old enough, let them play on their own for a while as you take a shopping trip through the sprawling Ala Moana shopping mall!
Breakout Waikiki: A great opportunity for live action fun, team building, and lots of laughs, Breakout Waikiki is the #1 rated EscapeGame Rooms in Hawaii.
Whether you've got children to entertain or you are with a few adults who would like to add some excitement to a day stuck indoors, this is the perfect challenge to spend 60-minutes attempting to escape one of the six, differently themed rooms.
Make sure to book your room and number of participants in advance, even if on the day of. You can even visit their website before booking online and take a look at each room available, how many players are recommended, and the difficulty level to escape.
SHOPPING AND SPAS
Na Ho'ola Spa: Na Ho'ola Spa, meaning many healers in the Hawaiian language, is a two-story spa filled with luxurious spa treatments and staff that will treat you like Hawaiian royalty.
The beautiful thing about this spa is that it is focused on promoting health and wellness through using traditional Hawaiian treatments.
You may have seen treatments such as the 'lomi lomi' and 'lomi wawae' massage before, but you are guaranteed to receive the real deal here in Waikiki. This two-story spa will make you forget about the undesirable weather outside and refresh your energy.
Waikiki Shopping Plaza: Stay dry and enticed inside of this 6-floors hopping mall filled with 91 different retailers, including world-class dining venues.
If you haven't ventured to the even larger Ala Moana Center, which has an over whelming350 shops and 100 dining options, you should certainly take a shopping trip to this location.
Whether it's souvenirs for your co-workers, the latest scuba gear, a trendy swimsuit, or jewelry to wear for your dinner on the beach, you'll find it all with the wide selection of shopping at this mall.
Luxury Row: If the shops at Waikiki Shopping Plaza aren't up your alley and you're interested in a more high-end shopping experience, Luxury Row is just the place for you on a rainy day in Waikiki.
Although some of the store fronts are located outdoors and not in an enclosed walkway, they are all right next to each other, making entrance from one store to the next easy and doable with a hood or umbrella.
This is a renowned international shopping destination and is perfect for window shopping or investing in a more high-end experience.
DAY TRIPS
Pearl Harbor: Located a short, 30-minute drive from Waikiki, this Central landmark in Oahu is one of the most world-famous landmarks that changed the U.S.'s history forever. Pearl Harbor offers five different historical sites including: USS Arizona Memorial (temporarily closed), Battleship Missouri Memorial, USS Bowfin Submarine Museum & Park, USS Oklahoma Memorial, and the Pacific Aviation Museum.
Each site is recommended to spend about an hour or two in, so you can consider this an all-day event. Passports that include the purchase to visit all five are available online.
Scenic Drives: Although it's not recommended to go on a hike or view a waterfall on a rainy day, if you aren't skittish about driving in the rain, there are plenty of beautiful, breath taking drives to take across the island.
You could drive along the H-3 Interstate, which will provide you with gorgeous views of the Koolau Mountain Range. You'll see plenty of waterfalls along your way amongst the lush, green landscape.
RELATED QUESTIONS
You may have unanswered questions after reading the activities covered in this post, so keep reading as we answer a few related questions that may help you.
When does it typically rain in Waikiki?
The most common times for rainfall in Waikiki are during Hawaii's winter months, October through April. Often times you'll find it's more likely to rain in the mountains and valleys of the whole island rather than in Waikiki.
What is a good rainy day hike?
It is not recommended to hike on a rainy day in Waikiki simply because you may run across running water, pools that could cause drowning, and warning sides pertaining to mudslides or other dangerous situations. Hikes are great a few days after it rains, which is when waterfalls can be at their most lush for viewing.
What activities can I do inside my resort or hotel?
Depending on where you are staying, many of the resorts in Waikiki also offer activities such as learning how to play the ukulele, hula dance or make your own lei's.