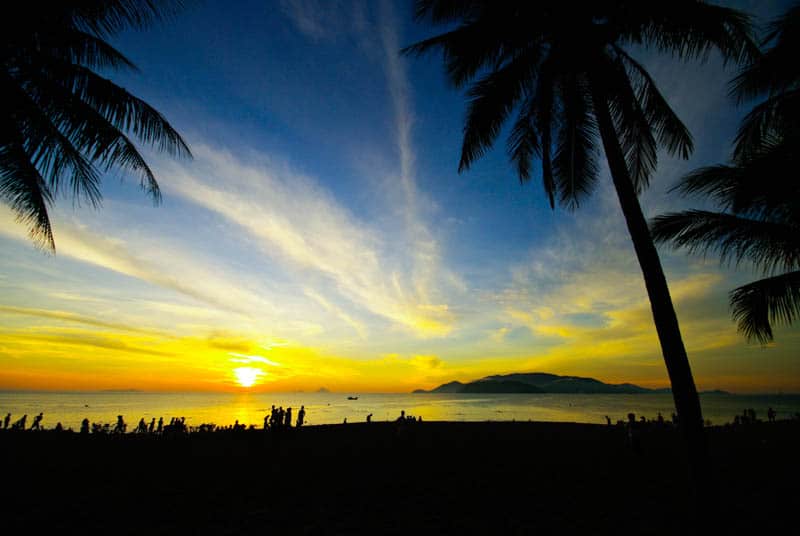 Waikiki, Hawaii is a beautiful vacation destination, but it is generally considered an expensive place to visit. The costs of just about everything from dining out, to drinks, entertainment and even lodging are higher than a lot of other places in the U.S. So, if you want to plan a trip to Waikiki it's smart to check into a few things before you go so you know how much you'll probably end up spending.
What does it cost to visit Waikiki?
A trip to Waikiki can cost anywhere from $200-$1000 per day for lodging and transportation, plus about $15-$200 per day, per person for food and drinks. Add your flight costs plus activities and you'll have a good range to budget for your Waikiki trip.
The information I'll share in this blog will help you plan out your vacation, especially if you want to stay within a certain budget. Even if money is not much concern, it's always better to be more informed when traveling and this article will help with that.
Time of year affects your cost
Waikiki is a highly sought out vacation spot all year round. However, there are certain times during the year that are slightly slower and have less visitors. These are the times that are generally less expensive to visit if you want your costs to be as low as possible. The months of April, May, September, October, and parts of December will offer some better price options.
The cheapest times in April and May will be after spring break but before school is out or at least before Memorial Day. September is usually the hottest month of the year and kids are back in school, so tourist levels are a little lower and there isn't a lot going on in October to bring in a lot of tourists. The first two to three weeks in December will also have more deals because it is generally not the most sought-after time to travel. The timing for your trip will affect the cost of your flight and your lodging, which will be discussed next in this blog. All other costs for your trip will mostly stay consistent throughout the year.
Flight costs and finding a good deal
The price for your flights will range greatly based on the location you are flying from. An international airport in a major city will typically be less expensive than flying out of a smaller airport. This should be considered when looking for your flights because even if you don't live near one, it might be worth the drive to an international airport. If it's only a few hours to drive there, you might save enough money to make it cost effective, rather than starting in a smaller airport just to go through the international one.
Flight prices also vary greatly from one airline to another. When you do your search, it may be more helpful to use a website that compares all the different airlines together to help save you some time (such as Travelocity or Priceline). However, it's best to search more than one site, because prices can even range from one search engine site to the next as some offer promotional deals through their website. Depending on your departure airport, the number of stops you have to make, and the time of year you travel, the flights range from the low $300s to as high as $2,000.
Sometimes you may find promotional deals, where flights go on sale, but generally the further in advance you book your flight the least expensive it will be. Your flights are generally the one purchase that you can't often change without a penalty fee of some type, so when you find a price that meets your budget, buy it then and you'll at least have that locked in.
Lodging expenses in Waikiki
There are a lot of lodging options for your stay in Waikiki. There are top end luxury hotels, standard national chain hotels and boutique hotels, and many options from local owners who want to rent out their space through Airbnb or VRBO. Your budget, desired amenities, and the preferences on the type of lodging will help you make this decision. You'll first need to consider what amenities you want, such as a pool, onsite bar or restaurant, beach access, etc. That's very important as you do your search and will help you narrow down your options to make the choice easier.
There is a vast selection of hotels in Waikiki, but the price ranges are also broad. For a 2.5 star or lower rated hotel, the cost will start just above $100 per night. The high end of Waikiki lodging includes the 4- and 5-star hotels from $500-$700 per night. These prices are in one of the lower seasons in Waikiki. During peak season and holidays, these prices are quite a bit higher, roughly 25-40% higher depending on the location. The different things that can drive the prices other than the quality level of the hotel, is the location.
Beach front hotels will typically be higher, or hotels that are near a very desirable landmark or have an amazing view. One tip for a less expensive stay if you are staying near a beach or beautiful area is to book a non-view room. The rooms with views are almost always more expensive. So, if the location is more important than the view, just pick the least expensive room type.
In an Airbnb or VRBO, you can decide from a small space like a room in someone's house, or the entire facility which could be use of the full house and property. These rental properties often offer a kitchen space where you can cook and serve your own meals. This can greatly reduce your costs, especially for large groups or if you are staying for a longer visit. However, if you stay in a rental you might not get other amenities, like access to a pool or gym unless the rental is in a complex or resort type facility.
Most rental prices will range anywhere from $100-$200 per night but can go as high as $500-$600 per night depending on several factors already discussed. Do keep in mind that some rentals charge a cleaning fee on top of their rental price, so you'll want to check on that first too before booking.
The best part about using a rental property for your lodging is usually the space is much larger than a hotel. You'll have to weigh the factors that are most important with your budget and what kind of trip you want in order to find the best lodging for your group. In the end when it comes to lodging, you will more than likely spend the majority of your trip outside doing lots of the activities in Waikiki so the room or facility amenities might not be as important.
Rental car expenses
Not everyone will want a rental car when they stay in Waikiki, especially if the trip is only for a couple nights. Tourists who stay up to a week or two definitely will find it is usually worth the cost when you compare it to paying for an alternative ride each time you need one. If your group would like to use a rental, these tips may help you save some money.
First of all, book the rental as far in advance as possible. Rental prices rarely go down the closer to your trip dates. You can use a travel website that compares rental prices to get a feel for what they will cost and what type of rental will fit into your budget. There's a large range in prices from the low-end economy to a luxury vehicle.
Once you find a rental deal you want to book, you may want to consider booking it directly with the rental company if you think there's any possibility of changing the rental later – for instance, if your days aren't confirmed, or you think you might find a better price later. When I've reserved a rental car in the past, I always want to lock it in so that I have the rental taken care of but I will book with a company that allows for free cancellations. That way if I find a better price later, I can easily change it.
Also, consider searching for rental car deals or promotions. Sometimes a company you do business with might offer affiliated deals, like with your credit union or insurance company if you rent through them. Generally, you'll want to have a budget range of $40-$130 per day for your rental car based on a week-long rental, but that is before you add on any extras, like GPS or added insurance.
Make sure you check into any costs for parking at your lodging choice or at the places you plan to visit during your vacation. Also, plan to budget in the cost for a tank of gas if you plan to get out and see Waikiki.
Budgeting for entertainment and activities
How much you spend on your activities can also vary greatly. I would suggest looking into a few things you'd like to do Waikiki and see how much those activities will cost. Then you can set your budget if you need to so that you can plan within that. Fortunately, there are a few inexpensive or free activities that are highly recommended in and around Waikiki –
Beaches – some of the most beautiful beaches in the world are found in and around Waikiki, such as Lanikai Beach. The only expense you might have is any food or drinks you bring or purchase nearby throughout the day.
Hanauma Bay is a fantastic reef park with amazing snorkeling opportunities. It is only $7.50 per person to get in and $1 for parking. There's a full article all about Hanauma Bay found here (Everything You Need To Know About Hanauma Bay).
Historic sites and museums – around 10 miles from Waikiki is an amazing point of interest in U.S. history, found at Pearl Harbor. There you will find the WWII Valor in the Pacific National Monument, Battleship Missouri Memorial, USS Bowfin Submarine Museum and Park, and the Pearl Harbor Aviation Museum. These points of interest provide the history and recognition of the World War II battle at Pearl Harbor. There is no fee to visit these sites but they are highly recommended to learn about what happened there in history.
Hikes, trails and drives – there are some really beautiful hikes all over the island of Oahu. Some hikes might require a bit of a drive from Waikiki, but definitely worth it for a free or very low cost (such as parking fees) that can leave you with some fabulous photo opportunities. In fact, just going for a drive around the island will give you a unique view at all the island has to offer.
If budget is not your main concern, there are so many activities that will make your trip to Waikiki remarkable. There's always tours and events which allow you to take in the island, such as boating excursions, parasailing, whale watching, swimming with dolphins, helicopter rides, the Honolulu Zoo or enjoy a cultural luau. A luau is also recommended as a "must do" in Waikiki. They can run anywhere from around $70 – $160 but they do include dinner usually, so you can also enjoy the tastes of Hawaii.
Dining and drinks
Hawaiian food is a must try when visiting Waikiki. I mention the many luau options earlier, which are always recommended at least once during your visit. In addition to that, there are many Hawaiian style restaurants and other incredible places to dine in and near Waikiki. Overall, the prices are around 20% higher than in the mainland. So, for breakfast you can expect to pay between $15-$20 per person when dining out at a sit-down restaurant.
You could eat a little cheaper than that if you grab some fast food like McDonalds. Lunches would be a little higher than breakfast. Even though there are options around $10 if you go searching further from the main attractions and tourist areas, in the main areas of Waikiki you'll want to plan on $20-$25 for lunch. Dinner, of course, will have the highest restaurant bill of all the meals. The nicer the restaurant the higher the price as any place. You can expect between $40-$100 per person depending on the drinks you might ad.
In order to save on some of your food budget, I suggest grabbing some snacks and easy foods from the local grocery store, such as yogurts and fruit, or bagels and cream cheese for breakfast to get you by until lunch. Or even a loaf of bread with some peanut butter and jelly for anytime you just need to get through between dining options or to enjoy as a picnic on the beach. As mentioned earlier, staying in a rental place that offers a kitchen and items for cooking will help you save the most on your meal time since you will be able to cook all or most of your meals.
Drinks in Waikiki are no exception to the higher priced trend. Mai Tais and blue Hawaiian cocktails are often recommended for an adult beverage in Waikiki, but finding one at a good deal can be a little trickier. Typically, the price can range anywhere from $10-$25 per cocktail. Even a glass of wine or local beer can cost between $8 – $15 on the low end and much higher from there. This can be an expense for some vacationers that can add up very quickly. To save on this expense, look out for happy hour options at the hotel you are staying at or nearby and in restaurants you wish to dine at.
Also, consider grabbing something from the local store to keep in your room for a drink before or after you go out which will be significantly lower than that bar drink. For example, an average bottle of wine at the store only costs $10, which is the cost of one drink if you are lucky at the bar or restaurant. The mini-bar in most hotels will also be extremely overpriced, so opt out of that if you want to avoid an added expense at check out.
In addition to alcoholic beverages, drinks in general are going to cost more. There is no cost for water at the restaurant, but juice, milk, and coffee when you are out will still run higher than typical costs in the mainland. Buying bottled water and prepackaged beverages from the grocery store, rather than the souvenir shop or tourist area will also save you quite a bit over the length of your visit. One last reminder with your costs is to budget in your tip money. It's pretty easy to forget about tips until you are in the moment, especially if you are on a tour and want to tip your tour guide. So try and have some cash on you for your tips whenever you are heading out for your daily activities.
Related Questions
1. How much does the average trip to Hawaii cost?
The two biggest factors affecting your tip to Hawaii will be departure airport and time of year for traveling. Flights can range from $300-$400 to over $1500. Check during different times of year from your airport to determine the cheapest time of year for you to fly.
2. How much daily spending money will I need in Hawaii?
This really depends on how much you want to do while you are in Hawaii. You can enjoy free activities like the beach or you can spend quite a bit swimming with dolphins and riding in helicopters. You spend anywhere from $5 – $400 per day, all depending on what activities you want to participate in.