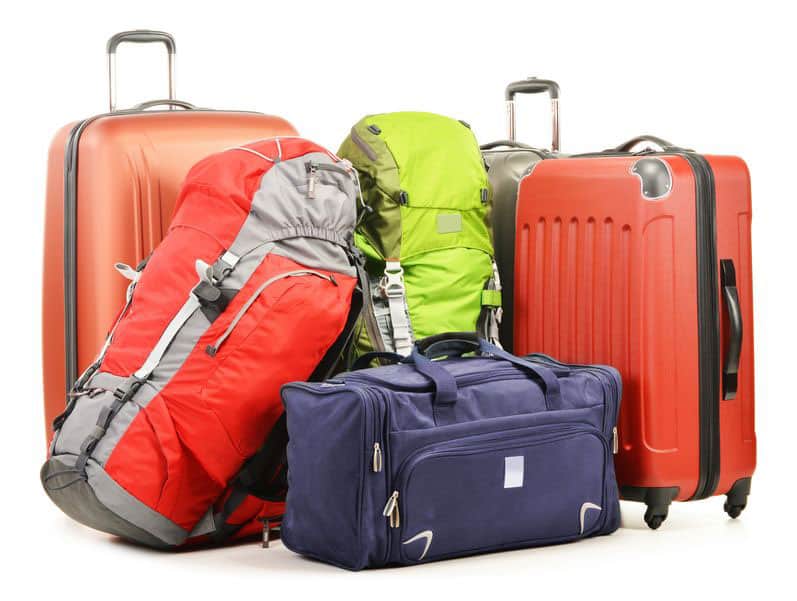 Waikiki is the perfect place to experience all the best Hawaii has to offer. In this beautiful oasis, you'll be within walking distance of stunning snorkeling and surfing, world-class shopping, excellent hiking, gourmet dining, and more. With so much to do, it's important to know what to pack for Waikiki to enable you to have the most successful trip possible!
What do you need to pack for Waikiki?
Beachwear
Trekking Clothes
Out-on-the-Town Clothes
Site-seeing Clothes
Recreational Gear
Toiletries and Medicine
Beach Gear
Trekking Gear
Speciality Snacks or Supplements
Clothes for Various Activities
Waikiki is an exciting combination of high-class elegance and rough and tumble fun, so it's essential to have clothes for all of the many occasions you'll encounter on your trip. Read the following tips to get started on your clothes, recreational gear, toiletries, and snacks packing so you show up for your trip with all the right stuff to have the best time possible!
Beachwear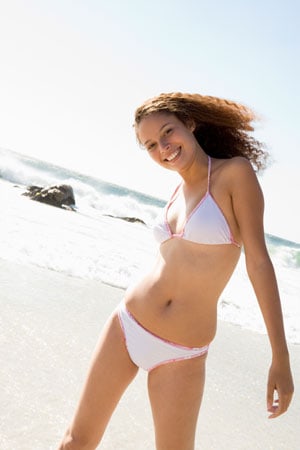 Whether for you spending time by the water means a string bikini or loose, cool linens, you're going to need the right wardrobe for Hawaii's most famous attraction – its palm tree-lined, white sand beaches.
The minimum beachwear collection for Waikiki should include sunglasses, a hat, sandals, a swimsuit, and cover-up clothes for the trip from the hotel to the beach.
Sunglasses and a wide-brimmed hat might sound like optional items, but be warned that the Aloha State's most inviting elements – the cheery sun and glimmering beaches – can easily become the most tiring. Bring these sun-blocking accessories to ensure that your eyes don't become strained from the glare and your scalp stays cool and burn-free. Sunglasses have always been a keystone in a great beach outfit, and the perfect men's or women's foldable wide-brimmed hat can be the perfect compliment to your new island look.
When it comes to beach footwear, say yes to the sandal and maybe even to water shoes! Avoid tennis shoes as they will inevitably fill with uncomfortable sand, but having no shoes at all might lead to tender feet if the sand is particularly hot that day. Sandals or flip flops protect your feet while also allowing sand to enter and exit your shoe at will. Water shoes are often very affordable and provider the wearer the ability to traverse any terrain – on land or water – without fear of stepping on something painful like a sea urchin or lava rock. They are ideal for those snorkeling near land – you can swim in them comfortably and then walk onto rocks or dirt to explore a tide pool with confidence.
Being a destination for visitors of all walks of life from around the globe, Waikiki beachgoers will sport every variety of swimwear. You'll be just as comfortable in a Speedo as swimming in a t-shirt, so bathe as sultrily or comfortably as you please. Whatever you choose to wear, however, keep in mind that the waves of Waikiki Beach are big enough for surfing and might be big enough to tear off any clothes that are not well-secured. Many visitors prefer to have more than one swimsuit to bring variety to their daily ensemble and so that one is always ready while another dries.
The final essential packing component for your beachwear is a cover-up to wear from the resort onto the beach. Many men elect comfortable t-shirts and shorts, and many women use the vacation as an opportunity to wear a semi-sheer tunic or a comfortable sundress. These items are also useful in providing a layer of sun protection if you've been outside all day and notice you're starting to crisp.
And you might as well bring a cute canvas or bamboo beach bag to put all your gear into while you're busy splashing in the waves.
Trekking Clothes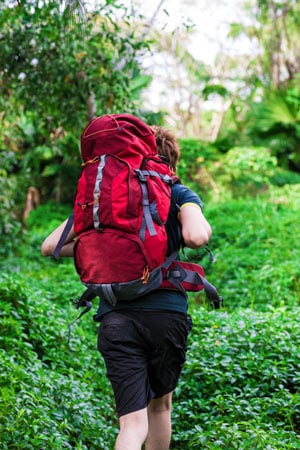 Yet another element that makes Waikiki so wonderfully convenient is that there is a stunning hike to the top of a 760-foot seaside crater just a 10-minute drive from the Waikiki Beach. Steep, lush hills rise up to form an enormous bowl in the top of the Diamond Head State Monument, or Leahi, as the locals call the mountain. See our articles on Things to Do In Waikiki. A helpful (but by no means easy) staircase rises for 99 feet at the top, and the roundtrip trek takes approximately 2 hours.
This and many other gorgeous hikes serve to keep visitors awed and challenged. If you plan to do some hiking during your Waikiki vacation, plan to bring the following items.
First, comfortable and grippy shoes are a must. In a land formed by volcanoes, the mountains available for hiking are rarely gently climbs. Be prepared for steep hills, coarse or gravelly terrain, and likely rain from November-March. If you head out in smooth-tread sneakers or flipflops, you can plan on a nail-biting and slippery trip back down the mountain. Shoes with GoreTex rubber bottoms like these are great for steep trails, or for the best ankle support, bring along actual hiking boots with a mid-cut design like these.
Moving from the ground up, let's talk about your bottom layer. Hawaii is famous for its year-round temperate weather, so you'll more than likely be very comfortable in breathable, water resistant shorts. However, if you're at all hoping to avoid scratchy brambles or pesky bug bites, a great option to provide protection for specific terrain and breathability in others is convertible pants . These are wonderful, because with little effort, you can turn an attractive pair of pants into shorts or capris and back again! They are the ultimate luxury for avid hikers who know that the temperature or conditions at the beginning of a hike can change dramatically as you ascend in elevation and changing vegetation.
For your top layer, choose a short-sleeved or sleeveless top made of breathable or sweat-wicking fabric. Between the humid, tropical air and the exertion of reaching your gorgeous view, you will find yourself quickly drenched by the time you reach the top. Go for synthetic fabrics over cotton, as cotton will quickly absorb moisture and won't dry out until you put it into a dryer later.
Out-on-the-Town Clothes
Right in the heart of Waikiki, you can walk from the wild, earthy beach into some of the most chic shops and restaurants on the island. You'll want to make sure that in spite of a sun-pinkened nose and perhaps some sand falling out of your hair, you dress in a way that fits in with your luxurious (or at least clean and not-sandy) surroundings.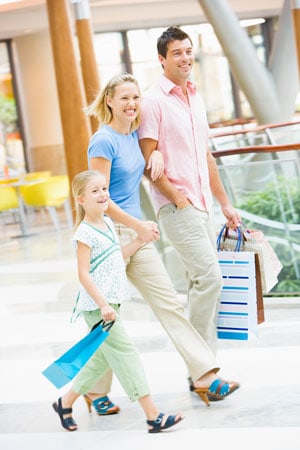 For an enjoyable and elegant outing to one of the many excellent shops, restaurants, or art museums in the area, pack clothes that are elegant but playful. Yes, wear a collared shirt, but bring the one with flowers on it! Or don a flattering dress – with embroidery or bright, eye-catching colors! Big, chunky necklaces or dapper straw fedoras which would look a bit out of place at home will tie together your cheery, tropical look. The aesthetic in Waikiki never forgets its laid-back island vibe, so dress as nice as you please, but remember to have some fun with your fashion.
Delving into the island look will be more fitting than ever to focus on while choosing clothes to pack for a luau. If you have reserved seats at one of these amazing Hawaiian cultural parties,you'll want lots of bright colors and floral patterns.
Site-seeing Clothes
If you have a day of checking out the sites, such as the Pearl Harbor Memorial or the Waikiki Aquarium , you'll want to dress comfortably and casually. These activities require a great deal of walking, so be sure to pack comfortable shoes and clothes in which you will feel at ease all day. For example, you might consider trading in heavy jeans for light, linen pants to keep you cool, or wearing a dress with pockets so that you have somewhere to keep your phone for easy access during photo ops.
Recreational Gear
It's a rare visitor to Hawaii's abundant natural beauty who can resist the call of the ocean or the mountains. For those who plan to get outside and into nature, consider packing a few of these things to help you engage even more deeply with your surroundings.
Beach Gear
Waikiki is one of Honolulu's most famous surfing beaches. The impressive but not too big waves are perfect for experienced riders as well as those looking to take a first-time lesson. Riding the waves is an absolute rush and is an amazing way to connect with Hawaii's traditions. If you happen to have a bodyboard (sometimes called "boogie boards") or a surfboard at home or plan to rent one for four days or more, it's more cost effective to bring your own from home than to rent one at the beach. Be sure to measure your boards to see if a little boogie board will fit in your suitcase or to ask your airline about the details of checking your oversized gear.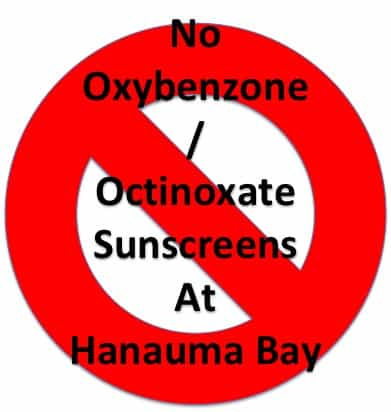 Snorkeling is also an incredible experience at Waikiki or at many other Oahu beaches. To swim with neon-colored fish, sea turtles, sea urchins, and unique coral, purchase a snorkel set (mask, snorkel, and fins) and easily pack it into your bag. This will allow you to go explore whenever you want to without having to reserve ahead with local rental companies.
If you're going to be catching gnarly waves or viewing a secret underwater world known only to you and the fishes, you might want to capture these moments on film… or at least digitally. GoPro cameras are the ultimate in adventure photography, but there are many well-reviewed waterproof cameras in the cheaper range as well. These are a great way to remember the most exciting parts of your trip.
No "beach gear" article would be complete without a reminder to travelers to bring a bathtub's worth of sunscreen. Nothing can ruin a week at the beach quicker than a bad sunburn on the first day. Remember to reapply every two hours and keep an eye on others in your party for pinkening skin. Keep in mind also that starting in 2021, sunscreens with oxybenzone and octinoxate, the active, sun-blocking ingredients, will be outlawed in Hawaii in order to protect the fragile coral which is slowly being destroyed by these chemicals. Hopefully, there will be safe alternatives to these ingredients by then. And if, in the meantime, you want to help out the coral, swim in a rashguard so as to require less sunscreen in the first place.
Trekking Gear
Many of the hikes on Oahu are described as steep and strenuous. Trekking poles serve as a useful tool for taking away some of the stress on joints from constant up-and-down travel. They transfer some of the impact of walking from your legs to your arms, making the hike seem much easier.
As we've mentioned many times, you are guaranteed tons of breathtaking views while in Waikiki. Whether you think they're cheesy or not, selfie sticks provide the best angles of you and your backdrop, so why not throw one into your suitcase and decide whether you want to use it when you get there? Hint: you will.
It's always a good idea to bring lots of water on a hike, so before leaving home, pick up a couple large reusable water bottles. To carry your water and snacks, bring along a small daypack as well.
Toiletries and Medicine
It's not surprising that with almost 2,500 miles separating Hawaii from its nearest mainland neighbor, imported goods can be quite expensive. Of course, like every world-class vacation destination, you will be able to find any last-minute odds and ends that you forgot to pack once you arrive in Waikiki, but for the sake of the budget and time, you'll want to pack as many of these from home as possible.
Be sure to bring all the toiletries you use on a daily basis from home such as shampoos, deodorants, hair products, toothpastes, and makeup.
And again, plan to bring lots and lots of sunscreen for all the time you're going to spend outdoors under Hawaii's perpetually sunny skies.
You should also plan to bring a basic first-aid kit. All the fun you're going to have comes with common minor injuries, so plan ahead. Bring painkillers for your dehydration headache from too much sun or too much rum (or both), bandages for scrapes acquired while hiking DiamondHead, aloe vera gel to treat sunburns, and Gatorade powder packets to replenish electrolytes lost while playing in the surf.
Even if you can find them here and cost is not an issue, wouldn't you rather spend your time out having an adventure than at a drugstore, buying shampoo?
Speciality Snacks or Supplements
Hawaii imports about 90% of its food due to the high cost of farming land, meaning groceries cost a lot more than mainlanders are used to. For example, 2 pounds of apples costs about $5.If you are traveling with young children who depend on specific snacks, it might be most cost effective to bring your own from home.
Additionally, the variety of products that you're used to elsewhere could be difficult to find. If you plan to utilize your resort's gym and refuel with your favorite protein shake or supplements after your workout, you will probably want to bring those with you rather than assume you can easily find them upon arrival.
Related Questions
How Should I Pack for Children?
All of the information we've already covered applies to children as well as adults when it comes to clothing, food, and health. One great way to enhance a trip to Waikiki with children, however, is to pack some beach toys. Bring buckets and shovels for making sand castles or burying one another in the sand, bring water squirters for fun splash-fights in the surf, and bring limited favorite toys from home so you don't end up spending a lot of time searching the hotel room for numerous lost stuffed animals
What Should I Pack in My Carry-on?
The shortest flight between Hawaii and any mainland location is 6+ hours, so for your carry-on, pack things to keep you happy for an extended period. Bring lots of snacks or even sandwiches if you know you won't be receiving a meal. Pack an iPad downloaded with movies, an audiobook, or games. Bring a novel to read, a book of crossword puzzles, a knitting project, or a notepad to play Hangman with your partner. The flight can be several hours devoted to pursuits you're usually too busy for and can be quite fun! If it's an red eye flight, an inflatable neck pillow is a must.
What Are Some Brands With an "Island" Style?
Tommy Bahama is the quintessential tropics-themed clothing brand. Lulu's, Bonobo's, the Quicksilver Waterman Collection, A lohaOutlet, Shaka Time Hawaii, Lava Hut, and Hilo Hattie also have attractive, colorful floral-print options for the whole family.
Packed and Ready to Go!
Now that you know what to pack for Waikiki, you're ready to have the vacation of a lifetime. Witha well-packed suitcase, all you'll have to do on your trip is figure out how to fit in all the fun and beauty that Waikiki has to offer.