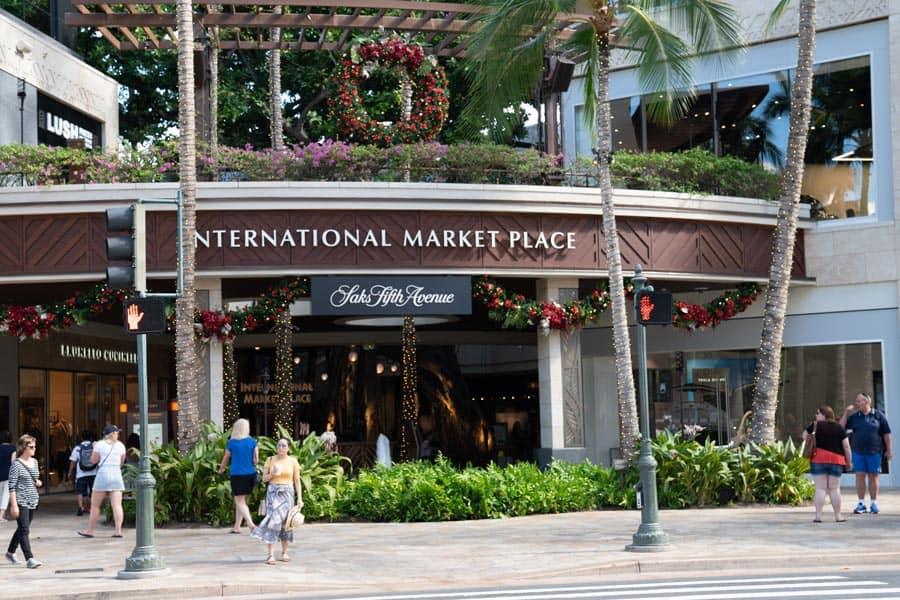 Headed to Waikiki to soak in some sun? We're jealous. You'll be enjoying the sights and surf in a neighborhood that was once reserved for royal retreats. While it isn't quite so exclusive today, Waikiki remains home to some of the finest, most luxuriant, and most unique retail in the world. If you need the hot spots to window shop like a king, we've got you covered.
Where is the best shopping in Waikiki Hawaii? It's at the nearby Ala Moana Center, where over two million square feet of real estate plays host to 350 businesses, more than 100 dining options, and a world-famous art walk valued in the millions. Considered the largest open-air shopping center in the world, Ala Moana is a landmark to tourists and locals alike.
Now you know the best place to shop in Waikiki, but that's not everything you need to get the most bang your vacation buck. Whether you're window-shopping or tracking down the daily essentials, stick around and we'll give you all the information that you'll ever need to find the best place to shop for anything in Waikiki.
Getting to Ala Moana
Thanks to the Pink Line Shopping Trolley, getting to the Ala Moana Center is a breeze. It costs only two dollars to board the trolley at any of 14 Waikiki stations. Visit www.waikikitrolley.com for schedules and locations. But before you go, we recommend visiting www.alamoanacenter.com to see the event schedule and make a list of stores you want to visit. Only the locals will ever have time to see it all!
If 2 million feet of retail sounds daunting, Waikiki offers several fantastic alternatives to pack that high-end retail punch in smaller packages.
• The International Marketplace has over 80 stores, featuring both local vendors and international brands, all in an open-air environment that is gorgeously located just off the water.
• The Pualeilani Atrium Shops, located at the Hyatt Waikiki Regency Beach Resort and Spa, houses three levels of luxury retail in a lovely, spacious setting.
• Waikiki Beach Walk is an outdoor multi-level retail environment focused on boutique brands. You'll find a combination of swimwear, fashion, plenty of entertainment, and great food that makes for a perfect break between sunning sessions.
If you're looking for a more immersive shopping experience, these Waikiki shopping centers also offer features and entertainment steeped in the island's rich traditions.
• Waikiki's answer to Rodeo Drive is The Royal Hawaiian Center, which boasts 110 shops and stores along Kalākaua Avenue. More importantly, the center was built around the historical and beautiful Helumoa coconut grove, where a single seed planted by the O'ahu Royal Family over 300 years ago (on the advice of a magical rooster) is said to have grown into a grove of over 10,000 trees.
• At the Kings Village Shopping Center, you'll have the rare opportunity to witness the historic King's Guard drill routines, including a performance of the world-famous Hawaiian traditional Changing of the Guard Ceremony. When you're finished seeing the show and visiting the center's excellent selection of high-end stores, make sure to visit the King's Guard Museum on the ground level, to learn more about how these ceremonies and traditions have been preserved.
For rainy-day shopping, we recommend the Waikiki Shopping Plaza.
We hope your trip sees flawless weather, but the tropics are known for occasional precipitation. Wet days can be a real bummer, but they're also the perfect opportunity to get your souvenir shopping finished so you can get right back to the sand when the sun comes out. Ditch the umbrella and head to the Waikiki Shopping Plaza, where you'll find six-floors of indoor retail to keep the rain off your heads and your vacay on track.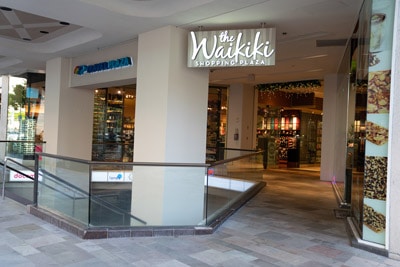 When you're finished there, there's plenty left to keep you dry and entertained at the DFS Galleria Waikiki. The duty-free stores on the third floor are perfect for international travelers, and between the luxury clothing brands, the jewelry selection, and the largest cosmetics and fragrances department on the island (located on the second floor), it's the perfect place to put the finishing touches on a romantic getaway.
Window shopping is fun and all, but what if you only came to surf?
We feel you. Not everyone visits Waikiki with shopping on the mind. But when you're in one of the surf capitals of the world, finding the right surf gear can be a seriously daunting proposition. Thankfully, we're here with a few locally curated recommendations to get you out on the waves with minimal delay.
• Quality Surfboards Hawaii has long been a local favorite. Buy or rent a board, get quality surf apparel, or sign up for expert lessons.
• At Function Surf you'll see how custom gear and friendly service have made the store a hotspot for Waikiki's wetsuit warriors.
• Hawaiian Island Creations offers hip boards and apparel with a serious Hawaiian flavor.
• Big Wave Dave Surf Co. is a great place to stop for quality equipment or lessons with world-renowned surf instructors.
• Koa Board Sports has a wide selection of surfboards and a consumer-friendly policy that lets you rent before you buy, making them one of the best choices for picking up a board.
• Quiksilver might not be an island exclusive, but they're big for a reason. If you already know what you need, here's the place to grab it in a hurry on your way out to the waves.
• And if Quiksilver isn't quite your style, Rip Curl is there to meet the same need.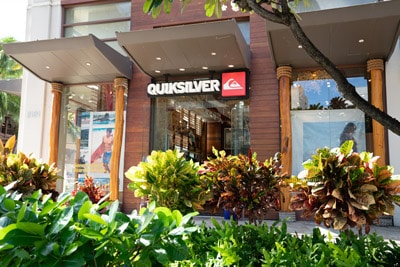 And for the boring stuff…
Vacay shopping isn't always fun and games. After all, nothing derails an unforgettable vacation quite like opening your bag and discovering that something essential was forgettable. Flip-flops, undies, toothpaste, and sunscreen might not be glamorous, but they're vital on the island, so we've tracked the best spots in Waikiki for you to get the basics.
Grocery
• Coco Cove might be the very best place to shop if you want to cook like a local. And while you're there stocking your pantry, you can also fill up on a fresh poke bowl that some long-time Waikiki residents are calling the best in town.
• Duke's Lane Market and Eatery is a full-service grocer and popular restaurant. Check out the $5 Wagyu burger for a bargain bite you won't believe. Then, souvenir hunters should make sure to visit Pauli's stand inside the store for what may be the best handmade Polynesian wood Tiki on the islands.
• Mistuwa Marketplace is a little Japanese market that provides fresh produce, dry goods, and an out-of-this-world sushi and ramen bar that will make you wonder whether you accidentally got off the plane in Tokyo.
• ABC Stores may be nothing to write home about, but the chain is enough of a Hawaiian landmark that you've got to go at least once to prove you were in Hawaii.
• Foodland Farms is a standard supermarket chain, just like you'd find on the mainland. But it might be the most popular place to get groceries in town.
• Food Pantry is another standard supermarket where you're far more likely to run into locals than tourists.
Drugstores
• Discovery Bay Pharmacy is convenient, well-priced, and offer free delivery to Waikiki. Tourists and locals alike rave about their prices and service.
• Long's Drugs is a well-stocked drug store nearly as known for souvenirs as for medicine, though their biggest draw may be a comprehensive selection of beauty supplies to rescue your vacation selfies.
• The specialists at Weinstein Pharmacy are practically superheroes for those hard-to-fill prescriptions. If they don't have it already, they'll go the extra mile to get it.
Only looking for a tee-shirt? You MUST check out 88 Tees.
The retailer, and sibling-store 88 Tees Too, only recently gained international acclaim after an appearance on Netflix's Terrace House, but they had been famous locally for years thanks to their creative designs and the quality of their shirts. Browse thousands of unique and innovative prints on tees so comfortable that you might never wear your old shirts again.