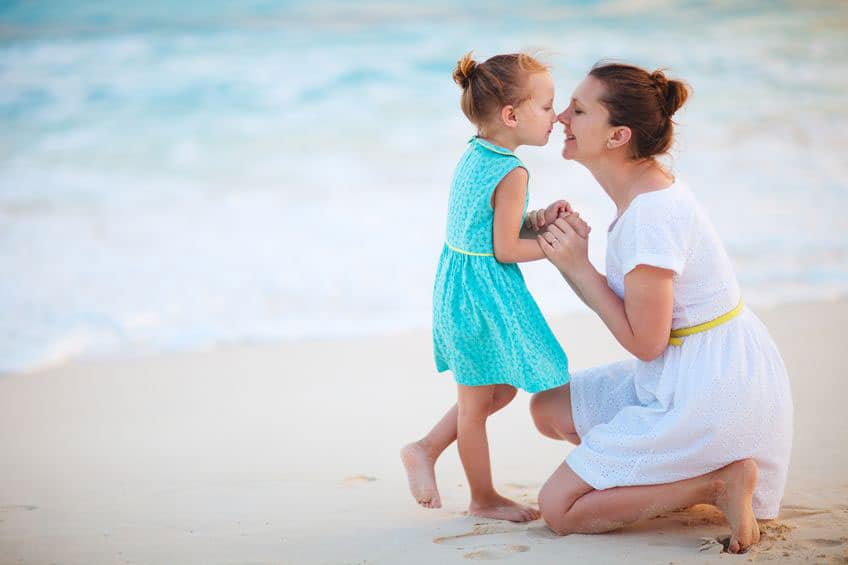 Traveling is not always easy with kids and it definitely takes a lot more planning and research. When I decided to take a trip to Waikiki, Hawaii with my children, I began to scout out as much information as I could to make that trip as enjoyable as possible.
This blog post goes over many things you will want to consider, from getting to Waikiki, to where to stay with kids, and a variety of activities to do and more. Being a Mom with kids in Waikiki can be fun and very memorable with the right attitude and planning.
So get your beach gear and travel bags ready, because after reading through this Moms guide to Waikiki you'll be ready to grab those kids and get going!
Packing for your Waikiki trip with kids
It's challenging enough to remember everything for yourself when you are packing for vacation, let alone for your children too! However, the one good thing about packing for Waikiki is the weather. Waikiki weather is fairly consistent throughout the year, ranging between 78 to 85 on average. This means you only have to pack for one season, and warm weather clothing takes up less space in your luggage. Top items on my list to pack are swimsuits, shorts, flip flops or sandals, sunglasses and plenty of sunscreen. You'll have to decide if you want to take your own beach towels, or use the ones offered by the hotel. My kids love their big beach towels so that when they lay down to dry off, they aren't touching any sand. Water shoes are nice if you plan on spending lots of time on the beach and your kids' feet are sensitive to shells and rocks. If you have a little extra space in your luggage, some beach toys like a frisbee or some blow ups for the pool aren't a bad idea. Occasionally you may have a little rain in Waikiki, so you may want some ponchos or an umbrella or two.
Traveling with kids to Waikiki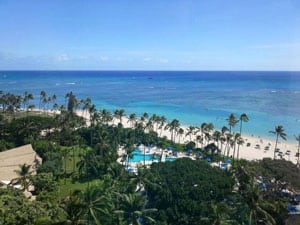 When traveling to Waikiki, there's obviously no way to get around having a long flight. The shortest flights to Waikiki are going to be at a minimum 5 to 6 hours in length, and that's flying from somewhere along the west coast. If you live anywhere else in the U.S. it's going to be even longer and chances are you will have a layover somewhere. When you are booking your flights, remember to give yourself enough time if you end up having a layover. Children don't move from one end of the airport to the next very quickly and you could end up having a long walk to get from one gate to the next. You'll also want things for them to do in the airport if you have more than an hour or two to wait for your next flight.
Anytime I travel with my kids I typically plan to bring along some snacks and activities for them to do on the plane. Remember that airport snacks are quite a bit more expensive than from your local grocery store. Just get some of their favorite goodies from the store, like goldfish, granola bars, or gummy bears and divide them up into little sandwich bags for easy access and sharing. You can toss the snacks in your carry-on. Stay away from anything that is liquid in form, such as yogurts, because you can't take anything items like that through security.
For the most part, children can be entertained for a little while with coloring books, or reading and picture books depending on their ages. Keep in mind if you plan to let them draw or color, you don't want to be trying to find dropped crayons under the passenger chairs nearby. So, if they aren't old enough to keep the art supplies in a container or box you may want to skip that activity. You may want to consider playing an audiobook for them to listen to, if that is something that can keep their attention. You might get lucky enough to be able to have them watch a movie. More and more airlines are equipping their planes with movie screens in the headrest of each passenger chair. This might be the best way to pass the time, and headphones are even often handed out at no charge. This way your kids can be entertained nearly the whole time with a good kid's movie. However, I would be prepared with a back up plan in case your plane doesn't offer that feature as they are not in every plane just yet. If your kids have their own electronic devices, like a tablet or Ipad, make sure you get them all charged up before leaving the house so you don't have to worry about finding a charging station.
Depending on the time of year you are traveling to Waikiki, you may want to consider the temperature of the plane. If it's cooler weather where you are traveling from or if you are traveling in winter, planes can get a little cool when they reach their full altitude. Having a small blanket or even just a zip up sweater can help your kids be more comfortable during the flight.
Best places to stay in Waikiki with kids
The number of children you have can make all the difference in the world when picking out your lodging. If you only have two or three smaller children, you won't run into much issue with space because a standard double room in Waikiki will usually suffice. However, if you have more than three smaller children, this is when things can get expensive and require more planning.
For larger families with more than 3 children, I strongly recommend looking at options outside the standard hotel room, such as an Airbnb or VRBO rental. These rentals provide accommodations ranging from a single room up to large luxury houses. The huge advantage is you can search by the number in your party, and specify the type of accommodations you want (ie. Condo or house) and see approximately where they are located in proximity to the activities you want to enjoy in Waikiki. The other option with larger families would be to just rent two adjoining rooms at a standard hotel. You can compare the pricing of doing that versus the condo or house rental and the amenities to determine what's really going to work best for you and the kiddos. One of the trade offs of using the condo/house rental is you sometimes lose on amenities that a hotel can provide, like a pool or gym facilities. We all know how much children usually love the pool, mine can't seem to live without it, and that may make staying at a hotel more worth it for you. However, I have found rental properties that also had a pool option when I've traveled with my kids.
If you really want to stay in a place that is all about the kids, somewhere they will really remember, there is of course Aulani, which is a Disney resort. They will love every Disney feature at this upscale resort, plus so many other fun activities, like the splash zone, pool slides and play areas, lazy river. On top of the pool fun, they have cultural events where the kids can learn about the Hawaiian culture, participate in making some craft, or even learn to use the ukulele. This is an amazing place to stay with kids and a place that will give your family so much to do without even leaving the resort.
A few other great places to stay in Waikiki that have kids club programs are The Sheraton, The Hilton Hawaiian Village, and The Hyatt. All three locations create a more family friendly atmosphere and offer kids activities. The Sheraton's kids club takes trips to the zoo and aquarium, plus offers fun activities like bodyboarding and making leis. At the Hilton their kids camp also plans activities to a variety of attractions around Waikiki, plus they have penguin and turtle feedings, waterfalls and slides in their pool area, and special kids menus in their restaurants. The Hyatt has a kids camp as well which offers some neat activities to guests like surfing lessons, which might be a really fun option for kids a little older. On the
Best kids' activities in Waikiki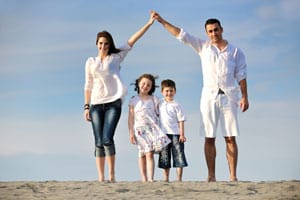 Once you determine the type of lodging you want to stay in, then you can start comparing the activities you want to enjoy in Waikiki. There are so many different and fun things, it can be really hard to decide. One of the most recommended activities in Waikiki is of course a luau. A few hotels actually offer a luau right on their property. But if they don't there are going to be plenty nearby that you can go to. Luaus show the great heritage of the Hawaiian culture, and usually include a delicious meal full of traditional Hawaiian dishes.
From beautiful sandy beaches in Waikiki (and all over the island) to cultural centers, animal activities and amazing hikes, there is an abundance of activities the kids are going to just love! Talking with other moms who have been to Waikiki, we all agree that the activities we chose depended on the age of our children. While my children were between 6 and 10 when I went to Waikiki, one of my good friends had toddlers when she traveled there. While we both went to some of the same places, some activities were not as appealing to take her littles ones to. For instance, a hike up Diamond Head would not be as desirable to her 3 year old as my 10 year old. None the less, there are so many things to do, your kids should not be bored by any means. After our trip to Waikiki with our kids, they told us their favorite activities were our trip to Dolphin Quest and quite simply just playing on the beach. We couldn't get our kids to leave the beach without long, sad faces every time. You can read a more extensive list with further details about kid friendly things to do in Waikiki here (Kid Friendly Things To Do In Waikiki) to get the full scoop.
When I mentioned packing for your trip above, I discussed the possibility of rain. A short rain storm when you are out for the day may not be a big deal. However, there are times when rain can set in for a few days. While this can put a damper on your Waikiki trip, especially for the kids, there are some great ideas for raining days at this blog here (What Are The Best Rainy Day Activities In Waikiki). This will help you be prepared for all conditions.
Getting around Waikiki with kids
If I'm traveling without my kids, I do sometimes consider alternative transportation options, like using the bus, a taxi or an Uber/Lyft ride. However, I feel that renting a car is typically a better option for my family when my children are along. It's not really common to travel to a place like Waikiki and stay cooped up in the hotel or lounge around the pool at the resort the whole time. With as many things to get out and see and do, it is much easier to load the kids up in the rental whenever we are ready and go from place to place without waiting on public transportation or a car to come and get us. There are rental companies that rent larger vans and SUVs if you have a larger family too.
There is one fun option though I do recommend with kids, maybe just for a day or if you just don't want to drive a rental car. That is to use the Waikiki Trolley Pass. The kids will actually get a kick out of riding on it, and it still gets you to some of the many key tourist locations like Pearl Harbor or Diamond Head. It's pretty cost effective too, it just requires planning around the trolley run schedule and keep in mind that kids aren't the best at sitting around and waiting. When my kids were younger, they really enjoyed the trolley but they never liked waiting for it. Another alternative option is to check with your hotel to see what shuttle options they have around Waikiki.
Kid Friendly restaurants in Waikiki
While you will find plenty of the standard restaurant chains in or very near Waikiki, anything from McDonalds to the Cheesecake Factory, I do recommend checking out the restaurants local to Waikiki. There are plenty that even your pickiest eaters will enjoy. Some very popular Hawaiian style dining locations are Uncle Clay's House of Pure Aloha, Island Vintage Shave Ice, Heavenly Island Lifestyle, Hula Grill, and one of the kid's favorites is Yard House because they have a lot of selections for the kids. All of these places I've taken my kids and had they were all able to find something they liked.
There's a couple other places my kids have really enjoyed and we always go back to. The first one the kids just loved the name at first, but then loved the food too. Goofy Café has some standard breakfast type items, like omelets and french toast, but my kids actually enjoyed their smoothie bowls. Something unique to try for sure! Our favorite beachside eatery is the Barefoot Beach Café where you can order quick and inexpensive items for a quick break from the sun and then let the kids get right back out in the water without any clean up.
Shopping with kids in Waikiki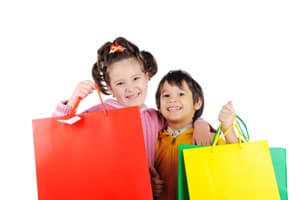 In every tourist area there are going to be souvenir shops galore and all kinds of places to get keepsakes to remember your trip in Waikiki. I made sure to take the kids to some fun places that they would also be able to find something the liked to take a piece of Waikiki home with them. The International Market Place is centrally located within Waikiki and had so many cool things to chose from. We also stopped in the Ala Moana shopping center, which is a very large mall in Waikiki. We didn't want to spend a lot of time shopping when there were other fun activities in Waikiki, but the kids definitely loved being able to pick out something cool to take back. My older kids even wanted to take some souvenirs back for their best friends.
Related Questions
1. Is it a good idea to take my kids snorkeling in Waikiki?
This all depends on how old they are and their swimming ability. If they are decent swimmer and you want to let them try it out, just be prepared to spend some extra time trying to teach them. Using a breathing tube while snorkeling can be a little difficult at first for even adults to adjust to.
2. If my hotel doesn't have a day camp, are there other places that my kids can stay if the adults want to play?
Yes actually, some of the hotel chains that have a day camp are open for drop off even if you aren't a guest at that hotel. The Sheraton is one of those hotels. In addition, there are local drop in day care centers that are not within a hotel that could be a short term option.