If Waikiki is your sole destination in Oahu, it is unlikely that you'll need a rental car. If you plan on venturing beyond the city limits, however, a rental car or other personalized transportation may make more sense.
Do You Need A Rental Car in Waikiki? No, the need for a rental car in Waikiki is mainly dependent upon your plans. Waikiki is a compact central business district of only 3.5 sq. Miles, with beaches and attractions easily accessible to pedestrians. Public transportation and taxis/Uber and Lift are also good alternatives.
If you have more time and want to see the real beauty of the island though, it may make sense to go 'your own way.' Whether by renting your own vehicle or taking advantage of the many tour opportunities that genuinely allow you to enjoy your ride through paradise. Considering all your options is the smart thing to do.

A Wealth of Choices
Despite its exotic location, Waikiki offers the same amenities as any modern city. From safe and plentiful taxis and buses to ride-sharers like Uber/Lyft, or well-organized tour operators and affordable rental cars, it is all there for the discerning visitor. Which option to choose is mostly dependent upon your tour and travel plans.
If your preference is to explore just the Waikiki district, you need nothing more than shoe leather to get easily about. The iconic beach is but a few block-walk from any hotel in the city, as are most of the favored dining, shopping, and entertainment areas. The streetscape also offers up the most intimate experience, with storefronts, vendors, and passers-by embellishing your journey. Weary after a day of fun in the sun, taxis, trolleys and ride-sharers abound to get you back. Shuttles and trolleys also provide low-cost trips to virtually every corner of Waikiki's many shopping, dining and amusement attractions.
Additional planning is in order if you want more than just the urban scape. Day trips to Diamondhead or Pearl Harbor are easily accomplished via a modern public transportation system known simply as "TheBus", albeit a bit slower than suits most, but with more than 100 routes to 4,000 locations at the cost of $2.50 a person a ride ($35 for a four-day pass), it's very tough to beat. Biki rental bicycles, mopeds, and scooters abound on most corners, and ubiquitous ride sharers like Uber and Lyft drivers are but a call away. Local tour operators also offer a smorgasbord of day trips to attractions across the island, with hotel pick-ups making it even more convenient.
In many respects, renting a vehicle to get you about is often the most problematic. While rental deals are plentiful and equivalent to those in any other city (with economy deals at less than $200 for the week), insurance costs, exorbitant parking charges, high fuel prices and the delays and stress of traffic congestion can tip the scales against the independence of your own ride.
The Pros & Cons of Getting About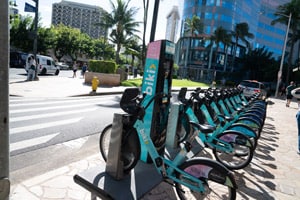 Walking, biking and public transportation are healthier, cheaper, more environmentally sound, and more intimate modes of getting about. They offer a fuller experience amidst a more immersive environment. Physical limitations can restrict these activities, however, and each may require a little more time than desired.
Ridesharers like Uber/Lyft or traditional mass transit like buses or taxis offer greater range at affordable prices, albeit with some constraints on convenience and timing. Each allows you to more fully enjoy your travel experience with no concern about driving, directions or traffic. Always ask the approximate cost of your trip before getting into a taxi, and tip 15-20%. Hawaiian taxi drivers are also very knowledgeable goodwill 'aloha' ambassadors so don't be afraid to pick their brains.
Rental vehicles, whether through traditional retailers or newer gig-economy car-sharers such as Turo, offer the widest range of exploration with the most individual convenience. You can go where you want when you want. But at a price that can often be prohibitive. The daily costs of parking, insurance, and fuel often double or triple the 'cheap' rates you're paying for the rental itself. And why rent a car for a week when half the time you'll be hoofing it to and from the beach and restaurants near your hotel?
More to Consider
Note that you generally must be at least 25 years of age to rent a vehicle in Hawaii. While rentals are available to those between 21 and 25, drivers under the legal limit will pay an 'underage' fee that can go as high as $75 per day, in addition to any rental or other insurance costs. Parking is also costly in Waikiki, with $25 per day minimum, and likely much higher.
Visiting such popular destinations as Nuuanu Pali Lookout, Hanauma Bay, Halona Blowhole and Sandy Beach will require a more concerted transportation plan. These destinations, each more than 30 minutes outside of Waikiki, require more individualized transportation such as rental cars, but tour operators and even ride sharers can accommodate your needs just as conveniently, and often cheaper.
You can also plan your trip to accommodate differing itineraries. If you just want to chill your first few days on the island, with the beach, hotel and dining the extent of your activities, it makes sense to forego a rental car that will just sit in the parking garage. Wait to secure a rental for just the day or days that you'll be venturing outside the city, and have it delivered to your hotel for added convenience.
Waikiki hotels rarely offer airport shuttles, so getting from the airport to your hotel is your first consideration. Taxis are generally considered the cheapest direct mode (buses can get you there too, albeit at a much slower pace), with prices around $30. Private operators such as VIP Trans and Speedishuttle also offer airport transfers at much more affordable rates.
Related Questions
How bad is the traffic in Waikiki/Honolulu? Simply put, bad. Really bad. Second worst in America in fact. During morning commutes, and between 1 and 6pm weekdays, a simple 20-minute drive can take hours in bumper-to-bumper, creep and crawl traffic.
What is the best vehicle to rent?
Good deals on smaller sedans are plentiful with six- and seven-day rentals easily under $200. Larger sedans and SUV's/4×4's are the least affordable and make the least sense. You'll use more gas, require bigger parking space, and have no need for off-roading capability.
What about the alternatives? Fortunately, a world of transportation alternatives awaits the Waikiki visitor. If walking isn't your preference, cheap rental bicycles, mopeds, and even scooters are available on most street corners. Convenient trolleys and shuttles operate throughout the city, and like any other city, Uber and Lyft drivers are just minutes away. Taxis are plentiful and easily hailed, albeit more expensive, and especially during periods of severe congestion. Buses are very affordable, clean and well-run, but obviously requiring far more time to get you there.
New rental ride sharers like Turo are also growing in presence around Honolulu, with cheaper prices and fewer restrictions.
What is there to see and do in Waikiki? After the world-renowned Waikiki Beach (which is usually towel-to-towel crowded), both Diamond Head and Pearl Harbor are generally considered the two main 'must-see's' in Oahu/Waikiki. Both are close by and free or cheap to visit. The Waikiki Historical Trail offers up points of interest across the city, and excellent shopping is available at the Royal Hawaiian Center, the Waikiki Beach Walk, and the International Market Place. The Waikiki Aquarium and Honolulu Zoo are delightful respites from the oft-maddening crowds of tourists jamming Waikiki streets.