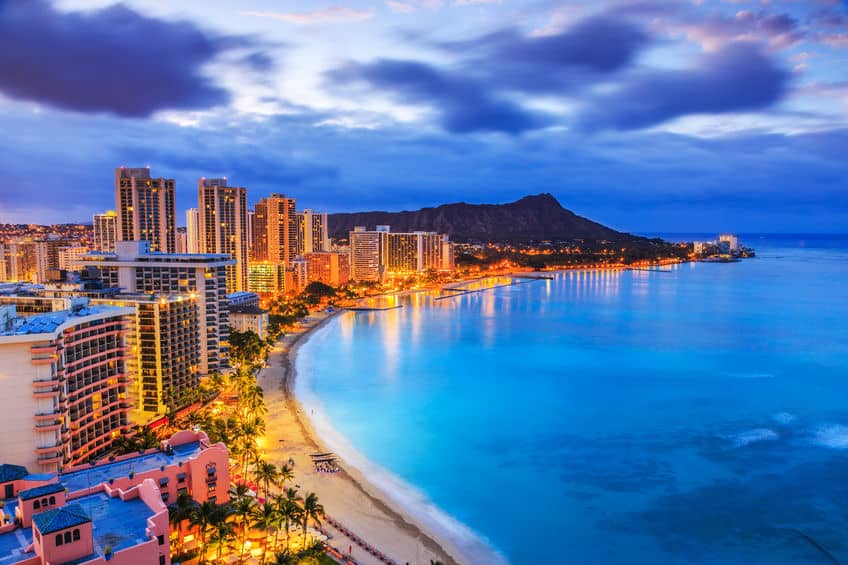 A visit to Waikiki isn't truly complete without a hike up to the top of Diamond Head State Monument. This world-class destination offers breathtaking views of the Pacific Ocean and the city below. Visitors to Waikiki simply must plan an afternoon trek to make it up to the top. With any afternoon hiking adventure, there are a few important pieces of information that you might want to know. Considerations for visitors to Diamond head include preparing for the hike, time needed, highlights of the experience, and perhaps where to grab a beverage afterward.
Diamond Head is both a historical landmark and also a natural wonder. Visitors to the monument should prepare themselves by staying hydrated, wearing comfortable clothing and applying sunblock. The hike takes about 1.5-2 hours round trip, which depends on how many times you stop to admire the view on the way up.
Arm yourself with knowledge about Diamond Head so that you're ready to hit the trail upon arrival. With rich history and sweeping views of Honolulu, this hike is a highlight for most visitors to Waikiki, making it a major point of interest. Whether you're trying to learn the full history of the monument or just the technical details of how to get to the area, we've got you covered.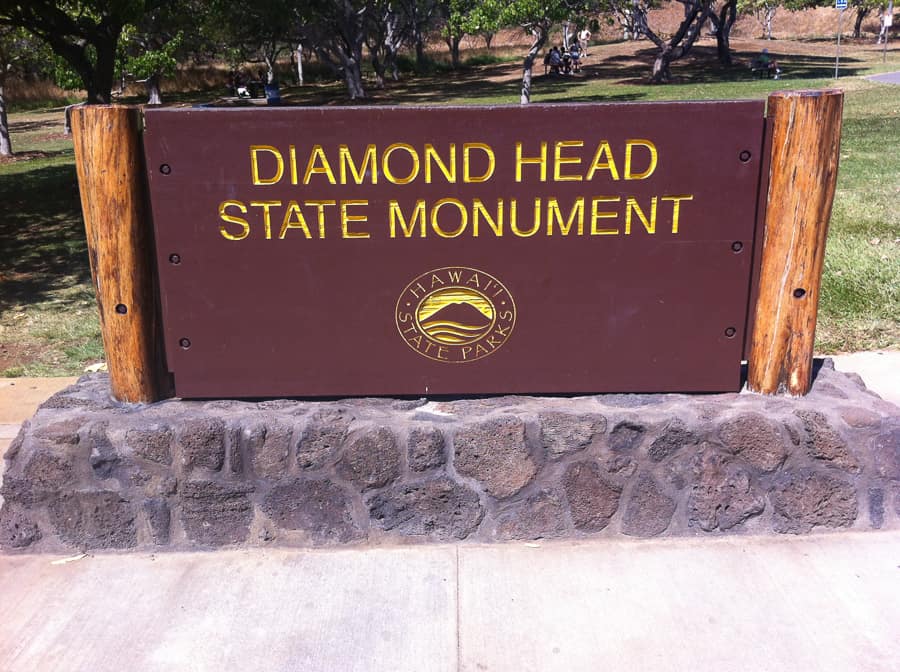 What Is The History of Diamond Head?
Why is it called Diamond Head, anyway? If you learn about the history before going, you'll be able to share valuable information to fellow hikers along the way. The area has rich history, both geological and with Hawaiian culture.
Diamond Head's geological origins date back to over 300,000 years ago. It was part of the Honolulu Volcanic Series, which also resulted in Koko Crater, Punchbowl Crater, Hanauma Bay, and Mañana Island. These events range from 800,000 to 30,000 years in the past, intriguing visitors with their ancient origins.
For 1.3 million years, the volcanic activity was nonexistent. Diamond Head's famed volcanic cone began from one single eruption of molten lava that flowed into the Pacific Ocean, leading to explosive conditions for the sea floor and reefs that finally settled into the landmass you see today. At the highest point, the cone is 760 feet tall, with a gaping crater measuring 350 square feet. Visitors can expect to hike to a height of 560 feet during their adventure. With its jagged rocky sloped and somewhat arid terrain, Diamond Head presents a unique style of vegetation that is unique to this area. The crater is covered in low shrubs, without many other large plants. Although the crater was once an active volcano, it hasn't erupted whatsoever in the past 150,000 years.
Diamond Head wasn't just a point of interest for its scenic beauty alone. In the early 1900's, the government decided to leverage the asset of panoramic views and use the landmass for military purposes. Fort Ruger was born, a defense for sea and ground attacks. This was the first military reservation in Hawaii, named after Thomas H. Ruger who was a Civil War General. Around the crater, the military created bunkers, stations, and heavy defense systems. Once you ascend to the summit, you will be able to view some of the military's history.
Nowadays, Diamond Head is a major icon for Hawaii. It's highly recognizable, and even appears on loads of merchandise including clothing, souvenirs, logos, posters, and more. If you're interested in some Diamond Head gear, you can check out the selection online at Pacific Historic Parks. Or, you can pick your memento in person at the gift shop right by the trailhead
As if Diamond Head's sheer beauty wasn't enough, a visit to the crater is also an educational experience. When you can get exercise and education in the same activity, you're truly living the Waikiki experience.
What Is The Origin Of The Name Diamond Head?
Originally, Hawaiians named the volcano Lae Ahi, which interestingly means "brow of the tuna". Most people are familiar with "Ahi" due to the class of tuna, but most would never know that "Lae" means brow. Remember this, because you never know when bar trivia will focus on Hawaiian history.
By contrast, the commonly known name "Diamond Head" originated in the 19th Century, from British sailors who marveled at crystals that appeared to be diamonds at first glance. Little did they know, the crystals were made out of calcite and did not hold value anywhere close to diamonds. Oahu's most famous monument mistakenly got its name, but we still think the views are as majestic as diamonds, so it works out.
How Should I Prepare For The Day?
Diamond Head requires similar preparation to most other hikes. There are a few key items that are highly recommended for your day trek, in order to make your experience a smooth one.
As with any hike, be sure to bring plenty of water and a few snacks to boost your energy. Whether you fancy trail mix, granola bars, fruit, or something less healthy- you'll love taking a break to have a snack with a view. The trailhead has water fountains, bathrooms, a gift shop, and simple snacks available for purchase, in case you forget something. One of the highlights available includes traditional Hawaiian shaved ice, which is the best way to end a hike at Diamond Head. Or you can get one before and another after… Who's counting? If you prefer something a tad more natural, fresh coconut and pineapple vendors are commonly available throughout the day.
You may choose to stop by the information booth before trekking, for any and all questions. You can purchase a self-guided audio tour, or just figure out where you want to spend the most time on the way up. The official State of Hawaii guided tour is an easy way to learn as you walk, focusing on the area's history, culture, geography, botanical background and animal life.
Hawaii's sun is strong, with an average of 70% of days forecasted to be sunny in Honolulu. In fact, Honolulu gets more direct sunshine than Hilo, Kahului, and Lihue. Before you grab the nearest bottle of sunblock in a rush, you should consider the type and amount of SPF that you need to protect yourself. Regardless of your individual needs, a top rated sunscreen is a must for a day hiking Diamond Head.
When getting dressed for Diamond Head, think about comfort and lightweight. Hawaii's temperatures are high year round, so be prepared to sweat a bit. Hawaii's average humidity level hovers between 70-80% daily, making it easy to feel overheated. Dryfit clothing will help you stay cool, along with a hat to protect you from the sun's strong rays. Do not wear sandals by any means, as tempting as it is. You might want to pack them in your bag, however, if you plan to catch the sunset on the beach afterwards.
How Do I Get To Diamond Head?
Diamond Head is open for trekking from 6 am to 6 pm, 365 days of the year. That's right, you can hike on Christmas if you would like! Be sure to get an earlier start, because the last permitted entry time is at 4:30. If you want to be the first person in the park, you'll have to get up before sunrise- but the serenity of the morning hours makes it incredibly worthwhile. All visitors must exit the park by 6 pm, so it makes more sense to get an early start and leisurely take your time to enjoy the sights.
To get to Diamond Head from Waikiki, you can choose between a few options. The monument is only about 3 miles from Waikiki, making it easy to get there and back in a short amount of time.
Taking the bus is the cheapest option, and also quite speedy. You can hop on at Stop 4538 or Stop 4591, both of which will take you right to Diamond Head.
Walking is also possible. It takes about an hour to walk three miles through Waikiki before accessing the park entry.
Driving to Diamond Head only takes about 10-15 minutes, which is essentially a straight shot down Monsarrat Avenue. You will pay $5 for parking and entry. There are limited parking spaces available, it is recommended to arrive early in the morning, or after 2 pm once the morning crowd has left.
Rideshare options such as Uber and Lyft are quick and reasonable.
How Long Does the Hike Take?
The length of the hike depends entirely on your individual speed, and how often you like to stop and take photos along the way. The park is most busy between 10 am and 2 pm, making it a bit congested during the busy season. From the beginning of the trailhead to the top of the crater, hikers will ascend 0.8 miles one way. With steep and uneven land, this usually takes a little bit longer than most might assume. If you generally hike at a slower pace, you won't mind the busy hours of midday as much.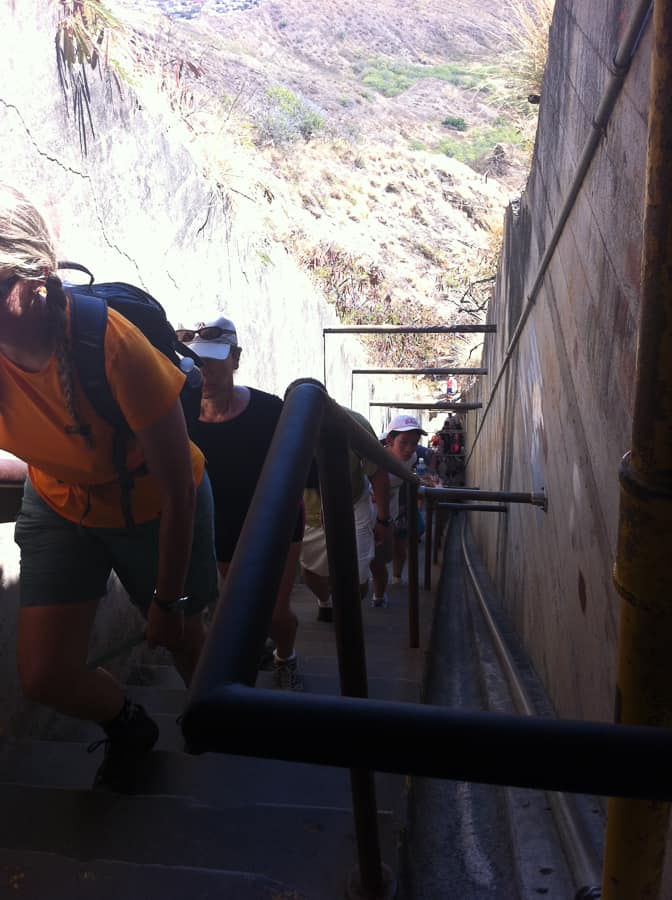 If you're moving considerably fast, the hike can be as short as 1.5 hours round trip. However, most people stop a couple times to take in the views and history-making Diamond Head more of a 2-3 hour excursion. The switchback trails have plenty of opportunities to take a break, take photos, and take in the history. If you like to speed through your hikes, it's recommended to go very early in order to avoid the crowds. If you're an Olympic hiker, you might find yourself getting frustrated trying to navigate the trail with a myriad of other hikers who are at a more leisure pace than you.
The hike starts out fairly level, and becomes gradually steeper with ascension. The trail starts off simply as a cement path, which is level and smooth until you get to the crater wall. Once you reach this point, the trail becomes more rustic as a dirt and rock pathway. As you make your way up to the top, you'll encounter some narrow stairways, lookout points, and a tunnel near the top that can be quite dark even during the middle of the day.
If you are prone to feel claustrophobic, you may want to decide beforehand if you're comfortable with the tunnel. It's relatively narrow, making it a cozy squeeze especially on a busy day. The tunnel is fairly straight and the ground is smooth, but it lacks in height and width. Tall hikers should be sure to crouch over a bit, to avoid a bump on the head.
As if a tunnel wasn't enough, there is a spiral staircase that's petite in size compared to your average stairway. On a day where the park is full, you will encounter many hikers going the opposite way, making the path feel smaller as you pass each other. The vast majority of Diamond Head is completely spacious being that it is outdoors, but these small elements are worth a consideration for some hikers.
Even experienced hikers should be aware that the terrain is uneven at times. It's best to take your time to avoid any slips or falls as a result of bumps in the path. We like to think of it as enjoying the journey, rather than making it a race!
Related Questions
What Does Diamond Head Cost?
Depending on your arrival style, your cost to enter the park will depend. If you plan to arrive by car, your entry fee will be $5 total. If you prefer to take a walk before a hike, pedestrians are only charged $1 for entry. You are welcome to stay as long as you want for the same price, as long as you leave before the park closes at 6 pm. As aforementioned, the last entry time is 4:30 pm.
Generally, Waikiki and the surrounding area are fairly pricy for tourism. Diamond Head presents a full afternoon activity for an incredibly reasonable price. Be sure to bring some dollar bills, as the park only accepts cash for parking and entry fees.
Where Should I Unwind After The Hike?
After an exhilarating hike, the best activity is to unwind in Waikiki and enjoy the sunset, perhaps over a beer or two. Luckily, we're experts at hanging out in Waikiki- especially after a day of being out and about. A couple great options include dinner with a view, happy hour, or enjoying a local café.
Everyone has a different style after a day of being active. Some are ready to stay energized all night, others prefer to kick back, or enjoy a gourmet meal. Waikiki has something for everyone, especially those who spent a day in the sun at Diamond Head.
What Items Should I Bring For Diamond Head?
Our Diamond Head checklist will have you ready to climb the crater in a pinch.
1-2 liters of water: It's cheaper and easier to bring your own water. You can always buy more if necessary, but coming prepared will save you time and money.
Camera: This one might be obvious, but some hikers prefer to be as minimal as possible. If you lug your camera, you won't regret it!
Long Sleeves or Sunscreen: If you can tolerate a sweaty long sleeved shirt, it's a surefire way to prevent sunburns. If not, a good slather of high SPF sunblock will do the trick.
Head Lamp or Flashlight: Most people neglect this item, but traveling through the dark tunnel will be easier and safer with a little extra light.
Trail Snacks: Whether its granola or last night's leftovers, you'll probably appreciate a snack at the top.
Gym Shoes or Athletic Sandals: The terrain of the hike can be unpredictable during middle and top. Avoid the chance of a slip or ankle injury by wearing tight fitting shoes with a sturdy grip.
Can I Bring My Kids To Diamond Head?
Yes! Diamond Head is kid-friendly, and children join in on the fun daily. Kids are okay to bring along on the trek, as long as they can walk safely on their own. Keep an eye on them closely, as the uneven ground can present a bit of danger to the overzealous child who likes to run rampant in new surroundings. The hike can be fairly strenuous for young children, so be prepared to give a piggy back ride when your child gets tired from the steep incline and sunshine. There is hardly any shade at Diamond Head, so parents should be sure to provide hats and proper sun protection gear before setting out for the afternoon. On the way down, a Hawaiian shaved ice is the perfect way to celebrate for the whole family.
Parents of babies and toddlers should be aware that strollers are not allowed at Diamond Head.