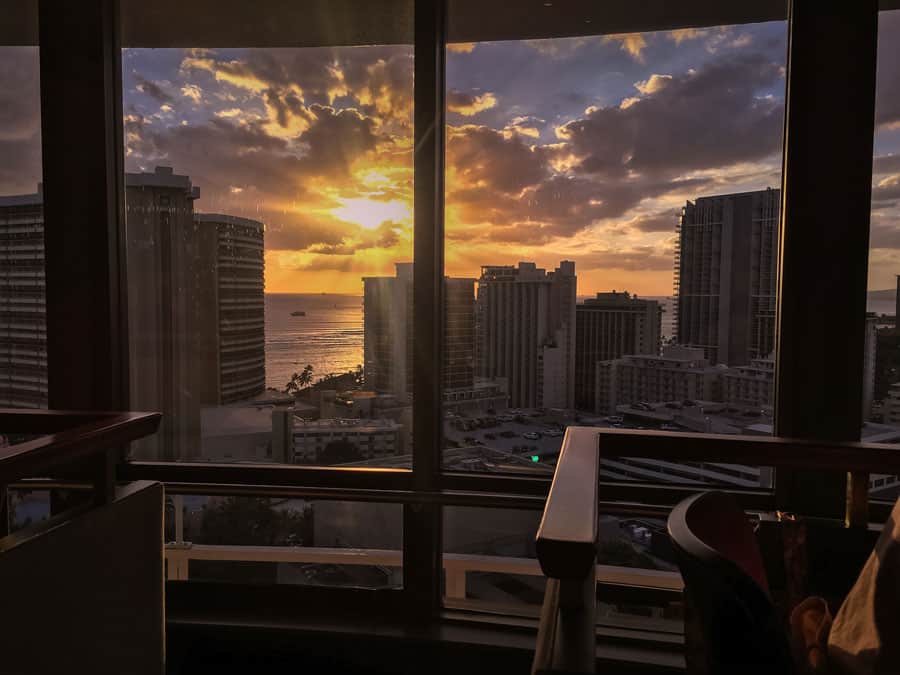 Every evening on Waikiki Beach, underprepared travelers from across the globe face an impossible decision: try to enjoy the sunset over rumbling stomachs, or risk missing the show while they find something to eat. Don't be underprepared. Keep reading, and we'll tell you where to go for a meal with a view.
WHAT WAIKIKI RESTAURANTS HAVE A VIEW? Based on travel ratings, customer reviews, and local reputation, these are the top picks for restaurants in Waikiki with beautiful views:
• Top of Waikiki (permanently closed)
• House Without A Key
• Duke's Waikiki
• Orchids
• La Mer
• Azure Restaurant
• RumFire
• The Edge of Waikiki
• Hula Grill
• Lulu's Surf Club
The list comprises some of the best restaurants in Waikiki, and the views are unforgettable, so we highly recommend that you try them all. But if you don't have time to hit each one, just keep scrolling and we'll give you all the info you need to narrow down your list.
Top of Waikiki — Permanently Closed
Featuring live music, hula dancing, and a signature Mai Tai, House Without a Key offers a tranquil dining experience with incredible ambiance. The restaurant and its splendid ocean view from beneath a 100-year old Kiawe tree served as the inspiration for a 1925 Earl Derr Biggers novel that spawned two film adaptations.
The menu focuses on an upscale barbecue, highlighted by fresh fish and lots of bold Hawaiian flavors. At dinner, entrees run from $20 to $50.
If you're looking for less upscale and more Hawaiian cool, Duke's Waikiki might hit the spot. Duke's has a gorgeous view of the bay and serves some of the most beloved food in town at a reasonable price. Seasonal fish, perfectly cooked steaks, and succulent prime ribs take center stage in a menu that packs a lot of spice. Vegetarians take note: the Lilikoi Glazed Tofu is one of the best vegetarian dishes in the area.
Dinner should run between $20 to $40 per adult, and parents will be glad to hear about the 'Keiki' menu, with simple dishes in the $10 to $14 dollar range (including milk, juice, or soda).
Located in the Halekulani resort, Orchids offers perfect views of the bay from both the spacious patio and through gorgeous shuttered double-doors in the elegant dining room, which hang wide open during service hours.
Chef de Cuisine Christian Testa's menu is inspired by the coasts of Italy, flaunting bright, rustic flavors, savory seafood, and hearty pastas (the crab ravioli is unbelievable). At dinner, entrees range from $30 to $60.
Next on the list is another Halekulani favorite. La Mer offers the same epic view as Orchids and serves 5-star neo-classical French cuisine, inspired by local delicacies. Some call it the best fine-dining menu in Waikiki.
If you want to go, be sure to make a reservation well in advance. You'll have to wear "elegant evening attire," to fit the dress code, you can't bring children under 8-years-old, and you should come prepared to spend at least $200 per person.
Azure Restaurant presented by the Royal Hawaiian hosts dinners in a comfortable, intimate environment with breathtaking views of the Pacific, Diamond Head, and downtown Waikiki across the water.
Chef Shaymus Alwin's stunning menu features daily fresh catches from the Honolulu fish auction prepared with zesty island and Asian flavors. Expect to spend between $60 and $100 per person for dinner.
Sheraton Waikiki's ultra-chic RumFire serves Pacific and Hawaiian flavors that pair well with their excellent drink menu. They emphasize healthy local ingredients and sharable plates that create a pleasant, relaxed atmosphere on the gorgeous oceanfront patio (at least before it switches into nightclub mode).
Plates run between $15 and $30 dollars, though there is also a "Keiki" menu with options between $10 and $12 for children under 12-years-old.
You might not notice it at first, but tucked in next to RumFire on the Sheraton property is another fantastic oceanfront opportunity, The Edge of Waikiki. Bring a swimsuit so you can take advantage of the best view in the house, from an infinity pool that directly overlooks the ocean.
Cocktails and fish tacos are the stars of the reasonably priced menu, which consists of typical bar fare (think fried) with Hawaiian flavors. Visit during the highly rated happy hour for great deals on food and drinks.
Hula Grill claims to have 'Waikiki's best restaurant view of Diamond Head", and we're inclined to believe them. It's easy to trust a restaurant that sources fresh produce from Oahu farmers daily and only uses local, line-caught fish. Dinner plates range from $30 to $50.
Lulu's Surf Club's open-air dining room sits right on the beach, and with an excellent happy hour and daily specials, they make it easy to score a deal on what is already one of the most affordable meals with a view in Waikiki.
The menu deftly balances a suite of comfortable bar familiars with expressive local flavors. Entrees range from $12 to $30 dollars. We recommend the burgers!
Related Questions
Waikiki vs Maui
While there are plenty of reasons to choose either destination, if you're reading this now, it is probably safe to assume that you're already leaning toward Waikiki.
We think that's a strong decision. You won't find a wider variety of activities and experiences packed into a district so small anywhere else on the islands, so you know that Waikiki will have something to please everyone.
That's not to say Maui doesn't offer its own advantages, including a more laid-back vibe that's perfect for a romantic excursion. For a quick read that should help, check out this excellent guide to choosing between Maui and Waikiki.
Where's the best place to go diving in Waikiki?
The Waikiki Dive Center is the only full-service dive center that you'll find in Waikiki proper. They offer a wide range of experiences across several dive sites, with packages starting at $55 dollars per person.
For more detail on the offerings at the Waikiki Dive Center, as well as the low down on a few alternative dive services located throughout Honolulu, hit this link to learn about the best dive centers in Waikiki.
Should I Rent a Car in Waikiki?
Probably not! If you're only on Oahu to visit Waikiki, you won't need a car. The district is small enough to keep all the attractions within a short distance of any resort, the public transit system is excellent, and the weather is what brought you there in the first place, so you're going to want to walk. And on the rare occasion that you do need a ride, the cost and difficulty of parking means you're better off grabbing a Lyft.
Still not sure? You can find a more thorough breakdown of the factors to consider in this guide on whether to rent a car in Waikiki.