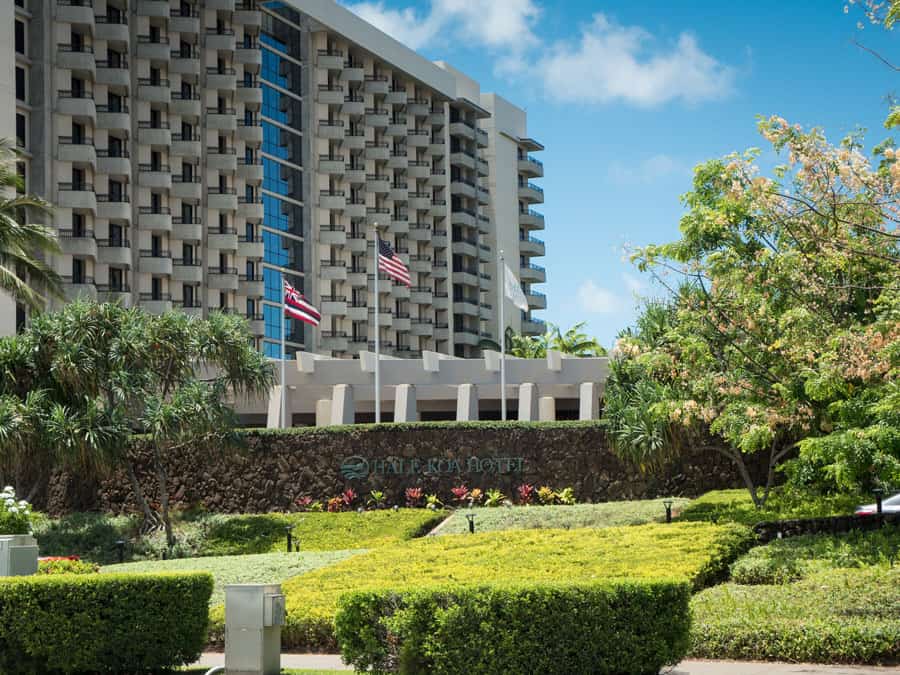 Like you, I love Waikiki and staying at the Hale Koa is a great way to vacation in Hawaii. The Hale Koa is reserved for members of the Armed Forces and their families. If you are eligible to stay, I have some great tips for you!
What are the secret tips and hacks for staying at the Hale Koa?
Super Mai Tai's
Book your room a year in advance
Pack lighter by doing laundry
Find the LOVE tree
Use the towers south side elevators
Red-eye flights give you an extra day of vacation
Hale Koa Aquatics Complex (Now Open)
Hale Koa WiFi
I make it a point to stay at the Hale Koa a couple of weeks each year. Over time I've found some useful tips and tricks I'd like to share with you to help plan your next vacation.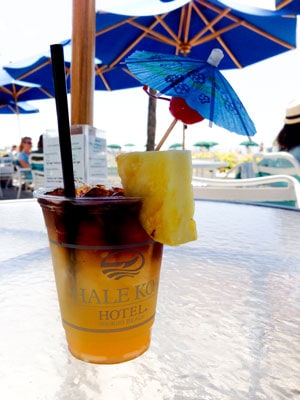 Super Mai Tais
When you're staying at the hotel, you'll undoubtedly find yourself at the Barefoot Bar. The Barefoot Bar is a full-service bar open from 10 am till midnight. One of my favorite drinks to order is the "Super" Mai Tai. You will almost certainly get the secret nod or wink from the bartender acknowledging you as a "Hale Koa Regular". Anyone paying attention at the bar always asks "What's a Super Mai Tai?". A Super Mai Tai simply replacing the 80 proof rum with 151 proof. A delicious, but efficient drink indeed. Don't forget to show your room key or military ID for your discount.
Book Your Room A Year In Advance
The Hale Koa is of great value for military members visiting Waikiki. Great value means, yep, the hotel books quickly. Many seasoned travelers book their rooms a year in advance. You'll be charged one nights room rate immediately upon booking and have up till 30 days before check-in to cancel for a full refund.
What happens when you try to book your room online, but there isn't any availability? YOU CALL! (808-955-0555). It might take a few minutes to talk to reservations, but they will either find you a room or offer to put you on a waiting list. Don't be afraid of the waiting list! Due to guest booking a year out, plans change and rooms open up regularly. It might be worth a call every month or so to check on your waitlist status. I have yet to not get a room while being on the waitlist.
Pack Light, Do Your Laundry
I know this sounds horrible on vacation, but if you are going to be staying longer than a week, this tip can cut what you need to pack in half. It's not uncommon to have a "rainy day" in paradise. Use this off day to knock out a quick load of laundry.
Each floor for the Hale Koa has a coin-operated washer and dryer. Each laundry room also offers a coin-operated soap and dryer sheet vending machine. You can even get laundry supplies at the onsite PX if needed.
Insider tips:
Get all the change you need for the washers and dryers at the front desk, the cost is $2.50 a load to wash and $2.50 to dry a load.
I like to bring one or two Tide Pods; light and easy to use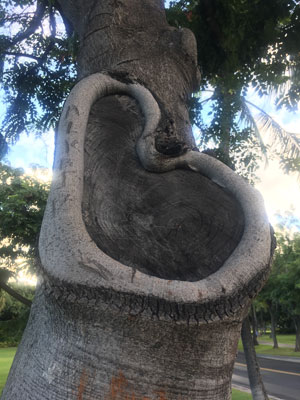 Find the LOVE Tree

Want to have a little fun with your spouse or family. Have a little scavenger hunt by finding the LOVE tree in the Fort Derussy park. The park is located directly east of the Hale Koa. Spoiler alert, the tree is located near the Kalia Rd sidewalk. For my technically savvy friends, use your phone app to exactly find it at N 21.16.49 W 157.50.2
Use the Lima and Maile Tower South Side Elevators
Hale Koa has two towers of rooms, the Lima and Maile towers. The Lima tower is closest to the Hilton (west), and Maile tower is closer to Diamond Head (east). After checking in, you naturally head to your room by using the elevators that are in the center of each tower. You may not notice each tower has a southern elevator which will get you to where you are going much faster. It embarrassingly took me two Hawaii trips to realize what a time saver these are.
If you are staying in the Maile tower, using the south side elevator will take you directly to Bibas Grill and the adult swimming pool. If staying in the Lima tower, the southern side elevators take you almost instantly to Waikiki beach, Happy's (food snacks), Barefoot Bar and the weekly Luau (Monday & Thursday @ 5:30 pm).
Red-eye flights give you an extra vacation day
If you are looking to maximize your time in Waikiki, this is the hack for you! I like taking a red-eye flight to Honolulu arriving around 7:00 am. By the time I get my luggage and catch an Uber to the Hale Koa it's around 8:30 am. Perfect to catch breakfast and get the lay of the land. Don't forget to read our article on how to get to Waikiki from the Honoluluairport for more tips.
It's unlikely they will have a room ready for you that early. Regular check-in time is 3:00 pm, with check out at 11:00 am. However, the reception desk can give you a pass for the gym, this works great if you want to work out or just freshen up from the flight. Additionally, this pass also allows you access to the pools to get you started on relaxing until your room is ready. Just pack your Hawaii clothes in an easy to reach part of your luggage and after you change, drop your luggage at the Bell desk. Go have breakfast and start relaxing!
Tennis Courts At Hale Koa
If you enjoy tennis, look no further. Hale Koa has four tennis courts across the road in the Fort DeRussey park. Tennis courts that can be reserved by calling the Activity Desk at 808-955-0555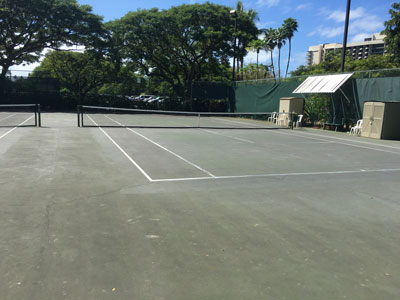 Fort DeRussy Army Chapel
Also, in the Fort DeRussey park, across from the Hale Koa, you'll find the Army Chapel offering services every Sunday at 09:30. For more information visit their Fort DeRussy.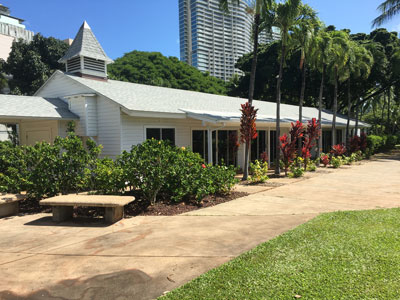 Hale Koa Aquatics Complex (Family Pool)
The long-awaited Hale Koa Aquatics Complex opened on August 30th, 2019. This pool is truly amazing. It offers an adults-only infinity deck/pool area, Cabana's for rent ($50 half-day & $95 full day), a separate kids pool along with a kids splash pad, spa, and water slides. Watch the video on our YouTube channel.
Hale Koa WiFi
Hawaii isn't known for its blazing fast internet. WiFi coverage is good in both the rooms and lobby areas. However, the Maile (Adult) pool has spotty WiFi service and the new Hale Koa Aquatics Complex (Family Pool) doesn't offer any hotel WiFi coverage. Be aware thenHale Koa does limit streaming video and VPN's, so download your favorite shows for your flight beforehand.
Cell phone coverage is excellent in Waikiki so no matter who you have for a carrier you can always resort to your cell phone provider.
Related Questions:
How Far Away Ss Hale Koa To Other Military Bases?
Bellow Air Station – 21 miles
Pearl Harbor – 11 miles
Ft. Shafter – 7 miles
Hickam AFB – 12 miles
Marine Corps Base at Kaneohe – 18 miles
Schofield Barracks – 25 miles
Does Hale Koa Offer Parking
Yes, however, like most hotel parking in Waikiki it's paid parking. Most Waikiki hotels charge between $30-$45 a day, it's refreshing that Hale Koa offers parking for guests at $12 a day. Be sure to check out our article on "Do I need a rental car in Waikiki?". If you do decide on a rental make sure to tell reception upon checking in that you'll need parking and they will charge it directly to your room.