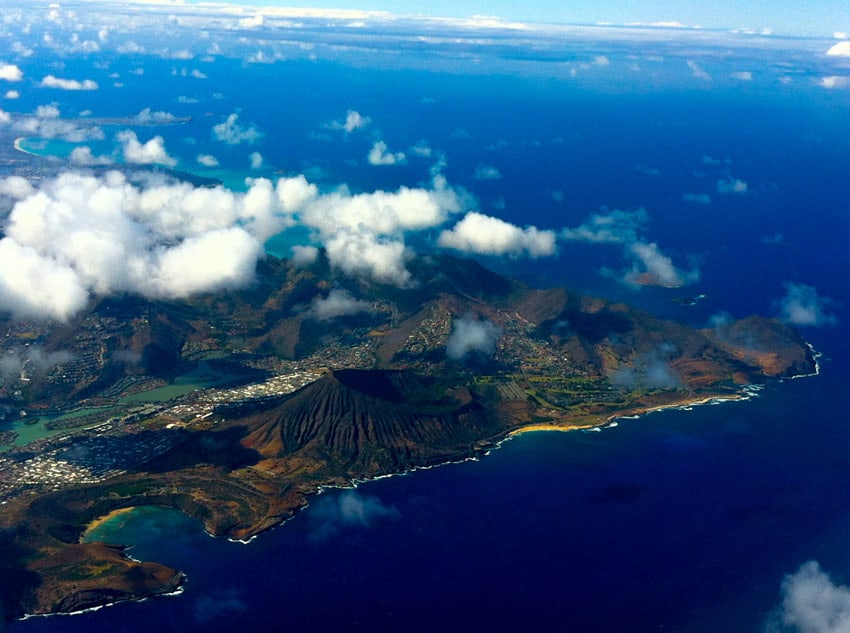 Waikiki is one of Hawaii's most popular tourist destinations, especially for first-timers. If you've never visited Waikiki before, you likely have a few questions before booking your trip.
To answer all of your questions, we'll cover a myriad of Waikiki-related subjects – how long to stay in Waikiki, when to visit the island, where to stay in Waikiki, how to get around the city, how to save money in Waikiki, popular activities, and more!
In order to guide your first experience in Waikiki, it's important to clarify your intentions for the trip. You can begin planning after marking the following questions off your checklist.
The first question you should ask yourself will set the stage for your entire trip.
How long should you stay in Waikiki?
The answer to that question depends on what you want to see and do while in Waikiki. Those traveling on business are likely to plan a different type of stay than those who are traveling with loved ones. Regardless of your reason, most visitors who make Waikiki the crux of their trip stay for 7, 10 or 14 days.
If you stay in Waikiki for 7 days, stay in one location the entire time. If your trip will be longer, like 10 or 14 days, it might be worthwhile to try out multiple locations. Spend some time at a resort near the beach then some of your remaining vacation in the mountains, or even in Waikiki's city center. If you're planning on a two-week vacation, many people opt for day trips that let them explore the lesser-visited area surrounding Waikiki.
What month should I visit?
If you're deciding which months to visit Waikiki, remember that there are only two real seasons in Hawaii. The summer season is called 'Kau'. The winter season is called 'Ho'oilo'. Waikiki's winter season is normally the busiest as people attempt to escape the cold winters of their respective hometowns.
Many people agree that April to June or September to December are normally the best times to visit Waikiki. However, it's important to remember that the word 'best' is subjective. The reason people believe that April to June and September to December are the most ideal months to visit lie in the fact that they are shoulder seasons.
Naturally, airfare and room rates will be cheaper and the city will be less crowded. Average temperatures during these time frames are nice enough for tourists to lounge at the beach without the Hawaiian sun's intensity.
Waikiki and the whole island of Oahu host lots of cultural events from September to December. Examples include the Aloha Festivals, The Hawaii International Film Festival, and Moloka'i Hoe.
The peak of Waikiki's summer season is from June to August. During these months, you're significantly less likely to lose a day at the beach due to rain. Temperatures generally range from the 70s to 80s. You can expect hotels to charge more during this seasonal peak. If you need to guarantee availability, make sure you book your flights and rooms with plenty of time to spare.
If you're visiting in this high season, you can expect hotels and condo chains to implement minimum nightly stay requirements. They will also have more stringent cancellation penalties. Airfare during the high season is often more expensive than other times of the year.
Rest assured that Waikiki will offer something different to tourists every month of the year. The rich culture of this city is on full display no matter the season. Expect to be impressed. If you want to experience Waikiki in it's seasonal prime while the weather is perfect and cultural events are aplenty, chase that time frame. If you want a romantic getaway to have Waikiki to yourself, we recommend going in the months that are less busy.
What are the best ways to get to Hawaii? What are the best ways to get to Waikiki?
There are many different ways to travel to and around the Hawaiian Islands. No matter your budget or timeframe, you can find the right travel options for your stay in Waikiki. (Also see "Where Should I Stay in Waikiki")
The most common way to get to get to Hawaii is by plane. As the Hawaiian Islands are about 2,500 miles from California, plane travel is usually the quickest and cheapest option. If you are flying in from California, you can expect about a five and a half hour flight. However, if you are heading in from the Big Apple, make that 10 hours. International travel is much further, with flights from London taking up to 19 hours! Make sure you factor these flight times into your travel plans.
When flying into Hawaii, especially on an international flight, you can expect to arrive at the Honolulu International Airport. Honolulu is Hawaii's capital city and is also the largest city on the Islands. Honolulu is located on the island of Oahu, so when traveling to Waikiki (also on Oahu), you can simply travel by car to arrive at your accommodations.
Oahu is a highly developed island. If you take a plane to Honolulu, there is a public transit system called TheBus that can take you around the entire island. Shuttles can be found around every corner at the Honolulu airport. The majority of Waikiki's attractions can be found in a rather small radius so renting a car isn't necessary if you plan to stay within the city for your trip.
If you don't want to wait for a shuttle that leaves at a fixed time, Uber is a popular alternative for tourists in Hawaii. (Also see our BLOG post "What is the best way to get from the airport") Many people opt for a rental car, however. A 4×4 rental is the preferred option as many of the most spectacular drives are on rather rugged terrain. There's no feeling that can compare to riding a Jeep around Hawaii while you listen to 'Somewhere Over the Rainbow'.
However, if you are staying on any of the other islands like Maui or "The Big Island", you will need to hop on a connecting flight or small seaplane to arrive at your final destination. In the opinion of many, Waikiki is the clear winner of Hawaiian vacation times. However, if you want to see all Hawaii has to offer, a cruise to the island chain might be a better fit for you.
There are major ports on most of the islands in Hawaii. Many cruises to Hawaii will schedule in time at each of the islands, so this option is a great way to "island-hop" with ultimate convenience! No need to plan a series of boats and small seaplanes to see all of the islands. Simply sit back and enjoy a Mai Tai, while the cruise handles everything for you.
If you don't mind a "long commute" and would like to take your time getting to the Hawaiian Islands, you might try a cruise across the Pacific! Cruises to Hawaii can take anywhere from 5 days to several weeks. If you have the vacation time, this option is well-worth your saved up PTO.
These cruises are a perfect way to avoid a jet-lagged feeling. However, the time it requires to actually reach Hawaii makes this an alternative only to those who can afford lots of time off work.
Where to Stay in Waikiki
There are hundreds upon hundreds of hotels to choose from in Waikiki. Many people experience paralysis by analysis in their valiant attempts to choose the perfect accommodations. Again, the term 'perfect accommodations' is subjective depending on your tastes and preferences.
Have faith – because we have a comprehensive list of the best hotels in Waikiki. (Also see Whether you're in search of a romantic, luxurious experience or you're trying to find something large enough for the whole family, Waikiki certainly offers what you need. You just need to know where to look.
Waikiki is Hawaii's oldest resort area. The region was once a highly contested land between the Hawaiian people and was originally used as the first surf spot for ancient Hawaiian kings. The first big resort, the Moana Surfrider, was built in 1901. It's guaranteed that any young girl who is a Disney fan will love staying at a hotel with such a name.
Another resort with significant historical impact for Waikiki is the Royal Hawaiian Hotel. Both are a great choice. Now, some of the best hotels in town are the Queen Kapiolani, Outriggers, the Hyatt Regency, Waikiki Parc, and Waikiki Circle. Honestly, it's hard to make a bad choice with Waikiki accommodations. Everything offers something unique and different.
Waikiki Parc and Waikiki Circle offer a boutique hotel experience smack dab in the middle of Waikiki's Fort Derussy Beach Park. Hale Koa is another hotel nearby this location that comes highly recommended.
If beachside hotels aren't your thing (we don't judge) and you're after a hotel that's closer to Waikiki's city center, look into the Pagoda Hotel. It's a rather modest and cost-effective option that offers a unique experience. There is a floating restaurant in the middle of the hotel.
Prince Waikiki is an ideal option for those in pursuit of luxury. Rooms cost a bit more but you certainly get what you pay for. Imagine drinking a margarita next to the resort's infinity pool as you overlook the crashing waves on the beach. It's paradise.
The very first hotel in Waikiki was more of a guest house – a 19th century Airbnb, if you will. This little bed and breakfast was called 'Sans Souci' which is the French phrase meaning 'without worries'. Tourism started growing and the construction of hotels began to rapidly expand a few years after Sans Souci became popular.
As is the case with any large tourism city, an increase in the number of hotels means you'll find cheaper prices to attract your business. Cheap hotels can be found with the right filter settings. The beauty of a cost-effective room in Waikiki is that you don't have to sacrifice luxury. While some rooms are certainly nicer than others, the magic of this city is in the beauty offered from every vantage point. You don't need a 6 or 7 figure salary to experience the splendor and extravagant living that Waikiki offers tourists.

Cost of vacation/Saving money
Many people are curious about the cost of their trip to Waikiki. Your costs are entirely dependent on the type of adventure you seek. Whether you're a backpacker, honeymooner, or after a relaxing family vacation, Waikiki offers a vast array of pricing options to suit your budget. (Also see "What Does It Cost To Visit Waikiki")
For those trying to be frugal, we recommend alternatives to the hotel experience. Couch surfing, Airbnb, and hostels are the best way to save money in Waikiki. While you're certainly sacrificing the luxury of a fancier trip, these cost-effective alternatives offer an exciting trip for those on a budget. Plus, there's a certain gravitas one holds when knowing they're having a similar experience as others for a much cheaper price.
Some of Hawaii's best restaurants are in Waikiki. It's tempting to spend a pretty penny dining in this food mecca, but cheap options are available if you know where to look. After all, local Hawaiians aren't eating at boutique fusion restaurants every single day. It wouldn't possibly be affordable. Follow the locals – cheap eats offer the best and most authentic experiences for your taste buds. (Also see "How To Eat Cheaply In Waikiki")
You'll find major chains all across Waikiki. If you have kids who are picky eaters, these eateries can be a sight for sore eyes. After all, who wouldn't wear a Hard Rock Waikiki shirt? It's a safe bet that every resort will also offer a (sometimes pricey) restaurant experience. Most of the local cheap eats can be found on the outskirts of the city. The roads from Waikiki back to the Honolulu airport offer a lot of cheap eats, too.
As a general rule of thumb, it's important to know that Hawaiians are some of the most friendly people in the entire world. Southern hospitality is blended with an exotic lifestyle in Waikiki – and the smiles on the faces of those around you will prove it. Ask one of the friendly locals for their favorite spot. Many are happy to share their culture and will appreciate that you sought out advice from them.
There are tons of local hot spots and food trucks/stands available for your selection. (Also see "The Best Food Trucks In Waikiki"). Most locals eat at Karai Crab, Uncle Bo's, and Rainbow Drive Inn. Some of the other popular food options for those on a budget are Cuckoo Coconuts, Musubi Cafe, and Waikiki Beachside Kitchen. Blue Ocean Hawaii is a great place if you're after cheap but delicious seafood. Go to Henry's Place if you're in need of a sweet treat. (Also see "Where Do The Locals Eat In Waikiki")
Activities around Waikiki
Waikiki Beach is known as the most fun beach in Hawaii. The best activities in Waikiki are concentrated in or around the vicinity of the city. When you come to visit this dreamlike beach paradise, you certainly won't have to go on a long trek to find activities worth pursuing. The most popular activities in Waikiki are relaxing beachside, paddle boarding, surfing, snorkeling, jet-skiing, parasailing, riding aqua cycles, practicing yoga, hula dancing, canoe racing, and volleyball! (Also see "What To Do In Waikiki")
There are 5 beaches in Hawaii and each stretch of sand offers something slightly different. The names of the beaches of Waikiki are Queen's Beach, Kuhio Beach, Gray's Beach, Fort DeRussy Beach, and Kahanamoku Beach. Break out your Kindle, lather on some sunscreen, grab a cold coconut to drink and sit back for an extraordinarily relaxing afternoon.
The Waikiki skyline is definitely different than the average American skyline. While there are plenty of tall resorts, hotels, and even skyscrapers, the skyline here is special because of a geological feature called 'Diamond Head'. This volcanic cone in the backdrop of your Waikiki beach Instagram pictures is sure to be a hit. You can even climb the mountain if you are feeling particularly athletic.
Whether you're an experienced surfer or looking to learn, Waikiki is an ideal place to refine your surfing skills. After all, that's part of the founding story of this great land. Rental shops and surf instructors can be found around every corner. Surfing is like golf… it's only really fun if you're good at it. If you don't fall into the 'succesful surfer' category, look into renting paddle boards. The relatively new and popular sport of paddle-boarding is a great way to explore the water. Some tourists even chose to ride their paddle boards in the breaking waves.
Surf shops aren't the only rental stores in town. Even more prevalent than board rentals are snorkel/scuba rentals in Waikiki. This is one of the city's main attractions, and understandably so. After a few seconds underwater, you're instantly transported to a different world. Bright colors and huge schools of tropical fish are around every turn.
You can also rent an experience. If you thought the view from the beach was nice, just wait until you see Waikiki Beach from a parasail. We also recommend renting a jet-ski by the hour. Just make sure you steer clear of the crowds! If you're feeling like something new, try out an aqua-bike. These goofy ways to navigate the water will definitely make for a great and memorable photograph. There are also a number of great yoga options available.

If you're in search of an authentic cultural experience, look no further than a hula dance. Hula dancing has a vast history in Hawaii and you'll be remiss if you pass on your opportunity to see such a show. Let the liquid courage from your mai tais show off your newly tanned skin!
Hula shows typically incorporate fire twirling. Imagine a baton twirler who looks like Dwayne 'The Rock' Johnson dipping the ends of his baton into a fire. Fire twirling sounds dangerous (and it probably is for those actually holding the fire), but you're in great hands with the Waikiki professionals who do this for a living.

The Molokai Hoe Canoe Race is a spectacle that only comes once a year. These canoe races date back to 1910 and 1920. It's one of the largest cultural events Hawaii has to offer. While you might not be competing, it will still surely be a fantastic experience to see this beach city come alive during the annual tradition.
If you are in Waikiki during the rainy season, you'll be pleasantly surprised by the number of activities available to you. Located right on Waikiki Beach is the Waikiki Aquarium. For those that don't snorkel, this is a perfect alternative to get up close and personal with the fish. This center is actually the second oldest aquarium in the United States.
Another great option for those interesting in seeing the incredible underwater wildlife of Waikiki is to hop aboard one of the Atlantis Submarine tours. This company allows you to access the world's largest recreational submarine. It's a great alternative for those who won't or can't scuba dive.
If you're in search of something culturally interesting, we recommend the Iolani Palace. It's important to recognize the vast history that existed in Hawaii before it became a member of the United States. The Iolani Palace is the only royal palace located inside the US and was originally home to the former king of Hawaii.
Hawaii has had significant cultural happenings since joining the United States, as well. You can tour the U.S. Army Museum of Hawaii in Waikiki. The building is located near Fort DeRussy and is the perfect outing for military buffs who want to learn more about the island's history during World War I.
Pearl Harbor is actually located only 30 minutes from the center of Waikiki. This world-famous landmark is known for changing US history forever. There are five separate historical sites related to Pearl Harbor and it's recommended that visitors spend 1-2 hours at each spot.
If you have a car, the Pearl Harbor exhibits are all easy to access. A quick drive around the outskirts of town can lead you to some absolutely stunning locations. Take a day trip to any beach and you'll feel happy to get away from the crowds. That being said, no beach compares to any of the 5 beaches that sit on Waikiki's edge.
If your interest in culture leans more towards art than history, then you have to check out the Epic Aloha Art Museum. Epic Aloha is a series of twelve interactive art installations that allow the viewers to become immersed in a truly unique Hawaiian experience. You can find this building at the Hilton Hawaiian Village Waikiki Beach Resort. Make sure that you book in advance.

Waikiki is the ultimate destination for those in need of pampering. The Na Ho'ola Spa is a perfect way to feel treated like Hawaiian royalty. Na Ho'ola roughly translates to 'many healers' in the Hawaiian language. Try the 'lomi lomi' treatment and thank us later. Massages, saunas, and much more are all offered here. Treat yourself!

Luxury Row is the best place in Waikiki to shop until you drop. This high-end shopping experience is a great option for rainy days. Even if it's out of your budget, it can be fun to walk the strip and peer into these designer stores.
If you have kids, there are lots of activities meant for families. (Also see "A Moms guide to Waikiki" and "Kid Friendly Things To Do In Waikiki"). Escape rooms have become increasingly popular in the past few years and are available in Waikiki if you book ahead of time. However, after a long plane ride with children to Hawaii, you might already feel as though you've checked this one off the list.
All in all, there's an abundance of activities for absolutely anyone. Waikiki offers something no matter your personality type, price range, or age. Even if rain is stopping tourists from enjoying the beach, it's impossible to be bored in this paradise on Earth.
Waikiki is a dream. No matter when you visit, how you get there, what you spend, or what you do, we can personally guarantee that you'll have a trip you remember for the rest of your entire life. Have fun!
Related Questions:
What are things one must do in Waikiki?
If you visit Waikiki, you can't leave without seeing the beautiful beaches or aquatic life offered just beyond the sand. Visit Pearl Harbor, ride in the Atlantis Submarine, and eat at a luau – these are mandatory for anyone looking to have a once in a lifetime experience in Waikiki.
Things to see in Waikiki
Waikiki is a sight for sore eyes. No matter where you look, you'll find something captivating, mesmerizing, or plain jaw-dropping. Most people choose to see Pearl Harbor. If you want a more relaxing experience, try to dolphin-watch. A Hula dancing show with a drink in hand is the perfect sight after a long day.