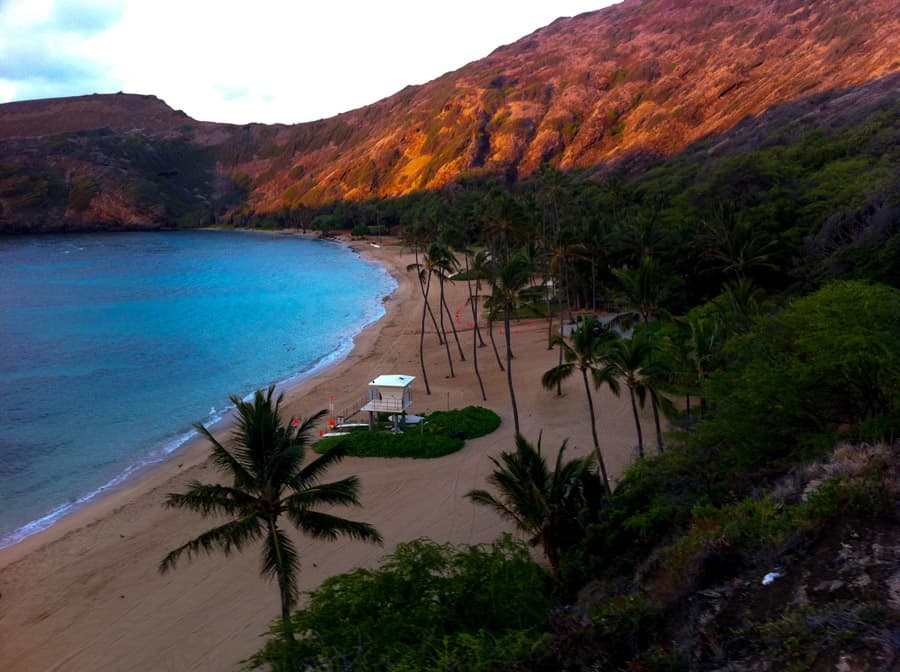 Everyone knows that Waikiki is full of activities and events year round, but a visit to the island of Oahu simply isn't complete without a day trip (or several) to other noteworthy spots within driving distance.
Natural beauty is accessible right on the shorelines of Waikiki, but visitors who desire to roam off the main path will find thrill and intrigue in the less-busy areas of the island. Although this list could easily top twenty, we present to you the Top 20 Day Trips from Waikiki and leave you with the difficult task of choosing which to fit into your trip.
Waikiki's location is prime for island exploration. With its convenient location in the bustling metropolis of Honolulu, Waikiki is easily accessible by car, bus, shuttle services, and organized tours. If you're looking for a day trip, you can find anything from lush hidden waterfalls to historical destinations. Waikiki's Top 20 Day Trips include picks from the North Shore, canyons and waterfalls, the best beaches, historical memorials, and some of the state's best hikes.
If you're lucky, you'll have at least a week in Waikiki and be able to explore a handful of areas outside of the city. With limited time, it behooves you to read up on the island's best offerings so that you can plan your time around what you want to see. Are you a history buff, beach bum, or high-energy hiker? Regardless of the title you claim, there are enough day trips from Waikiki to entice every type of traveler.
Diamond Head State Monument
Day Trip #1 is a close neighbor to Waikiki, and one of the most popular outdoor activities for visitors to the area. Diamond Head is an iconic emblem of Hawaii. This non-active volcanic cone dates back to over 300,000 years ago, dazzling visitors ever since civilization began on the island.
Diamond Head's day hike comes with a historical background of Hawaii's military defense system and also gorgeous, panoramic views of the Pacific Ocean and downtown Honolulu.
Getting to Diamond Head from Waikiki is simple and quick, only about 3 miles away. Driving only takes about 10-15 minutes, and rideshare options such as Uber and Lyft are available in a pinch. Check out our full guide to Diamond Head for everything you need to know before your hike.
Hanauma Bay
Ocean enthusiasts will want to carve out a day to visit Hanauma Bay, one of Oahu's best destinations for snorkeling. This metropolis of marine life is just southeast of Waikiki and boasts an impressive variety of over 400 different species of fish. Hanauma is a protected conservation area and was formed from a volcanic cone, yielding a unique shape to the bay that some liken to a wine glass.
Visitors can decide between a simple park entry or a complete snorkeling tour of the bay. Park entry only costs $7.50, whereas snorkeling packages range from $20-40+.
Many visitors drive themselves to the bay and opt to pay $1 for parking. Alternatively, there are a handful of shuttle services that include day tours as well. Hanauma feels secluded from the bustle of the city, but it's only about half an hour by car from Waikiki. If you're looking for maximum tranquility, it's recommended to hit the bay early in the morning to avoid the afternoon rush.
Dole Plantation
What could be more Hawaiian than a day trip to a pineapple farm? Dole Plantation had small beginnings back in 1950 when it was merely a singular fruit stand visited only by locals. Nowadays, most people have consumed Dole products at some point, whether in Hawaii or another U.S. state.
Visitors can expect to have ample opportunities to purchase fruits, explore the plantation, and leave on a full stomach. Most people wouldn't expect a pineapple farm to include extra activities besides buying the fruit itself, but Dole has turned their plantation into a full event. With decorated gardens and a pineapple themed maze, the plantation is packed with activities for a full afternoon.
To get to Dole Plantation, it takes a little over half an hour by car. Visitors can take I-H-1-W and hop off the highway right after Wahiawa.
Round Top Drive & Mount Tantalus
If you're into scenic drives with ample opportunities to stop and take in the sights, Round Top Drive is just the road for you. This drive is shrouded in the shade of Oahu's tropical canopy, with several areas where you can stop off to admire the view below.
One of the more noteworthy stopping points is Pu'u Ualaka'a State Wayside, where you can see all the way to Diamond Head and downtown Honolulu. As if the views weren't enough already, you can pack a lunch and eat at one of the picnic shelters to linger for a bit before hitting the road again.
Getting to Round Top Drive takes about twenty minutes from Waikiki. The fastest route begins by heading north on Kalakaua Avenue, followed by a brief right on S King Street to take a left onto Punahou Street. Head straight until you reach Nehoa Street, on which you will take a left.
Finally, take a right onto Makiki Street, where you will be able to access Round Top Drive less than a mile down on your left. Sometimes you have to drive to get to the drive, but we promise this one is worth it.
North Shore
Hawaii's North Shore encompasses a few of the other destinations in this list that will be covered in greater detail. Due to all of the points of interest in this area, it might seem like more of an overnight trip compared to a day trip. To get North Shore on your radar, a brief overview is in order.
North Shore is renowned for waterfalls, wildlife, and traditional Hawaiian culture. Perhaps your first stop will be the Polynesian Cultural Center, which is home to an extravagant luau and plenty of grounds to explore.
When you're craving some small-town island vibes, head to historic Haleiwa town to browse local shops and galleries. Since Haleiwa is conveniently situated by all of the best North Shore beaches, it's a formidable stop off point to take a gander or grab a cold beverage to beat the heat.
North Shore is only about an hour drive from Waikiki, via highway I-H-2 N. We'll cover some of North Shore's best beaches and waterfalls more in-depth moving on—each unique spot is worth an afternoon visit.
Turtle Bay Beach
Another North Shore favorite is Turtle Bay Beach, which is neighboring to the appropriately named Turtle Bay Resort. While there are miles and miles of beach spanning the area, this one is easily accessible and known for snorkeling and tame waves that are perfect for a swim.
Depending on the season the beach can get pretty crowded, but if you're lucky enough to visit on a slower day, you'll feel like you're on an episode of Lost (minus the dangers of being stranded, of course). Turtle Bay Beach is one of many North Shore beach spots, but each is special in its own way.
One might expect to see turtles on the bay due to the name of the beach, but in past experiences, there weren't many to be seen in the area. Many visitors have had better luck finding turtles at Laniakea Beach—coming up next on our list.
Laniakea Beach
Turtle watchers rejoice: we have the destination for all of your wildlife desires. Laniakea Beach is yet another golden spot on Oahu's North Shore, with the added bonus of commonly sighted Hawaiian Honu—green sea turtles. This beach is consistently top rated out of Oahu's many beaches, which is understandable once experienced. The name means "wide sky", and it certainly depicts an accurate image of the beach.
The beach has become more crowded in recent years as word has gotten out about the wildlife population, but the turtles don't seem to mind. They can be seen basking in the sun or lazily eating seaweed that grows on rocks.
Since they are part of a wildlife preserve, visitors may look and take photos but are unable to come within close proximity. Laniakea is close to Haleiwa, so when you're ready for a snack or some Hawaiian shaved ice, be sure to head into town.
Sunset Beach
This surfer's haven is right outside of Haleiwa, on Oahu's North Shore. During the winter season, you can join in on surfing the big waves (if you possess the expertise) or just watch and admire the skill of the pros. In summer, Sunset Beach panders to a much more leisure crowd, as the waves are small and calm. Either way, the beach truly lives up to its namesake, with painted sherbet-like skies and a golden hour that will turn anyone into a photographer.
If you're going to end a day trip on North Shore, this is clearly the place to be when the sun is going down for the night. If you plan accordingly, you can have dinner in Haleiwa just in time to make the sunset afterward at the beach. After that, the hour-long drive back to Waikiki will feel incredibly worthwhile.
Koko Head
For those interested in a more challenging hike, Koko Head Crateris the trail to trek. This steep climb provides a great workout, along with views of Honolulu's eastern shoreline. The trail has relics from the past military activity in the area, with old railroad tracks hinting at a much different past.
Formerly, the summit was used as a lookout point for the military, making it necessary to transport supplies up and down. When the incline makes you stop to catch your breath, you can enjoy the sights of the wildflowers that surround the trail.
The trailhead is fairly close to Waikiki, only taking about 20 minutes by car.
Pearl Harbor
Pearl Harbor is the largest historical site in Hawaii, drawing tourism year round to learn about America's involvement in World War II from start to finish. A visit to Pearl Harbor can include a variety of experiences, including Battleship Missouri, Bowfin Submarine, and the Pacific Aviation Museum. We'll cover the USS Arizona Memorial as a separate destination, due to its uniqueness from other points of interest in Pearl Harbor.
The tragedy of Pearl Harbor yields a somber atmosphere, with a breadth of valuable history for visitors to learn about. Tourism to the destination has been steadily increasing, as more and more attractions have opened with time. Visitors have the option to book a tour or visit on their own timeline.
USS Arizona Memorial
The USS Arizona is a fully submerged battleship that was bombed during the attack on Pearl Harbor, on December 7th, 1941. The memorial was built in 1962, right over the sunken ship itself. It serves as a tribute to the lives lost of sailors, soldiers, and civilians who were lost during the bombing. This historical landmark is only accessible by boat from the Pearl Harbor Visitor Center.
The USS Arizona is northwest of Waikiki, about 45 minutes by car. Free parking is available at the Visitor's Center. Entry to the memorial is free of charge for the public.
Punchbowl Crater
Similar to Diamond Head, this destination combines natural wonder and Hawaiian history in the same visit. Punchbowl Crater was formed from a volcano called Pouwaina, which went extinct and left behind the 360-foot crater.
Within the crater is Punchbowl National Cemetery, the second largest military cemetery after Arlington. There are several monuments to commemorate the fallen soldiers, along with mosaic art that illustrates different battles and American involvement in World War II.
It's right in the middle of Honolulu, just a quick jump from Waikiki. Visitors can spend their time observing the memorials and also panoramic views of Honolulu and the Pacific. Punchbowl Crater is a photographer's dream—a true postcard destination.
Shark's Cove
Despite its namesake, this North Shore beach doesn't have the threat of shark-infested waters. Shark's Cove is part of Pupukea Beach Park and features lava-rock formations and stunning marine life. Since the beach is part of a marine life conservation area, visitors can expect to see loads of tropical fish, especially if they opt to explore underwater. This spot is renowned for scuba diving and snorkeling, drawing in professionals and rookies alike.
Shark's Cove is another North Shore hit, making it completely worth the drive across the island. It can be combined with other activities in the area, or leisurely enjoyed for a full afternoon in the sun. Since it only takes an hour by car each way to North Shore, it's quite doable to wake up early and hit several beaches in one day. If so, Shark's Cove is a perfect midday stop.
Makapu'u Point Lighthouse
Day hikers will definitely want to add this one to the list. Makapu'u Lighthouse Trail is part of Kaiwi State Scenic Shoreline, which overlooks the whole southeastern coast of Oahu. As if the sweeping landscape views weren't enough, you can also catch a glimpse of wildlife ranging from tropical birds to whales in the blue waters off in the distance. Binoculars are a must.
Getting to the trailhead takes about half an hour by car. The point itself is at the furthest southeast point on Oahu, truly at the end of the island. The trail is about two miles round trip, and not terribly strenuous.
It's an ideal hike for a leisure afternoon, and a good spot to take a break for a packed lunch. With endless views, it's easy to stay here for several hours, whether you're trekking around or just relaxing at the lookout. This part of the island can be more arid and hot, so be sure to stay hydrated and lather on the sunblock.
Waimea Canyon
Appropriately known as the "Grand Canyon of the Pacific", Waimea boasts dauntingly large canyons that span for roughly ten miles. Upon first sight of the state park, you might assume that you're in a different U.S. state, perhaps Arizona or Utah.
One might not expect to find canyons in Hawaii, but their existence is widely embraced and appreciated by all who visit. The canyon's burnt red soil and deeply eroded terrain is a fascinating contrast to most of the areas in Oahu.
Visitors can explore various hiking trails, some leading to waterfalls and lookout points such as Puu Ka Pele and Puu Hinahina. Each lookout has parking, making it easy to breeze through each spot if hiking isn't on the agenda. Waimea Falls is one of the biggest points of interest, about a 30-minute hike into the park.
The drive to Waimea Canyon takes about an hour. It's located northeast of popular small town Haleiwa, which is a frequent stop on the way.
Manoa Falls
Nestled in the jungle, Manoa Falls are accessible by a short trail. Hikers who are looking for a shorter, less strenuous trek will find it at Manoa. The hike is only about one mile, which yields a 150-foot waterfall surrounded by the jungle. With only a 100-foot elevation gain, hiking to the falls is pretty laid back in comparison to other treks on the island.
This area receives a lot of rain regardless of the time of year, so pack accordingly and don't be surprised when you step in a pile of mud by accident. Although it may be a bit of a messy hike, the promise of a waterfall at the end provides great motivation to stick with it through the mud.
This area was featured in several scenes from both Jurassic Park and Lost, lending it a bit of notoriety compared to others. Manoa Falls feels like its far, far away from Waikiki due to its remote aura— but it's only about 20 minutes by car.
Kane'ohe
Kane'ohe sits on the northeast shore of Oahu, the quieter sibling of Honolulu that many people pass up. There are a couple of must-see attractions in Kane'ohe, making it a great spot for a day trip away from the buzz of Waikiki. Kane'ohe Bay is a spectacular sight, especially if you can catch it at low tide. When the water is low, the sandbar emerges and becomes alive with beach walkers.
The city is also known for the Ho'omaluhia Botanical Garden, which hosts a grand variety of native plant species in a tropically lush setting. Golfers will find a home in Kane'ohe, with three different courses to choose from Pali Golf Course, Ko'olau Golf Club, and Bayview Golf Park. Kane'ohe is perfect to unwind in. Make sure you stay for the sunset over the bay.
Iolani Palace
A glimpse into Hawaiian history can be found in a visit to Iolani Palace. This National Historic Landmark is the only recognized royal residence in the United States, making it a unique sight and experience. The palace dates back to 1882 when it was inhabited by King Kalakaua, Hawaii's last monarch.
His sister, Queen Liliuokalani later took over and lived within the majestic grounds of the palace. Hawaii's royal heritage is impressive and ornate, and visible at Iolani even over 100 years later. Since the palace has been fully restored and maintained, visitors can view what the grounds looked like during the late 19th century. Original furniture and artifacts are found throughout the palace, making it into a museum-like experience.
Visitors can choose between guided tours, self-led audio tours, or exploration of the exhibits on their own agenda.
The palace is right in the middle of downtown Honolulu, making it easy to access from Waikiki.
Pali Notches
Hawaii has no shortage of mountainside destinations, but the Pali Notches might take the cake for the best. This rigorous hiking experience is known for its narrow mountainside pathways with 360-degree views and semi treacherous footing.
The hike is considerably steep, making this a difficult ascent. It's definitely a unique experience, resulting in unforgettable views. The notches themselves are human-made, to serve the purpose as defense points along the mountainside. Nowadays, they only serve the purpose of giving hikers a fright as they navigate their way across them.
This daredevil destination is northeast of Oahu, just about 20 minutes on the road and you'll be ready to scale the mountainside. Be sure to bring your water, sunscreen, courage, and confidence.
Kailua Beach Park
As if you already didn't have enough beaches to choose from, our last day trip recommendation is yet another stunning coastal hangout. From the powdery soft sand to the crystal blue warm water, Kailua Beach is exactly where you want to be on a sunny afternoon. With 2.5 miles of beach located only 5 minutes from downtown Kailua, it's easy to alternate between beach lounging and exploring the local offerings for food, drinks, and shopping.
One popular activity at Kailua Beach is kayaking—you can easily find a rental shop in downtown Kailua, and also right near the beach. Once you move past the rolling waves on the shoreline, the water is generally calm and easy to navigate.
Related Questions
How Should I Decide On My Day Trips?
Waikiki has a grand variety of fantastic eateries, places to drink, and a coastline that will have you lounging 24/7—but we can't imagine visiting the area without checking out a few day trip destinations.
Be sure to schedule in ample beach time in Waikiki, but carve out at least a day or two to experience a few of the wonders that Oahu has to offer outside of the big city. While it may be difficult to decide which spots to visit, it's always better to have too many options compared to too few.
If you're a beach person, your possibilities are nearly endless between Waikiki's shoreline and all of the beaches on North Shore. Mountain lovers can take their pick between hikes at Diamond Head, Pali Notches, Waimea Canyon, Manoa Falls, Punchbowl Crater, or Makapu'u Lighthouse.
If beaches and mountains aren't your top choice, you can always opt for the historical learning experiences of Pearl Harbor or Iolani Palace. The best thing about day trips from Waikiki is that there's something for everyone, regardless of what your priority is. Plan your days accordingly, and prepare to experience all that Oahu has to offer—whether it's nature or culture. See you on the road!
Should I Rent A Car in Waikiki?
Renting a car in Waikiki certainly makes it easier to travel around the entirely of Oahu on your own schedule. While it isn't necessary to rent a car to get around Waikiki itself, it's definitely an advantage for those who want to explore southeast Oahu or the North Shore. If you have ample time to spare, it's likely that a day trip or two will be on the agenda. Some destinations are easy to reach by public transportation, but the schedules are limited and make it harder to travel with ease.
For a full guide, check out our detailed article on renting a car in Waikiki.