2023 is a great year to visit Waikiki. We started our first trip of the year in February and wanted to share the latest travel deals. We'll give you our best recommendations for things to do, spa recommendations, and our favorite food recommendations. As a bonus, we'll share what we do when it rains in paradise.
Since South West Airlines started flying to Hawaii, we've seen some incredible flight deals! From the west coast, we've found unheard-of ~$400 round trip specials. If you are a frequent reader on our website you know there are a few tools we like to use to find great travel deals, namely Google Flights, Hawaiian Airlines calendar of fares, and are the newest addition Going.
Getting To Waikiki From The Airport
You primarily have 5 ways of getting to Waikiki from the Honolulu airport. You can take a shuttle, rent a car, rideshare, taxi or public transportation. We have a great detailed article on "Best 5 Ways To Get From Honolulu Airport" that is more detailed.
There are a lot of very cheap airport shuttle specials going on, we've seen offers as low as $10 per person, but realize you're going to stop at numerous hotels before you get to start your vacation. If you are traveling with two or more people, we still find the Uber and Lyft to be the best ways to get our vacation started. However, be warned the signage at the Honolulu airport rideshare pickup area is fairly horrible.
Last year Lyft was slightly cheaper to get around Waikiki, this year Uber seems to be a few dollars less, compare both for the best deals. We were able to travel from Honolulu airport to Waikiki in Uber X for around $25. Also, see our detailed article on "Do I need a rental car in Waikiki"
Best Waikiki Restaurant for 2023
Dinner:
When traveling we are always looking for great food and unique restaurants. Over the years we've visited many restaurants and spent a lot of money just to find "good" food. But we're not looking just for good food, we are looking for "Great" food, and it's even better if it's inexpensive. On this trip, we tried three new restaurants but can only recommend one new favorite to our readers, Opal Thai. So what our best restaurant recommendations for 2023?
Quiora may not be the easiest restaurant to find, but once you do I think you'll agree it was worth it! Being on the 8th floor of The Ritz-Carlton Residences it has fabulous food, drinks and sunset views.
If you are looking for upscale dining we like Azure. Not inexpensive, but has a fabulous prix fixe dinner packed with great Waikiki beach sunset views.
A new find and our most fun restaurant on the trip! Opal Thai is defiantly a contender as some of the best Thai food we've ever had, anywhere. About a 4 mile trip from Waikiki, it's truly worth the trip. Be warned, this is a small boutique restaurant and you'll need to call to make reservations (808-381-8091). While they have a menu, you're not going to need it. The chef will come to visit, get to know you and what you like, and the next thing you know the food will start showing up. Nothing disappointed!
Off the beaten path, Karai Crab rates as one of our favorites. They offer 8 homemade sauces from spicy to mild garlic butter. Don't dress fancy here because you are going to need the wet nap and possibly the bib they give you! A true favorite, don't pass this one up!
Some of the best and freshest fish you'll find in Waikiki. Paia originated in Maui but now has a location in Waikiki. Loved by locals the fresh fish plates and fish tacos are something you'll remember.
Another delicious upscale restaurant. Beach House has a great menu selection and the Waikiki beach sunset views are incredible. We love the craft cocktails and tasting menu that Beach House has to offer (don't miss out on the braised shorts rib).
Uncle Bo's (Uncle Bo's Pupu Bar & Grill Kapahulu):
A local gem. Uncle Bo's has two locations but if you are in Waikiki, you're looking for the Kapahulu location. Another of our "locals" restaurants that don't disappoint. Make sure you try the Boca-Rota and Dynamite Shrimp–are two of our favorites! Make reservations, space is limited.
Breakfast:
Breakfast restaurants are typically very busy in Waikiki, but we have a few that we gravitate towards.
Since the Wahalena Cafe closed, Cinnamons moved into its slot. Located in the Ilikai Hotel, Cinnamons offers both indoor and outdoor seating at a fair price.
Around 2 miles away from Waikiki is Kono's. Absolutely, the best breakfast burritos we've found. If you are planning a day trip this is a great stop to get some breakfast to go (they also deliver via Postmates).
Famous in Waikiki for a reason. The Malasadas are fabulous but expect to wait in line (but the line goes fast). If you're out and about, Leonards does have four mobile locations!
Our favorite for a lighter breakfast. If you're looking for pastry and coffee to start your day this is the place. The selection of fresh pastries is amazing.
Another fabulous place for coffee and breakfast conveniently located in Waikiki. Expect a short wait but it's worth it!
Dean and Deluca have a couple of locations, but if you are looking for a breakfast croissant or sandwich, pastries and coffee this is a great fast place to go.
Located inside Duke Lane Market, they offer breakfast with good prices and as an added benefit, usually no waiting. Basalt also makes our recommendation for dinner.
Pack and go Lunch for beach days or day trips:
Looking for a great deli for those days you are on the go? Look no further! Island Country Markets has a few locations and has everything you are going to need for your busy day when you don't have time for a sit-down lunch or breakfast.
What to do when it rains in paradise:
When visiting you should always plan for a rainy day. This year we had a couple, but don't let that ruin your vacation. Those days are great indoor sightseeing, spa or shopping days. We took the opportunity to visit the Moana Surfrider Spa (see our article on theBest Spas in Waikiki).
We have a great detailed article on the "Best 10 Rainy Day Activities In Waikiki".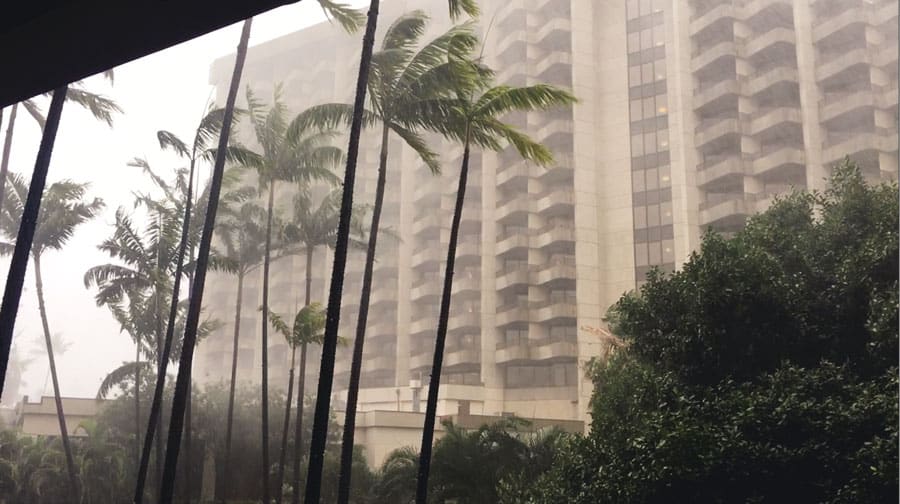 We hope you enjoy our Waikiki travel tips! We want to hear what you find on your adventures!