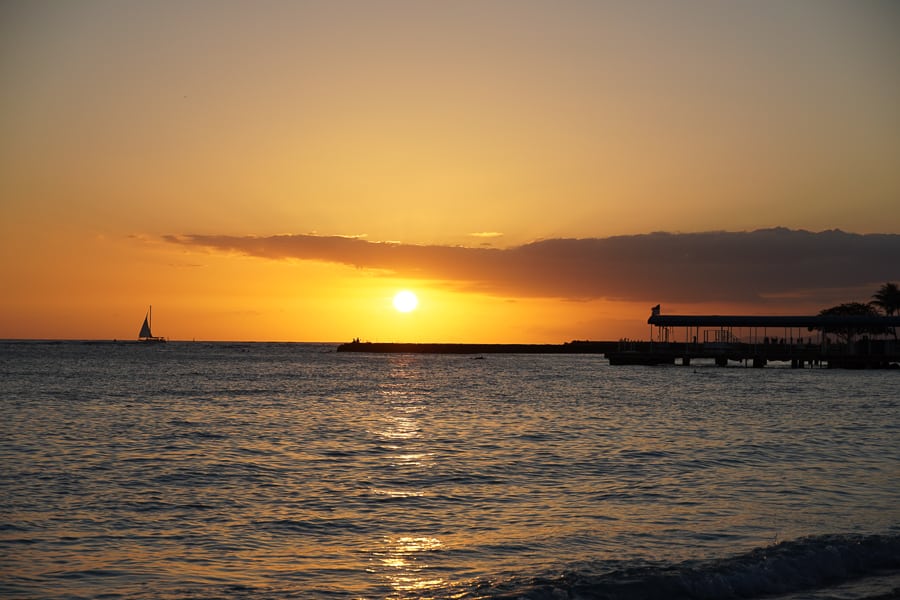 For most people, it takes several flights and many hours to get to Oahu, to enjoy Waikiki. So the first few days it's pretty common to just want to do a little relaxing and enjoy the beautiful weather in Waikiki. Best way to start that out is with a little beach or pool time, maybe a spa afternoon, and definitely to get out to a luau.
Whats is our secret recipe for the 10 Day Ultimate Waikiki Itinerary?
Day 1-3 Relax, Beach, Spa's and Luau's
Day 4 History, Pearl Harbor and museums
Day 5 Adventure, Wet n Wild, Parasailing, SCUBA Diving or Sports Fishing
Day 6 North Shore, Dole Plantation, Laniakea Beach, Sunset Beach or Waimea Falls Park
Day 7 Shopping, Ala Moana Center, Aloha Stadium Swap Meet or Waikiki Shopping Plaza
Day 8 Exploration, Round Top Drive, Diamond Head, Hanauma Bay or Nuuanu Pali
Day 9 Hiking, Koko Crater Trail, Manoa Falls Trail, Makapu'u Lighthouse Trail or Kuliouou Ridge Trail
Day 10 Family Fun, Honolulu Zoo, Waikiki Aquarium, Breakout Waikiki or Swim With Dolphins
Days 1 to 3
Waikiki actually has 8 different sections of beach, each one a little different from the others. Starting from the western end, near Hilton Hawaiian Village, to the eastern side towards Diamond Head, each one is listed below. So, figure out which one is going to offer you something you are interested in for your relaxing beach day.
Waikiki Beach
Duke Kahanamoku Beach – near Hilton Hawaiian Village, has a man-made swimming lagoon. This beach is pretty busy because the lagoon creates a swimming area that is calmer.
Fort DeRussy Beach Park – this beach area has a grassy park attached, with picnic tables and trees. You can also play tennis or volleyball.
Gray's Beach – this one you might want to skip, as a lot of the beach has been washed away and locals can't seem to keep the sand built up there.
Royal Hawaiian Beach – this is a very active beach area with all kinds of rental equipment and boats that can be chartered.
Prince Kuhio Beach – this beach also gets rather crowded but it's kid-friendly. This is because there are two concrete walls that were built which creates a swimming pool like area.
Queen Kapiolani Beach –you'll find this nice stretch of sand to be a good place for some quiet relaxation. And you can catch a movie at night on their 1000 foot outdoor screen.
San Souci Beach – away from the hotels, this a beautiful quiet beach that offers some great snorkeling.
Outrigger Canoe Club Beach – this beach used to be a private beach, so it's not as frequently trafficked. It's not as easy to access, which also keeps more people out.
While you are at these beaches, several of them offer all kinds of rentals to make your day more fun. From lounge chairs to relax in, to gear used for snorkeling, boogie boarding, kayaking and more. You could even get some surf lessons in if that's something that interests you. We have more fun things to do on at the Waikiki beach at What To Do In Waikiki Beach.
Waikiki Spas
After a day or two of fun in the sun, why not relax at a spa for a few hours! Many of the hotels have their own spa within their facility. If they don't, there's plenty of other spas you can find offering phenomenal massages, or other pampering services, some with amazing ocean views. Treat yourself, that's what vacations are for! See our article on the Best Spas in Waikiki.
Luau
Definitely take in a luau. Nothing can complete a day in Waikiki like a fantastic feast and traditional Hawaiian dancing and entertainment. There are some hotels that offer them within their facility.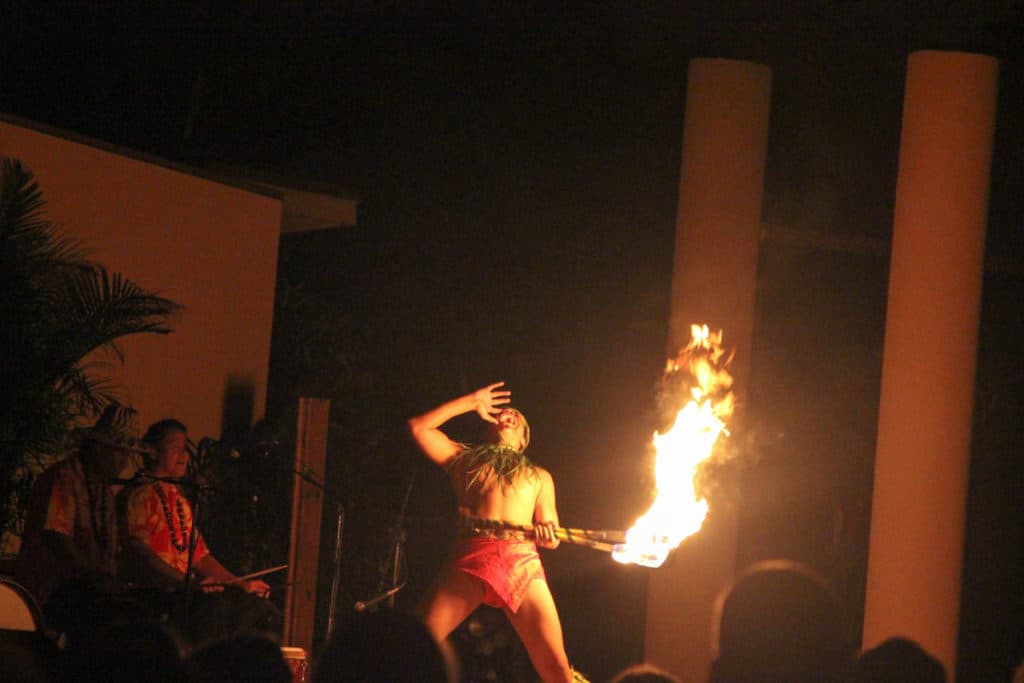 Polynesia Culture Center
If yours does not, a highly recommended luau is the one at the Polynesian Cultural Center. They have something for everyone, with several different luau packages, anything from just the show and dinner, to adding a variety of tours and experiences through various island villages. Plus, you'll get to learn about the heritage and traditions of the Hawaiian Islands. An experience that would be very unique!
Day 4 History
Waikiki is home to some very important memorials and museums to American history. Though you can pretty much see them all in one day if you plan it right.
Pearl Harbor & USS Arizona Memorial
Pearl Harbor & USS Arizona Memorial – This memorial is the number one visitor destination in Hawaii, drawing over 1.8 million visitors each year from all over the globe. The visitor center covers 17 acres of ground, with a variety of different exhibits. All these exhibits are in honor of the men and women that died during the attack on Pearl Harbor on December 7, 1941.
The USS Arizona itself was constructed right over the top of where the battleship sunk, and it's considered the grave for over 1,000 crewmen that went down with the ship. The memorial opens up at 7 am, so you can get here early to pay your respects and still have plenty of time to see more history.
Pearl Harbor Aviation Museum
Pearl Harbor Aviation Museum – When you first get to this museum, you'll get to see an airplane hangar that made it through the attack on Pearl Harbor, which also contains a light civilian plane that had been shot down. The story of the attack on Pearl Harbor is shared with all visitors through a 12-minute movie with historic footage. Visitors will get to see what the local area was like before the attack.
U.S. Army Museum
U.S. Army Museum – This museum is home to Battery Randolph, which was a solid concrete wall built to be a defense perimeter around the island of Oahu. You will find a variety of exhibits that go over Hawaiian warfare and defense, a gallery of heroes, and some of the history of the culture was like after the attack on Pearl Harbor.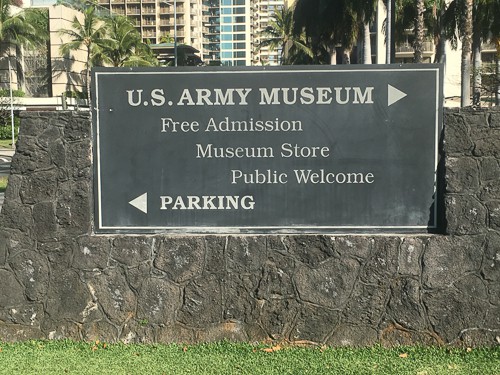 Honolulu Museum of Art
Honolulu Museum of Art – This art museum has been around since 1922 and has grown steadily ever since. It is now considered one of the finest museums in the United States. The museum includes a gift shop, café, library, educational wing, contemporary gallery, an art center for studio classes, administrative offices, and a 280 seat theater. The exhibits at this art museum change periodically to stay relevant and keep attracting visitors.
Bishop Museum
Bishop Museum – Open for more than 125 years, this museum is dedicated to preserving and sharing Hawaii, and the Pacific's, cultural and natural history. They take care of over 24 million cultural, historical, and natural treasures. These items tell the story of this beautiful region and island life. The museum also has an exhibit that travels the globe, to give them a broader reach on sharing the story from Hawaii. Their exhibits do change periodically, but the stories will always remain.
Day 5 Adventure
There are so many fun things to do in and near Waikiki. These options are definitely going to take some time, anywhere from half the day to an entire day. Pick your favorite adventure and make some memories with one or more of these activities.
Wet 'n' Wild Hawaii
Wet 'n' Wild Hawaii– This water park is located in Kapolei, about a 30-minute drive northwest of Waikiki. Sure, there are water parks all over the United States, but none that also incorporate the beauty and culture of Hawaii into it!
Wet 'n' Wild is one of the top family attractions, full of 25 thrilling attractions scattered over 29 acres of cliffs and tropical landscape. To top off this fun location is the top-rated Chief's Luau. You and the family can enjoy the day in the sun, on the water slides and rides, and finish with some traditional Hawaiian food and entertainment.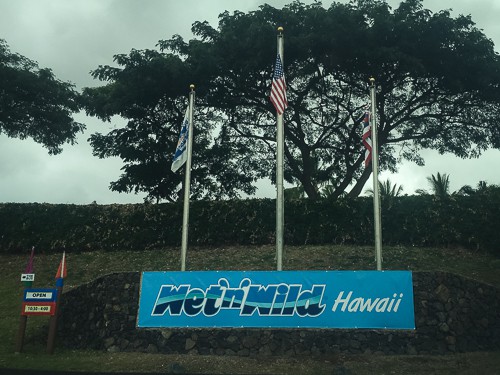 Parasailing
Parasailing – If you enjoy the feeling of soaring through the air, you may just enjoy parasailing! Also known as parascending or parakiting, parasailing is an exciting activity where a person is attached to a parachute-like canopy while being towed behind a boat out on the ocean. Sometimes even two or three people can be towed at the same time, making it even more fun to be able to ride with your friends or family.
The person (or people) being towed behind the boat really don't have any control over the parachute, it's just to ride through the air, high above the water. There are several facilities in Waikiki that over this activity, such as Hawaiian Parasail or Xtreme Parasail. Imagine the beautiful views from that parachute! This activity will run about $100 per person, but what a ride!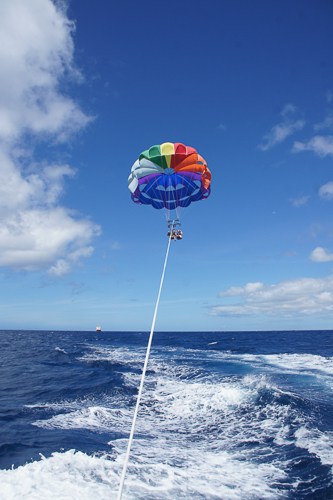 SCUBA Diving
SCUBA diving – With Hawaii's beautiful clear water and wildlife under the surface, there's not a better way to take all that in than with some scuba diving! The reefs around Oahu are home to over 600 tropical fish, plus explore various caves made from lava, take a shark cage dive or scuba around ships that have sunk to the bottom of the ocean bed.
There are several organizations that offer scuba diving around Waikiki. Some of the top rated companies are Waikiki Diving Center, Kaimana Divers, and Living Ocean Scuba. If you need to get certified for scuba first, many of the dive facilities will offer that as well. Visit our article on The Best Dive Centers in Waikiki.
Sports Fishing
Sports Fishing – A very popular activity around Waikiki is sports fishing! Naturally being surrounded by the Pacific Ocean, there are endless opportunities for fishing. Businesses in Waikiki offer boat rentals so you can go out fishing on your own, or more commonly, a half day or full day guided fishing trip.
The advantage of using a guide to take you out fishing is that they are already familiar with the waters and where the best fishing might be located. Some of the popular guided fishing businesses are Whipsaw Sport Fishing, Magic Sport Fishing, and Maggie Joe Sport Fishing. See our detailed article on What You Need To Know About Sports fishing.
Day 6 North Shore
Within about an hour drive from Waikiki is the north shore of Oahu, which is known for some really amazing views, beaches and sites to see. A great day trip to this side of the island will include a stop at the Dole Plantation, an opportunity to see some sea turtles at Labiakea Beach, enjoy Sunset beach which is famous for large waves, and a beautiful hike to Waimea Falls.
Dole Plantation
The Dole Plantation is a favorite visitor stop on Oahu, with over one million visitors per year. If you like pineapple, you absolutely must stop here! The Dole Plantation is more than just a place to try some fresh Hawaiian pineapple, they have a lot of things to do while you are there. You can enjoy a Pineapple Garden Maze, the Pineapple Express Train Tour, and the Plantation Garden Tour. Plus, they have presentations and displays to check out throughout their farm. Their store has a variety of pineapple theme gifts and treats to enjoy or take with you.

Laniakea Beach
Laniakea Beach, also known as Turtle Beach, should be your next stop on this day trip. This is one of the best places you may have an opportunity to see some green sea turtles. During the summer the waters are calmer, and this will be the best chance to see the turtles. Usually, between 11 am and 1 pm or just before sunset are the most common times of the day to catch a glimpse. This is a small beach without signs to identify it, however, you'll want to park near Pokahu Loa Way and look for a walking path between two homes to get to the beach.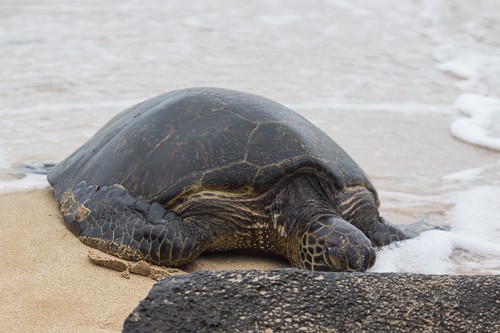 Sunset Beach
Famous for extremely large waves during the winter months, Sunset Beach is a fantastic beach to check out. Even if you are there during the warm months, it's a beautiful beach with some great snorkeling opportunities with calm waters. The beach is very sandy and runs about two miles long, so there's plenty of room to spread out and enjoy your own little spot on the beach. Most importantly, as clearly stated by its name, you can catch some spectacular sunsets on this beach.
Waimea Falls Park.
Somewhere along this day trip, take some time to stop at Waimea Falls Park. This isn't a strenuous hike, it's more of an easy stroll through tropical gardens that ends at a fantastic waterfall. Yet that is not all that you might see here. There are often different presentations and educational workshops that explain the history and culture of Hawaii.
There is a focus on discussing the surrounding property, different species, land, and tropical plants that are found in this region of Oahu. Sometimes you'll also find various tours, arts and craft workshops, and performances that express the Hawaiian culture. If you make it to Waimea on Monday through Wednesdays, you can end your day with their Toa Luau. Enjoy a Hawaiian dinner and cultural entertainment to bring an end to a great day trip.
Day 7 Shopping
After that fun day in the sun, take a little break and check out the great shopping Waikiki area has to offer.
Ala Moana Center
The highly rated Ala Moana Center in Honolulu has over 350 stores and restaurants, all in an open-air shopping facility so you can still enjoy that Hawaii weather. Ala Moana is the 9th largest shopping mall in the United States, but for an open-air shopping center, it is the largest in the world.
It is the most valuable shopping mall in the United States based on its assets and consistently ranked with the top successful malls in the world. For the sheer magnitude of this mall, it's worth checking out. Then it's just a bonus that you will find all of your favorite retailers, such as Nordstrom's and Macey's, to a variety of Hawaiian stores with specialty items. You'll also be able to choose from over 100 places to eat or enjoy a sweet treat. See our article on The Best Shopping in Waikiki.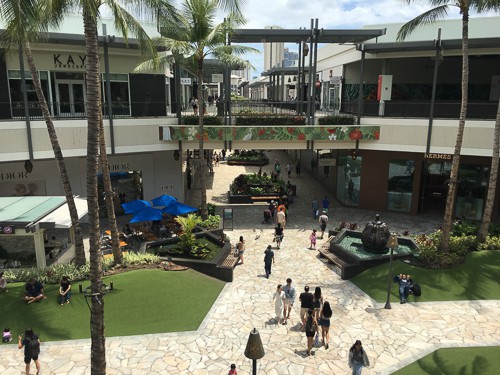 Aloha Stadium Swap Meet
Aloha Stadium Swap Meet is another great shopping option a short 20-minute drive from Waikiki. Located within Hawaii's largest sports venue, this is Hawaii's largest open-air flea market where you can pick up some unique Hawaiian finds, plus the locals shop here for some of the best deals. This flea market is only open on Saturdays, Sundays, and Wednesdays but you'll find over 400 merchants from the local area displaying their hand made items, artwork, unique local products, and food items as well as imported products.
Once you have taken in some of the shopping booths, you can take some time to rest at one of the many concessions stands to offer anything from Hawaiian shaved ice to a full Hawaiian meal. Because this swap meet is within the stadium used for the University of Hawaii Warriors football, fans can also come here and get their picture taken on the field where the games are played.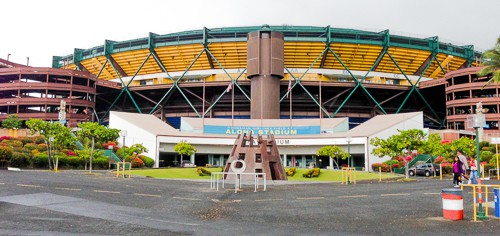 Waikiki Shopping Plaza
Finally, stop into the Waikiki Shopping Plaza, located right in the heart of Waikiki. This is a very popular, world-class shopping mall, with 6 floors of retailers and eateries. All your favorite name brand stores are here, as well as international and Hawaiian designer jewelry, gifts, and clothing. There are also office spaces for businesses, such as travel and real estate, and parking within the building. Some of the best dining you can find in Waikiki is also within this plaza, to include Tanaka of Tokyo and Buho Cocina y Cantina, both top-rated restaurants.
The location of the Waikiki Shopping Plaza can't be beat if you want to take in the views that downtown has to offer after you are done shopping. Just across the street are two unique Waikiki restaurants. Hawaii's only revolving restaurant, Top of Waikiki, gives you360 degree views of Waikiki and Honolulu. Or you can check out Sky Waikiki, an open-air lounge at the very top of a 19 story building, which also provides some amazing views of Honolulu and the beautiful Pacific ocean.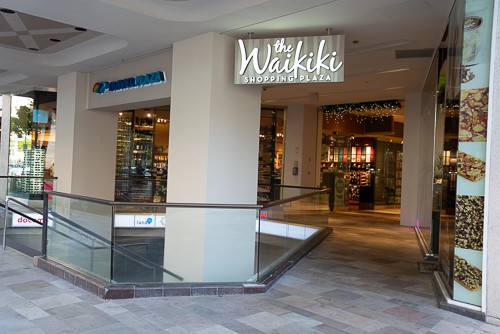 Day 8 Exploration
After a day of shopping within the city, let's get out and explore more of the beauty on Oahu. There are a few sites that shouldn't be missed, but you may not be able to see all of these in one day. Although they are all definitely worth a visit.
Round Top drive
Known as one of the top roads to take in fantastic panoramic views of Waikiki and Honolulu, Round Top drive is a tree-lined, winding road that loops around the top of Mount Tantalus, then back down. There are a few points that you can stop along the road to take in the many amazing views, but the road is curvy and not very wide, so you'll need to drive cautiously. Pu'u Ualaka'a State Park is one of the points you can stop at along the road, and from that point, you can see all alone Honolulu from one end to the next. Sunsets and views of the nightlife are phenomenal from some of these points along this road.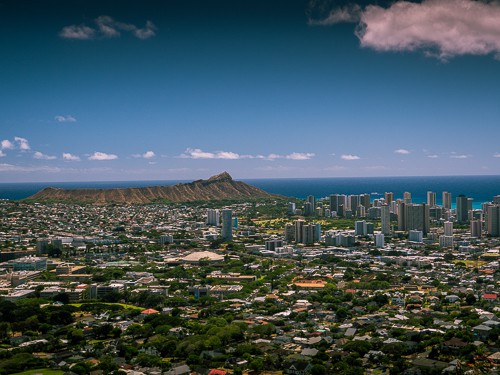 Diamond Head
Diamond Head is absolutely a must-see for any visitor to Waikiki. You can pretty much see Diamond Head from many locations throughout Honolulu and that side of the island. But to experience Diamond Head, that's something to remember. It is part of the Honolulu Volcanic Series, a volcanic cone in itself, that has now been dormant for thousands of years.
It used to be used for military lookouts due to its shape and location, it provided a great defensive position to be able to see panoramic views of Waikiki and the shoreline. Now Diamond Head is a popular tourist destination, where you can hike to the top of the mountain and see for yourself those amazing views. It's not a really long hike, but it is uphill and a lot of the terrain is uneven and some areas quite steep. Plan on around 2 hours for your round trip hike. For more details on Diamond Head see Everything You Need To Know About Diamondhead.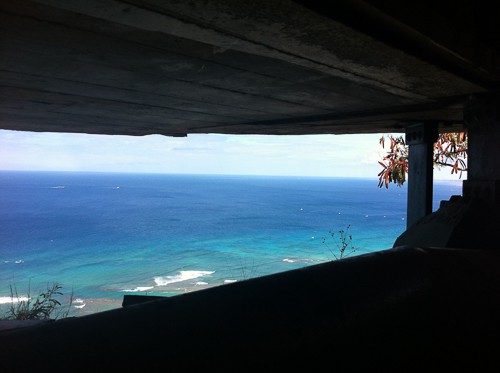 Hanauma Bay
After a hike up Diamond Head, next would be a nice cool off in Hanauma Bay, one of the most popular visitor attractions due to its calm waters and great snorkeling opportunities. The bay is known to be the home to around 400 different tropical fish, plus sea turtles and a variety of plant life. At Hanauma Bay, you'll also find a marine education center and a snack bar for something to eat. They are only closed on Tuesdays. See Everything You Need To Know About Hanauma Bay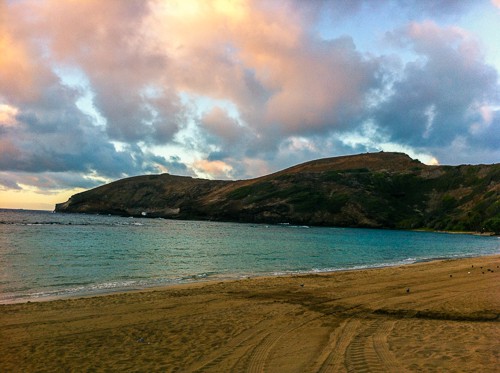 Nuuanu Pali
Nuuanu Pali Lookout is another great place you can drive to see more of the Oahu island, just 5 miles northeast of downtown Honolulu. The Pali highway is at the end of Nu'uanu Valley, and this is a section of the windward cliff of the Ko'olau mountain. You'll drive through dense forests and tall trees to get to the top where the lookout is. From the lookout, the city of Honolulu fades and you will be able to take in all the tropical beauty and botanical gardens that really makes Hawaii so breathtaking.
Day 9 Hiking
The day of adventure was just to get you warmed up for this next day of hiking to see even more beautiful Hawaiian landscape. Most of these hikes won't take a long time, but it is likely you can't hike them all in one day.
Koko Crater Trail
Koko Crater trail, also known as "Koko Head Stairs" is a steep 1,000 stair climb that goes to the top of Koko Head Crater. This trail does get busy because of the amazing views of the eastern Honolulu shoreline. You'll find abandoned railroad ties on the hike that used to be used by the military during World War II for a tram that took supplies up the side of the mountain. There's also a botanical garden at the top of Koko Crater. See our article on Everything You Need To Know About Koko Crater trail.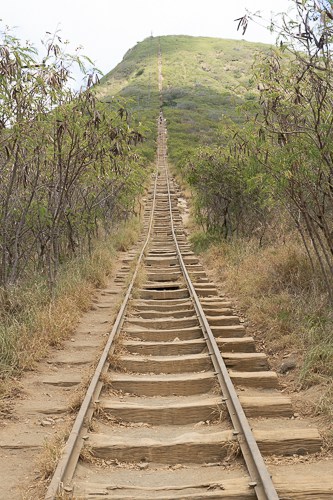 Manoa Falls Trail
If you would like to check out a beautiful waterfall, then you will want to take Manoa Falls Trail, only about a 25-minute drive from Waikiki. This trail has a fairly easy terrain and it isn't very long, so the falls are relatively easy to get to. You'll enjoy a very lush tropical forest along your walk to the falls. Once at the falls, take in the magnificent 150-foot downpour of water that lands in a small pool, but not for swimming in. Also, at the end of the trail is a visitor center where you can rest or get a snack to refuel.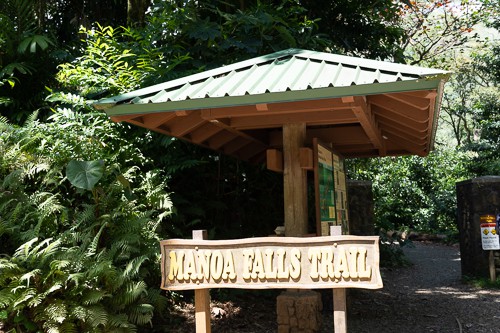 Makapu'u Lighthouse Trail
Makapu'u Lighthouse Trail is a very popular hiking destination located in the southeastern point of Oahu and it is also known as the Kaiwi Scenic Shoreline. The trail is considered easy to moderate, but it will definitely be one that is remembered.
Along the way, you can enjoy some interesting or historical spots on the trail, like old military pillboxes, a hidden blowhole, and giant tide pools. This hike will take about 30 minutes, and you will finish the trail where you can view the Makapuu Lighthouse landmark. Plus, you'll get to take in incredible views of Koko Head, Makapuu Beach, the Molokai and Lanai islands, and the windward coast.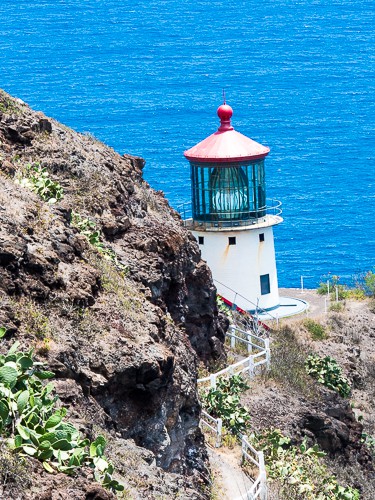 Kuliouou Ridge Trail
If you are interested in a longer hike, you may want to check out Kuliouou Ridge Trail. This is approximately a 5-mile hike round trip and could take about 4 to 5 hours to finish. This trail is along with a series of switchbacks that go through very dense forest that is not as tropical in nature as a lot of the rest of Oahu. Along the path, you will find clearings open up which allow you to take in full views of the mountainsides and sometimes clear to the ocean.
This trail is a dirt path but has plenty of traffic to mark the trail. As you begin to reach the top, you will see the more tropical type of vegetation. Towards the end, there will be steep steps that are in place to help with the ascent to the top. From the top, take in phenomenal views of the Kai Valley, and all of the eastern coastline of Oahu.
Day 10 Family Fun
To round out your itinerary and end on a fun note, there's some family fun yet to still have. Take your pick from the zoo, aquarium, escape room, and swimming with dolphins!
Honolulu Zoo
The Honolulu Zoo is nestled on 42 acres of land in the Queen Kapi'olani Park, the only zoo in the United States that was started by a grant of property to the people by the King at the time. Definitely, one of the best family activities to enjoy, everyone will love being able to view over 1,230 animals.
The zoo is proud of their Pacific Tropical ecosystems built for their animals and they take great care to tend to the animal's well-being. The zoo participates in conservations programs, as well as caring for endangered and native species. The zoo has a variety of exhibits throughout to keep all their guests entertained.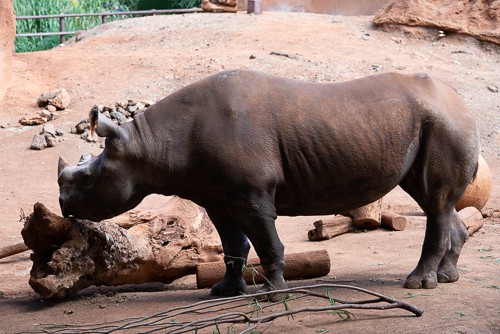 Waikiki Aquarium
The Waikiki Aquarium is another great family option. It is the second oldest public aquarium in the United States and was built next to a living coral reef within the Waikiki shoreline. This aquarium takes care of over 3,500 organisms of 490 species of marine animals and plant life.
They have 15 different exhibits that help you learn all about marine life. Plus, they have periodic special events, activities, and classes to learn more, and you can even plan a private event there. If you are visiting Oahu, and love aquariums, you'll want to check this out because they will have species you won't find in other parts of the United States.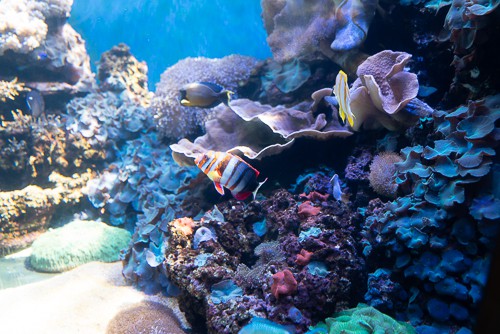 Breakout Waikiki
A really unique option for a family group is Breakout Waikiki, which is a live-action escape room. This is a great way for everyone to work as a team to solve the puzzles and riddles in order to get out of the room before the 60 minutes are up. There are 4 different escape rooms at this location, which make it more fun to be able to pick a theme that you all will enjoy.
Swim With Dolphins
Swim with Dolphins is one of the top-rated dolphin encounter experiences around Waikiki, and rated number 11 of 292 things to do in Honolulu (tripadvisor.com). This could definitely be the most memorable experience your family may have if you choose this activity.
You first get to enjoy a cruise along the coast, taking in the west side of Oahu, to get to your destination. Once there, your tour guide provides all the safety information you will need, and then it's time to get in those crystal clear waters and meet the dolphins! Of course, you'll get to snorkel the area and enjoy other tropical fish and the coral reefs under the water's surface. The dolphin excursions also come with transportation from