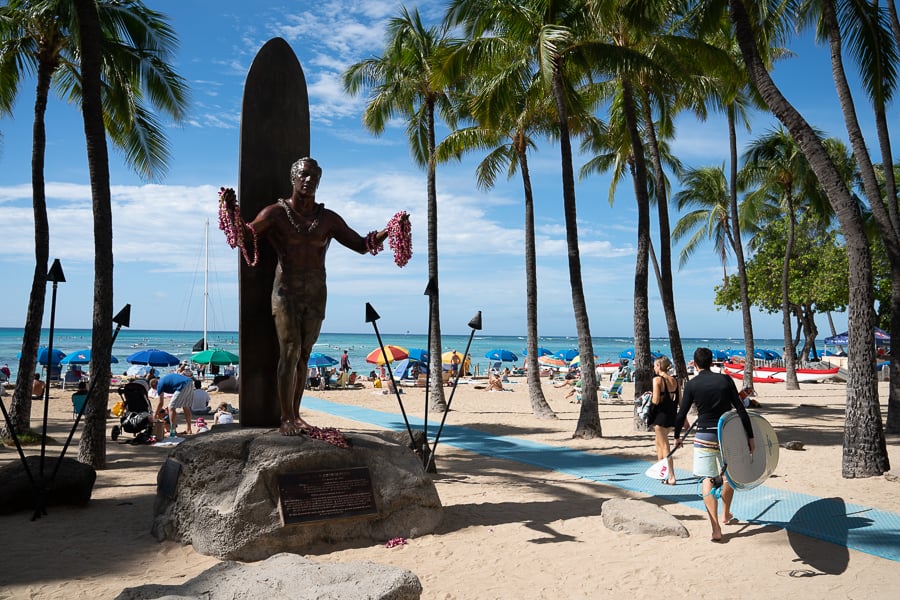 For couples or families who only have a short time in Hawaii, maximizing their stay is critical! Enjoy a combination of interesting activities, as well as resting comfortably from the pressures of daily life. Here we'll give you the perfectly balanced itinerary for 5 days in Waikiki, based on our favorite things to do and see.
Within each day, you can pick out a couple of activities that are interesting to you, making your own adventure according to your personal preferences. At the end of your trip, you'll know that you've made the most of all of the exciting adventures that Honolulu and Waikiki Beach has to offer!
Day 1 & 2 RELAX
If you've just arrived in Hawaii, you may need to take some time to unwind and rest before getting out and seeing the sights that the island has to offer. Local options for a day or two of relaxation while acclimating to jet lag may include a spa day with massage treatments, activities on the beach or simply lounging by the pool. Wind up the first or second day with a quintessential, traditional Hawaiian Luau gathering.
Spa or Massage
You certainly can't go wrong with getting a massage and enjoying other spa treatments when you arrive in Waikiki. Pamper your body and your mind and allow spa treatments to wash all of your cares away. Plus, you can take advantage of the cultural experience within the city by enjoying some treatments that are specific to Hawaiian culture.
Moana Lani Spa
Moana Lani Spa is one of the largest and newest luxury spas in the area, Moana Lani Spa has a prime location on Waikiki Beach. Balancing between traditional Hawaiian healing and innovating spa rituals, Moana Lani provides a tranquil place where the body can be pampered and the spirit can be inspired.
Well-appointed treatment suites with private balconies provide unparalleled ocean views to enjoy during lavish therapies. Options for relaxation and healing treatments include steam rooms, saunas, jacuzzi, body treatments, massages, facials and so much more.
Moana Lani Spa is housed within Moana Surfrider, a Westin Resort, and Spa.
Abhasa Waikiki Spa
Abhasa Waikiki Spa: The word "Abhasa" is Sanskrit for "illusion" and provides a sanctuary of peace for those who enter. Ranked highly as one of the Top 100 Spas of America, the Abhasa spa offers lavish spa treatments in the serene setting of an outdoor tropical garden nestled in the Royal Grove Courtyard.
In their own private garden cabana, guests encounter serenity and comfort as they take advantage of traditional and local massages, facial treatments, body treatments, spa packages and much more.
Located in the heart of Waikiki, The Abhasa Spa is inside the world-renowned Royal Hawaiian Resort.
Na Hoola Spa
Enjoy spa treatments that promote health and wellness specifically related to the Hawaiian culture. Whether a spa day for two, massage, facial, body treatments or waxing services in preparation for your time on the beach.
Na Hoola practitioners use a blend of hand-picked, fresh, local ingredients to promote healing for all of the senses. With access to thermal hot spring water and other elements, the treatments at Na Hoola are certain to provide you with a perfect portion of rejuvenation.
Beach or Pool Time
A trip to Hawaii wouldn't be complete without time spent in the water! If you feel like lounging, then you can certainly do that in a beach chair or even a cabana in the sand. But the beach doesn't have to be all about lying around. There can be plenty of adventure involved in going to the beach.
Choose from activities such as wakeboarding, kayaking, snorkeling, parasailing, waterskiing, or surfing, there's tons of fun to be had on the water and in the water.
Here we feature our favorite beach activities with three different companies who can help you have the time of your life:
Waikiki Shore Beach Service
For a low-key time on the water, rent aqua cycles or an ocean kayak that will allow you to get near the water without necessarily getting in it! Stand up paddleboards do require a bit more skill to master but can provide an incredible view while getting some exercise. Get an up-close view of the underwater wildlife with the rental of snorkel masks and fins.
For those who are ready for a bit more challenging adventure, consider body boarding (with fins), or taking some surf lessons from the professionals.
Or if you just feel like taking it easy? Go for an umbrella with beach chairs or lounge chairs to enjoy the sand between your toes while reading a good book or watching the waves.
For those with disabilities, beach wheelchairs can be accessed for free on a first-come, first served basis.
Hawaii Water Sports Center
At Hawaii Water Sports Center, thrills can be found behind a speed boat by taking advantage of banana boat rides, bumper tubes, jet-skis, water-skis, and wakeboarding. For a calmer, more soothing experience, consider snorkeling with the turtles in the clear waters of the Turtle Canyons of Maunalua Bay.
To commemorate your time in Waikiki, consider a Mermaid snorkeling and photo tour where you're guaranteed to see aquatic life and fish. This tour takes place in the ocean on a reef and includes free videos and pictures.
H2O Sports
Lots of fun is in store with H2O Sports! Rent a jet-ski or fly just above the water with a jet pack of Maunalua Bay. For a group of friends, hop onto the back of a banana boat and enjoy the scenery from the adventure without having to drive.
For a calmer time, consider rental snorkel gear and getting a close-up view of the wildlife that lives underwater int Hanauma Bay.
Surf Lessons
Wanna hang ten but you just aren't sure how to go about it? Well, you'll need an expert! Taking a surf lesson is a great way to enjoy the water, and surfing Hawaiian waves may just be a once-in-a-lifetime experience for many people.
These are some of the companies offer private surf lessons on Waikiki Beach:
Big Wave Dave
Book a one-on-one or semi-private lesson with an instructor along with the use of a soft-top board for beginners, or fiberglass and epoxy for experienced surfers. Needed equipment is provided and lessons are available year-round, rain or shine. Special needs students are always welcome at Big Wave Dave's. Other adventures include canoe rides and surf tours.
Waikiki Beach Services
Take advantage of a variety of surfing opportunities with Waikiki Beach Services surf and SUP lessons several times a day all year round. Lessons are available for guests of all ages and abilities. Other options include stand-up paddle board lessons, outrigger canoe rides, catamaran sailing charters and rentals of umbrellas & chaise lounge chairs.
Blue Ocean Breeze Surf School
Group lessons or private lessons can be booked for kids or adults with Blue Ocean Breeze Surf School. Learn how to surf from a knowledgeable team that keeps fun and safety at the forefront of their minds. Lessons are available every day of the week, but they book up fast so it's good to schedule in advance. Discounts are offered for multiple lessons.
Luau
You haven't really experienced Hawaiian culture until you've been part of a luau! This unique experience can be enjoyed during the evenings in a variety of places. We've listed a few of our favorites here:
Germaine's Luau
The rich heritage of Pacific Island culture Germaine's Luau is evident with this authentic, backyard-style Hawaiian Luau. Enjoy the scenery at the edge of the ocean under the cover of the palm trees and the stars. Go back 100 years in time in West Oahu (25 miles from Waikiki—transportation is available) were over 3 million visitors have been part of Germaine's Ohana experience. Referred to by some as America's Best Luau, you can enjoy the spirit of Old Hawaii with dancers, a traditional Shell Lei, music, all-you-can-eat food and so much more.
Toa Luau
Experience the culture of Hawaii with a Polynesian dancing show at Toa Luau, offering flower leis, Umu demonstration, Luau dinner, Kava ceremony, and drinks. Plus, the price of the luau also includes admission to the Waimea Valley cultural site with a botanical garden and the iconic Waimea Falls. Choose from Silver, Gold or VIP packages.
Aha'aina
Presented right on the oceanfront, you'll experience one of Hawaii's best traditions along with tales of island royalty and a decadent feast in this inspirational setting. This sit-down vignette dinner show is a celebration of the senses as it commemorates the culture in the grandest Hawaiian style.
Looking for extra inspiration for your first day? Check out this article on what to do in Waikiki Beach. what-to-do-in-waikiki-beach
Day 3 A LITTLE ADVENTURE
While the first couple of days were all about rest and chill-time, your third day is sure to please when you plan a little adventure! Choose one of these experiences for the morning and then add another one on in the afternoon. Hiking, snorkeling, parasailing, and SCUBA diving are all great choices for Day 3 of your Waikiki trip.
Wet 'n' Wild
Join Wet 'n' Wild on a Hawaiian-style play date—in the water! One of Oahu's most visited family attractions, this park has activities that are perfectly suited for children, teens, and adults. Water slides range from chill to extreme to fit everyone's sense of adventure. With several options for dining as well as shopping for surf wear, Wet 'n' Wild brings fun for the whole family.
Parasailing
To get the best views of the water and of the island, get up! Several companies offer options for parasailing, including Xtreme Parasail . Choose a beginner height at just 500 feet or an Xtreme experience at 1000 feet. Observers can come along on the boat for an additional fee.
SCUBA Diving
Explore a whole new world with surface water experiences, deep water wreck dives, shallow reef dives, and evening tours. You can book a dive for a partial day or a full day so that you can experience underwater wildlife that you might never see in any other part of the world. Certain dives might even allow you to encounter a caged shark!
To find the best dive centers in Waikiki, check out this list. What Are The Best Dive Centers In Waikiki.
Pearl Harbor
Generally, curious visitors and history buffs alike will be deeply impacted by a visit to Pearl Harbor, the active military base and National Historic Landmark. In order to take in all four sites, you may want to plan for an all-day adventure as there is much to see and do for the whole family. Admission to the Arizona Memorial is free. Tour times for the USS Arizona Memorial may require reservations. Other attractions may require ticket purchases. Some attractions may only be accessible by a shuttle that runs every 15 minutes.
Hanauma Bay Snorkeling
Get a front row seat to some of the best sea creatures around when you go snorkeling at Hanauma Bay! You'll gain access to up to 400 species of fish as well as large green sea turtles in this nature preserve park. This is one of the most popular snorkeling spots on the island, so be sure to book your place online in advance.
Diamond Head Park Hiking
One of the most famous places to see on the island of O'ahu, Diamond Head Crater's trail was built over 100 years ago as part of the coastal defense system. Now, the 1.6-mile trail is open for the public to get a glimpse into the history of the crater while enjoying its many switchbacks and a set of steep stairs. Expect the entire trail to take about two hours.
For these and other adventures, check out this overview of Waikiki Day Trips. 0 Best Waikiki Day Trips.
Day 4 North Shore
Spend this day hiking around on the North Shore to see what Hawaii's nature scene has to offer. Choose from a hike, a zip line, or an adventure with turtles on the beach!
Waimea Falls
Nature doesn't get much more stunning than the views created by lush waterfalls. Ranked among the best hikes on O'ahu, the Waimea Falls Park takes you on a pleasurable one-mile stroll through botanical gardens that ultimately lead up to the grand waterfall. Although this was once an entertainment theme park with cliff divers and hula dancers, it has now been turned into a non-profit nature activity that works to benefit and preserve Hawaiian culture and community.
Laniakea Beach
Visit this destination where sea turtles are known to hang out—Laniakea Beach, also known as Turtle Beach. Located at 61635 Kamehameha Highway, the beach stretches out widely as part of the "7-Mile Miracle" where surfers are known to get some of the biggest waves. Swimming here is possible, but it can be a bit rough in the winter.
Dole Plantation
Have you ever wondered how pineapples are grown? Now you can see it with your own eyes at the Dole Plantation. Admission to the Dole Plantation grounds is free, including plenty of activities for adults and children, such as access to a fish-feeding pond or a pineapple cutting demonstration. Some family activities such as the Pineapple Garden Maze, the Pineapple Express Train Tour and exploring the garden with a tour may incur a fee. Don't forget to plan for a meal filled with Hawaiian goodness at the Plantation Grille.
CLIMB Works Zipline
In case you need a little thrill to mix in with your day, consider grabbing onto the ring at Keana Farm's zip line. With the longest zip lines available in O'ahu, you'll enjoy one panoramic view after another. What could be better than enjoying one of the most beautiful places on earth while zipping through the air on lines between 500 feet and nearly ½ mile long?!
Plus, to extend the amount of fun and culture, you can package your zipline with other activities such as an evening luau or a 3-hour guided tour. The tour allows participants to fly over a working agricultural farm, making use of 8 world-class dual lines, 2 rappels, 3 sky bridges, an ATV adventure, and many other surprises.
Lunch at a Shrimp Truck
If you're in the North Shore area around lunchtime, you absolutely can't miss lunch at a shrimp truck. Bring cash for this unique experience where you'll encounter shrimp prepared in a variety of ways, including scampi, lemon/butter, hot & spicy, sweet & sour, fried, steamed and so much more! The shrimp trucks in the area offer some of the freshest shrimp you'll ever eat.
Day 5 SIGHTSEEING, FUN, AND A LITTLE SHOPPING
By Day 5, you might be just a bit tired! That makes today a great day for a bit of sight-seeing, some fun, and a time to pick up those last-minute souvenirs if you haven't already. Choose your preferences from these options, or if there is something from earlier in your trip that you absolutely loved, now is the time to double-dip!
Mount Tantalus
Mentioned at one of the best Waikiki day trips, (http://vacation-waikiki.com/20-best-waikiki-day-trips/), Round Top Drive is just the road for you to take in scenic views on your way up to the 2,010 foot Mt. Tantalus. The beginnings of the road date back over 100 years and the road is actually listed on the Register of Historic Places.
With plenty of stunning views, the drive up the side of the mountain offers a canopy of banyan trees and kukui trees on the 2-lane, 10-mile loop of road. Although it's not strictly a rain forest, it certainly has the feel of one with its rare Hawaiian plants, as well as wild coffee, guavas, mountain apples, bamboo and more. Take your time on the hairpin turns and blind corners as you may come across other cars—or you may see a mongoose running fearlessly across the road!
Also, on the way up to Round Top Drive, consider stopping at the Contemporary Museum and Punchbowl Crater, which houses the National Memorial Cemetery of the Pacific where more than 30,000 military veterans are buried.
Wet and Wild
If you missed out on Wet 'n' Wild on Day 3, you may want to work it in here. Grab a brightly-colored tube and head for the water slide that is meant for extreme thrills—if you dare. For family fun and adventure, this water park will keep everyone cool and happy!
Aloha Stadium Swap Meet
You're going to need to get some souvenirs and gifts, so be sure to drop by the open-air flea market style Swap Meet at the Aloha Stadium on Wednesday, Saturday or Sunday. It's truly the best place to get gifts on the entire island and it's just 20 minutes or so away from Waikiki. Whether you're looking for locally hand-made items, eclectic art pieces, popular local snacks or imported merchandise, the market has more than 400 local merchants each offering their specialties.
Ala Moana Center Mall
If you're in the market for some good shopping, look no further than the Ala Moana Center Mall. Although it was designed with a refreshing, open-air feel to allow shoppers to enjoy the best weather of Hawaii, you can also check in here on a rainy day.
Retailers found in the shopping center to include some of the same places you might see on the continental US, but you'll also find boutique-style shops specializing in swimsuits, surf gear, Aloha shirts and so much more. Hula and ukulele performances, as well as a koi pond, are part of the charm. And the mall offers more than 100 options for dining. Check out this article for more information on shopping in Waikiki. Where Is The Best Shopping In Waikiki
But What If It Rains in Paradise?!
Although sunshine is almost always the forecast for the Hawaiian Island, there are certain days and seasons that tend to bring more rain than usual. But you don't have to worry! You can always have a back-up plan of activities in case of rain (or, more likely, if you have a sunburn and just need to get inside). In any case, check out the list we've compiled of rainy-day activities for more information. And it certainly doesn't have to be raining for you to enjoy these! What Are The Best Rainy Day Activities In Waikiki.
Shopping
The area surrounding Waikiki comes with its fair share of shopping—and you'll need to have some souvenirs to bring home with you! As mentioned before, Ala Moana Center Mall is a great place to enjoy some shopping in boutiques as well as department stores.
For rainy day shopping, the Waikiki Shopping Plaza may bring a bit more cover with six floors of indoor retail. You'll find world-class, exclusive shopping, plenty of parking and amazing places to grab a bite to eat or sit down for a delicious meal.
Koolau Mountain Range Drive
You can certainly keep dry and still enjoy some lovely views by taking the Koolau Mountain Range Drive. A shield volcano, this range runs for 37 miles along with the eastern 2/3 of Oahu island and can be reached from a variety of different roads coming from the Waikiki area. If you're driving in the rain, be sure to take care as roads can become slippery, especially when you're driving an incline.
Pearl Harbor Aviation Museum
Previously known as the Pacific Aviation Museum, this is the newest attraction among the Pearl Harbor Historic Sites in Hawaii. Visitors enter a 42,000 square foot hangar that survived the 1941 attack. The museum is filled with various airplane exhibits, exciting stories, combat simulators and much more. The museum is located on Ford Island and is only accessible via shuttle buses that run every 15 minutes.
Honolulu Museum of Art
Enjoy a quiet day away from the heat or rain while you view the artworks located in five main galleries as well as the Cades Pavillion and the outdoor Surface Gallery. If the rain lightens up, you can take a look at the sculpture-filled gardens that overlook Diamond Head and Honolulu. Stop in at the Spalding House Family Lounge where you can participate in self-guided crafts, art activities, and films. Grab a sandwich or cup of coffee in the Spalding House Café to finish off the day.
Bishop Museum
To learn more about the culture and nature of Hawaii, stop into the Bernice Pauahi Bishop Museum. Bringing Hawaii to the world for more than 125 years, the museum houses more than 24 million treasures of historical, cultural, and natural significance. Special traveling exhibits also visit often, so the displays may change seasonally.
Before you know it, time will have flown by, your 5 days will be over, and you'll be headed back to your home—sun-bronzed and happy with a huge smile on your face. Your friends and family will be jealous and you'll be able to share with them all of the stories of the incredible experiences you had in Hawaii. Next time, maybe you can bring them along!